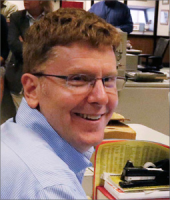 Mike Strain
Managing Editor
Bio

Mike is managing editor of the Tulsa World. He joined the company in 2005 as sports editor. He has lived in Oklahoma almost his whole life. He's a graduate of Bray-Doyle High School and the University of Oklahoma.
Free masks are available at multiple locations in the area until June 30, as long as supplies last. Courtesy
Foundation donates $10,000 to area schools
Through the first four months of 2020, the Tulsa metropolitan area has had more than 1,100 new home starts. 
Troopers investigate a fatal crash along Oklahoma 20 outside Owasso. MIKE STRAIN/Tulsa World
Maybe you have a Mrs. Bates in your school, the kind of teacher whose positive influence leaves an impression generations later.
The many issues we face today should have been addressed generations ago; but the simple fact is, they were not.
Journalists don't get rich. The reward is making a difference in their community. I was reminded of that last week.
Last week, a man carrying guns in a Broken Arrow park was arrested. Some readers said the man was just seeking attention. An explanation of how we decide whether to run this type of story.
Like it or not, things are getting done at the Legislature, which has a new governor and nearly 60 new lawmakers. Here are five questions and answers about the session.
View all