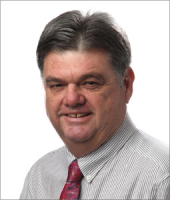 Mike Brown
Sports Writer
Bio

I have covered high school football, basketball and baseball for the Tulsa World since Spencer Tillman, Wayman Tisdale and Troy Aikman were in the 10th grade. Phone: 918-581-8390
EDMOND — Broken Arrow was in the game the entire way Friday, but couldn't get it done in the end, despite three touchdowns from junior running…
The ESPN family of networks is headed to Bixby to televise the Spartans' final regular-season football game against Booker T. Washington on Nov. 5.
Class 5A's No. 5 team hasn't played a home game all season.
A Ponca City radio station's parent company is suing over the live-stream rights to a Bixby-Ponca City football game, set for Oct. 30 in Bixby…
Coweta quarterback Gage Hamm went 14 yards on fourth-and-10 to set up a third-period touchdown and the 5A No. 5 Tigers rallied for a 20-17 win over No. 6 McAlester in a key District 5A-3 clash.
Sophomore has huge game in his first sustained action in the defensive backfield.
Adding extra teams into the postseason brackets over the normal four from each district will expand playoffs series by one week in every classification except the 6A subdivisions, which have a bye week baked into their normal three-round playoff schedules.
View all