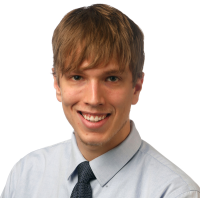 Kyle Hinchey
Staff Writer
Bio

I joined the Tulsa World in May 2015 and cover education. I previously worked at The Oklahoman and graduated from Oklahoma State University with a journalism degree. Phone: 918-581-8451
For the past year, district teams have been researching and discussing potential needs and projects to incorporate into the 2021 bond issue. 
Donna Gradel is one of five teachers from across the country who will be inducted into the National Teachers Hall of Fame during a ceremony in Kansas next summer.
As other major districts return to classrooms, TPS remains on track to spend the first nine weeks of the 2020-21 school year in distance learning.
TPS is returning to its summer meal service model on Monday, meaning all students 18 and younger will be able to receive breakfast, lunch and dinner meals free of charge until further notice.
The Tulsa school board's longest-serving member until her narrow defeat during a run-off election in June, Fate was overjoyed to see the parade of vehicles stopping in front of her house near Memorial Middle School.
Rosewood, located at 4300 E. Gary St. near Events Park, is Broken Arrow Public Schools' 16th elementary school.
Administrators say they are pivoting from distance learning to in-person learning on Sept. 10 due to a decline in COVID-19 cases in Tulsa County.
The $21 million Stem Innovation Center, located behind Casey's General Store on Albany Street and County Line Road, is possible thanks to a 2015 bond package. 
View all