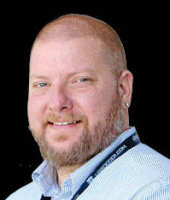 Sand Springs Leader Editor Kirk McCracken
Managing Editor
Jamy and Erica Magee have the first-ever hair salon-tattoo shop in the state, and that means they are self-employed and trying to keep their h…
Sand Springs schools started classes Aug. 24 and things are going as smooth as can be despite the COVID-19 pandemic. After classes were pushed…
The Sand Springs Rotary Club meeting focused on the Tulsa Technology Center, and Dr. Robert Franklin discussed what the technology center mean…
Sand Springs quarterback Ty Pennington accounted for four touchdowns, and his 2-yard keeper in the fourth quarter gave the Sandites the lead for good.
Sand Springs quarterback Ty Pennington ended with four touchdowns – three rushing, one passing.
"They're playing well and playing well together. This is a great group that plays with their heart. That can allow amazing things to happen," said head coach Shelli Brown
"CTM has been incredibly supportive of our athletic programs," Sherry Durkee said. "Their donations help our parent booster clubs offer additional opportunities for students that the district cannot financially provide."e.
A former Sand Springs Sandite is realizing a love for all forms of journalism and she's now in charge of her college newspaper.
View all