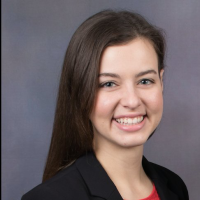 Kelsy Schlotthauer
Staff Writer
Bio

I write because I care about people, policing and peace, and I believe the most informed people make the best decisions. I joined the Tulsa World in 2019 and currently cover breaking news. Phone: 918-581-8455
The parade will return to a traditional format this December, and organizers promised those who were turned away from the long line at the drive-through parade last year special access. 
The woman reportedly noticed the man sitting in his car in her driveway in Turley when she rushed a child to school but was unable to check on him until she returned and realized he was dead.  
Broken Arrow Police stopped the vehicle, which was reportedly rolling slowly on three tires, and found its driver had several gunshot wounds to his upper torso. 
The cyclist was wearing a helmet but had no lights affixed to his bike, police reported. 
Detectives reportedly received information leading to a man they found and arrested on a murder warrant in Jenks. 
Detectives in the Tulsa Police Department's Homicide Unit struggled to recall whether such a run of self-defense slayings had ever occurred during their time there. 
"Everyone is highly encouraged to find a safe ride by calling a sober driver, using a cab, Uber, Lyft or any other ride-share service," the Oklahoma Highway Safety Office wrote. "Better yet, have a designated driver."
Troy Enix, a white 5-foot-7, 150-pound man, is known to visit an area near Admiral Place and Yale Avenue. Anyone with information about his whereabouts is asked to contact Crime Stoppers at 918-596-COPS (2677).
"When you're getting stopped, that's not the time to argue about what you're getting stopped for," Officer Larry Woods explained. "You can take it to court." 
Prosecutors allege Tamesha Mougell left the father of her child "scalped" and missing a "large portion of his bicep" after an argument last week. He remained sedated at a hospital. 
View all