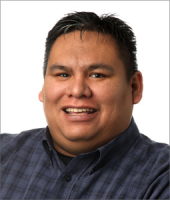 Eric Bailey
Sports Writer
Bio

I cover the University of Oklahoma football and men's basketball teams. I am a Haskell Indian Nations University graduate. Phone: 918-581-8391
Tight end Kaden Helms (6-6, 220 pounds) from Nebraska joins the Sooners' class of 2022 recruiting class. Treyaun Webb (6-0, 188) is the first to join OU's 2023 recruiting class. He is from Florida.
The 2021 campaign will feature two proven playmakers in Kennedy Brooks and Tennessee transfer Eric Gray. Brooks has two 1,000-yard seasons while Gray has over 1,300 career rushing yards in two years.
New Texas coach Steve Sarkisian talks horns down, OU-Texas and former BYU teammate Dennis Simmons, who is an Oklahoma assistant head coach.
Texas coach Steve Sarkisian met the Big 12 media during a 30-minute scrum with reporters on Thursday afternoon inside AT&T Stadium.
topical
alert
special report
Dr. Kayse Shrum, Oklahoma State's new school president, showed her support for the OSU football team by attending Big 12 Media Days on Thursday.
The Sooners will begin with a Nov. 1 exhibition game against Rogers State and face an 11-game nonconference slate that also includes home games against Florida and Butler and a road contest at Auburn.
The Sooners' defense could be the driving force behind the program's aim for its first national title since 2000.
Oklahoma's progression with Alex Grinch as defensive coordinator has taken the Sooners to new heights.
Lincoln Riley took upperclassmen Jeremiah Hall and Nik Bonitto to AT&T Stadium with him during Big 12 Media Days at AT&T Stadium.
View all