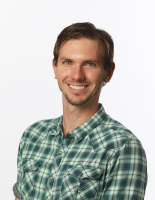 Corey Jones
Staff Writer
Bio

I am a general assignment reporter who predominately writes about public health, public safety and justice reform. I'm in journalism to help make this community, state, country and, ultimately, world a better place.
The Pfizer vaccine — the only vaccine used in Israel — was found to be about 64% effective against the Delta variant at preventing breakthrough infections, said Dr. Dale Bratzler, OU's chief COVID officer.
topical
watchdog
top story
Panelists at the Healthier Oklahoma Coalition's weekly virtual news conference Tuesday expressed concern about the political nature of the pandemic and unlikelihood that the state's leadership will reverse course on mask mandates — which the state has now made illegal for schools to require.
The state ranks among the 10 worst in the U.S. for vaccinated population percentage and rates of new cases, test positivity and hospitalizations as the delta variant takes over. 
"What we are seeing in Tulsa is our hospitalizations are primarily, of course, unvaccinated patients and patients from surrounding counties," said Bruce Dart, Tulsa Health Department's executive director. "We're not getting as many people from Tulsa County."
About 15 minutes after the trooper clocked a car at 88 in a 75 mph zone in April 2020, a 30-year-old woman died with a man she was dating who was fleeing authorities in Creek County.
Only 19 of 77 counties are above 50%, with 20 counties between 30% and 40%. The lowest vaccine saturation is 28.8% in Dewey County.
An Oklahoma Highway Patrol memo noting an "alarming increase" of troopers shooting people and at cars focused on the first of three fatal shootings in less than five months in 2019.
View all