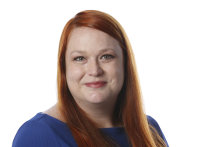 Anna Codutti
Breaking News Editor
Bio

After earning a master's in news editing from the University of Missouri, I joined the Tulsa World copy desk in 2010. Send news tips to news@tulsaworld.com. Phone: 918-581-8481
It's possible some fairgoers may turn to neighborhood streets for parking, which has locals and fair officials concerned about being good neighbors during the high-volume event. 
On July 14, Oklahoma averaged 2-3 deaths a week. On Wednesday, those figures had climbed to 24-27 deaths a week.
For those entering a submission for Tulsa World's collection of Sept. 11 memories, your words may also end up being included in a special section set to publish in dozens of major newspapers across the country.
On Friday, Gov. Stitt complimented districts that included an opt-out option to their newly enacted mask requirements for "respecting parents' rights to decide."
Those new to grilling with charcoal and wood may find it can be an expensive and challenging culinary art to master. These tips can help you not just get started but really fine-tune your smoking.
It affects those who have experienced low water pressure, are seeing discolored water, and those who have recently had water service restored after their water was shut off for waterline repairs.  
On the heels of a similar state move, the Cherokee Nation is also expanding eligibility to citizens of all ages who are teachers patients with underlying health conditions. Veterans 65 and older are eligible through the VA.
Those who had been scheduled to get a first or second dose today will receive an email to be rescheduled; Tulsa health officials say individuals don't need to go back to the state portal to book a new appointment.
"You've got to go and check and check and check, and there's nothing ever available," says the developer of the alert system, now with 41,000 users. "I have friends that were taking off work so they could watch the website."
View all