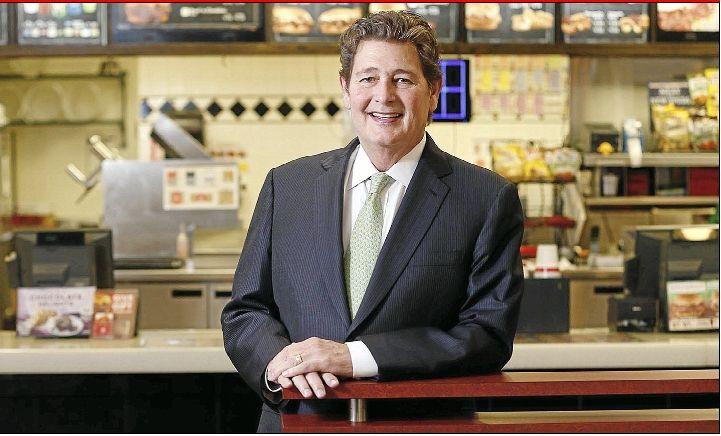 1A lot has been going on with your Arby's restaurants. What changes and expansion plans currently are in the works?
We are in an accelerated growth mode. This past April, we announced a new development agreement with our franchisor, Arby's Restaurant Group to build 65 new restaurants through 2020, including 38 new restaurants in the Denver, Idaho, and Wyoming markets, which we acquired last December. We also have design plans to remodel 42 of our restaurants through 2017.
By 2020, the US Beef footprint will total more than 400 Arby's restaurants in eight contiguous Midwest and Western states, with projected sales over $650 million dollars.
2 With all the restaurant choices that exist today, what does it take for a longstanding restaurant such as Arby's to stand out from the crowded competition?
The Arby's brand is celebrating its 50th anniversary this year, and my father, Bob Davis, purchased his first Arby's at 42nd Street and Peoria Avenue in 1969. So, it is indeed an iconic national brand that has stood the test of time by being innovative and different at a time when burger places were opening up on every corner. In today's competitive environment, Arby's recognized it, too, needed to evolve and give guests more choices and exciting new taste profiles. That was the idea behind our newest concept, "Meatcraft makes the sandwich" and the advertising campaign, "We have the meats."
We have a huge new product pipeline and are in test markets constantly trying to determine what the next hot food trend in menu development is and store design.
Of course, I'd be remiss in not mentioning our greatest differentiation — our people. You can't train friendly, you hire it. And since we opened our doors in 1969, we've focused our recruiting efforts on hiring people who share our family's philosophy and culture of serving our guests as if they were coming into our own homes.
3 Have you personally tried every Arby's menu item? What's your personal favorite?
I absolutely try every Arby's menu item. I'm on the Arby's Franchisee Association board of directors, and we get to sample six to eight new products quarterly coming out of Arby's test kitchens in Atlanta.
At the risk of sounding biased, I have to say Arby's has great chefs who are always striving to bring new and exciting taste profiles into our restaurants. Our 13-hour smokehouse brisket, introduced last October, has been wildly successful. So much so that we're putting it on our menu permanently. As to my personal favorite, I'm one of those loyalists who literally grew up on our classic roast beef. Wrap up one of those with an order of potato cakes and a Jamocha shake, some Arby's sauce, and I'm a very happy diner.
4 On a more personal note, what was the first car you ever owned?
Mine was a gift from my father in the second semester of my senior year at the University of Tulsa. It was a blue Datsun 260Z, automatic and age appropriate. We were just starting to expand our Arby's presence in Oklahoma City and Little Rock, and I had just told my father that I wanted to join him in our family business full time following graduation. So even though I'll always think of my first car as a gift from Dad, it was really my first company car, because I logged thousands of miles on that car driving from restaurant to restaurant.
5 If you could travel anywhere in the world, where would you go?
I've been blessed to have experienced so many wonderful, exciting places already. It's tough to narrow it down. Europe has so much to offer. I fell in love with Rome and Paris — the history, the architecture, the food — oh, the food — the charm of those cities is simply irresistible. But I've also got Istanbul, Croatia, The Holy Land, and the Greek Islands on my "bucket list." But I honestly have to say that after all my travels, there's really no place like home.