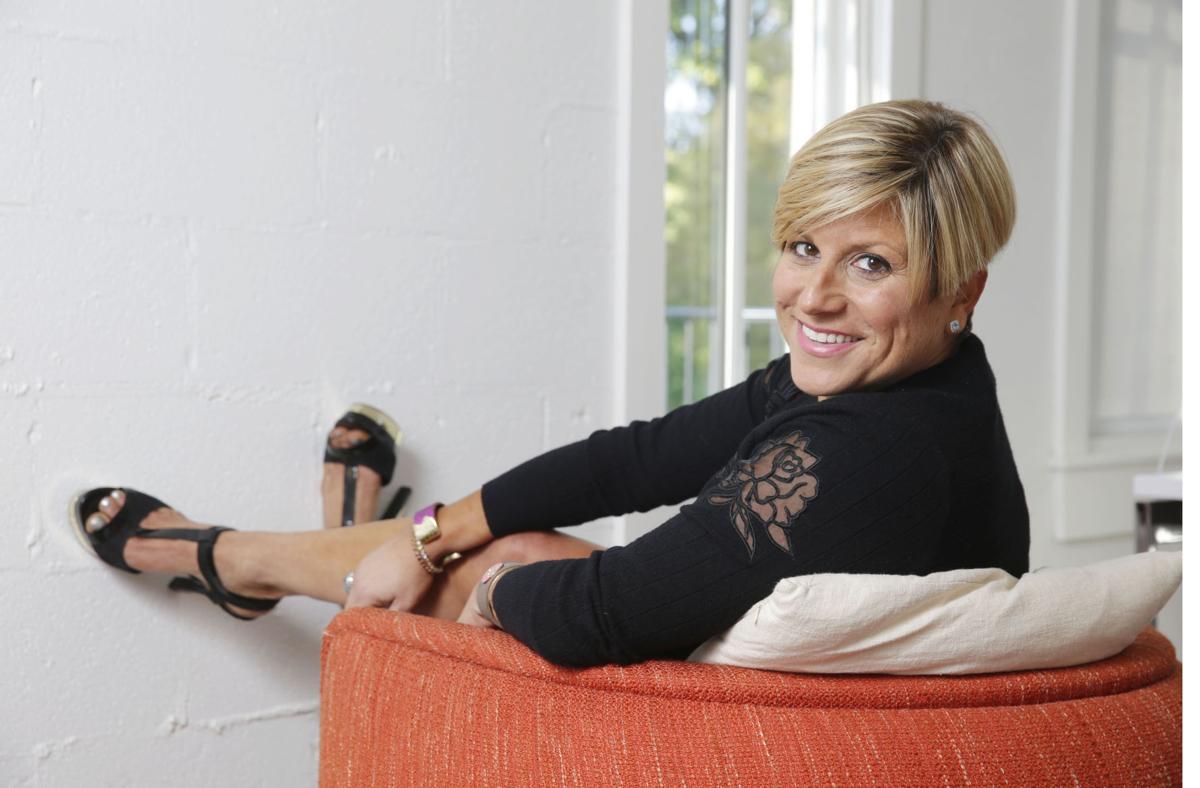 Leaving Rustic Cuff with a Hampton, Jordan, Erika or Chelsey feels like getting the most popular toy from Santa's workshop.
If those beads and bangles don't catch your eye, there are cuffs in calfskin, leather, metal and chains. Inspiring quotes to dream big, have faith or be yourself can circle a wrist as a reminder of good things.
All are handmade, all are named after friends of the owner and all fly off the shelves.
A Rustic Cuff community has sprung up in the past five years. Lines regularly form outside showrooms. Social-media sites have pages dedicated to the various lines. Fashion shows and Rustic Cuff bingo games have popped up.
This sense of connection and fun comes from Rustic Cuff founder and CEO Jill Donovan. Her accidental company is built on bright colors, sparkly baubles and a powerful optimism.
"Tulsa is a city that has open arms," Donovan said. "From day one, it has felt like a very big family. There is very little negativity. To do something with positivity and confidence in a city like Tulsa, it seems like the sky's the limit."
Donovan has been chosen as a Tulsan of the Year by Tulsa World Magazine for her ingenuity, creativity and business acumen as she represents the city to a national audience, as Rustic Cuff expands into other cities in December. In short, she's a marvelous ambassador.
After outgrowing the original showroom at 4150 S. Harvard Ave., two other stores were established at 1325 E. 15th St. in the Cherry Street neighborhood and at 7890 E. 106th Place in south Tulsa. Daily shipments are made internationally and across the U.S. A men's line including sliders, wallets and journals was added in spring 2015.
Now, people in Oklahoma City, Edmond and Dallas will be able to browse a Rustic Cuff showroom.
"I want people outside Tulsa to be able to have the same experience," Donovan said. "There is a relationship from the time you walk in to the time you leave. You can't get that on the website. There is no comparison to going into a showroom. I want them to be part of the excitement of this camaraderie and community."
Buying a Rustic Cuff in person feels like joining an exclusive club, and the fellow shoppers are part of it. It's a commune of finding the right bracelets to stack and getting pointers on grabbing good deals.
It's a no-pressure showroom, as salespeople take time to present options and answer questions while giving space to browse.
"Getting a Rustic Cuff is more than going to purchase a bracelet," Donovan said. "My only goal is that a person leaves happier than when they came in. It doesn't matter how long it takes to be present with that person. It's about the relationship."
An unplanned aspect of the booming business came from requests for unique items as fundraisers. The purposes vary from raising money to help individuals pay medical bills to school bands selling bracelets for traveling to a national contest.
"I love when I hear from people who have been able to use this to enable them to do what they needed," Donovan said. "It's not about marketing. It's about a great way to get a connection to the community. There is a purpose behind it."
The former attorney and University of Tulsa law professor didn't set out to own one of Tulsa's most successful small businesses. She didn't have a marketing plan and still doesn't.
If anything, she is the marketing plan. Her power of personality also has made her a sought-after motivational speaker.
As a business woman, she relies much on her instincts, including whether and where to locate other showrooms.
"It organically happens," she said. "I take steps in the direction that feels right."
Rustic Cuff grew out of her desire to right a wrong broadcast nationally on the "Oprah" show. She was a guest embarrassed by so-called etiquette experts, who said her practice of re-gifting was rude, tacky and shameful.
Humiliated, she gave away her closet of unused gifts and started on a quest. For months, she perfected the cuff. Lots of cuffs. Then, bracelets.
Friends went crazy for them and word spread. It took a bit of convincing for her to turn a pastime into a company. It grew from a staff of one at her home into a business of at least 30 — and growing.
Rustic Cuff has received national attention in magazines such as Elle, InStyle and People. "Good Morning America" regularly features her cuffs, and items have been highlighted on the "Today Show," "E! News" and "The View."
An impressive list of celebrities have been seen sporting Rustic Cuffs — including Miranda Lambert, Britney Spears, Broken Arrow's Kristin Chenoweth, Savannah Guthrie, Michael Strahan, Jenny McCarthy, Dolly Parton, Ryan Seacrest, Jenna Bush Hager, Hoda Kotb, Harry Connick Jr., Wendy Williams, Trisha Yearwood, Tanya Tucker and Sherri Shepherd.
A Rustic Cuff she gave to Gayle King was worn by Oprah on the cover of the March 2016 edition of O Magazine, bringing her story full circle. And just last month, Oprah named the ½-inch Dallas bracelet one of her "Favorite Things" in O Magazine.
Generosity is a common trait threading through the Rustic Cuff enthusiasts. It's not unusual for a devotee to give an item off their wrist to a stranger.
It inspired Donovan to start the monthly Regifter's Club, which provides two cuffs for the price of one — keep one and give one away.
"I want everyone to experience this positivity," Donovan said. "There is very little skepticism and very little negativity. For a new owner of a business to start in any other community, that would be hard to find. This is Tulsa."
Ginnie Graham 918-581-8376
Ginnie Graham 918-581-8376
Twitter: @GinnieGraham