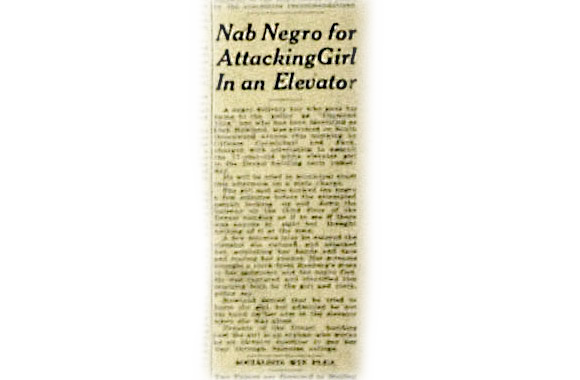 This story, which first appeared in the bottom right of the May 31, 1921, Tulsa Tribune front page, has often been cited as the spark that led to the race massacre.
As early as June 1, the Tribune's rival, the Tulsa World, quoted the Tulsa Police Department's chief of detectives as saying the story was largely responsible for inciting whites to become aggressive.
The NAACP's Walter White and Oklahoma City's Black Dispatch also blamed the story.
Here is a copy of the story in its entirety:
Nab Negro for Attacking Girl in ElevatorA negro delivery boy who gave his name to the public as "Diamond Dick" but who has been identified as Dick Rowland, was arrested on South Greenwood avenue this morning by Officers Carmichael and Pack, charged with attempting to assault the 17-year-old white elevator girl in the Drexel building early yesterday.
He will be tried in municipal court this afternoon on a state charge.
The girl said she noticed the negro a few minutes before the attempted assault looking up and down the hallway on the third floor of the Drexel building as if to see if there was anyone in sight but thought nothing of it at the time.
A few minutes later he entered the elevator she claimed, and attacked her, scratching her hands and face and tearing her clothes. Her screams brought a clerk from Renberg's store to her assistance and the negro fled. He was captured and identified this morning both by the girl and the clerk, police say.
Tenants of the Drexel building said the girl is an orphan who works as an elevator operator to pay her way through business college.
Randy Krehbiel
918-581-8365
Twitter: @rkrehbiel