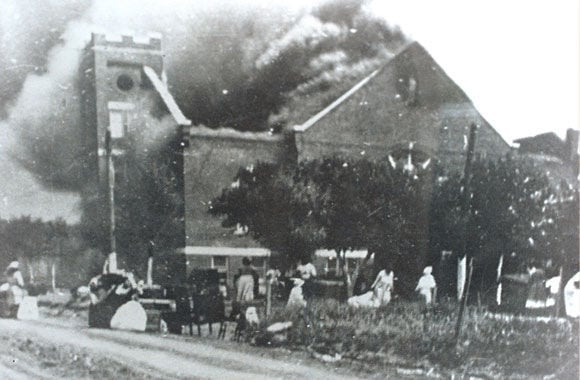 In 1921, Tulsa was home to one of the most prosperous African American communities in the country.
Businesses flourished along Greenwood Avenue — dubbed Black Wall Street, according to tradition, by the great educator Booker T. Washington. Residential neighborhoods spread out in a bustling community of several thousand souls.
In a little more than 12 hours, it was gone.
A riot that began at the Tulsa County Courthouse on the night of May 31, 1921, escalated into an all out assault on Greenwood on the morning of June 1. White mobs stormed through the community setting fires, stealing and killing and wounding countless black Tulsans. Thirty-five blocks of businesses, homes and churches were left in smoldering ruins; just about everything left standing had been looted and vandalized.
Although 37 deaths were confirmed, as many as 300 people are believed to have been killed. Hundreds more were injured and thousands were homeless.
For the better part of a century, the events of May 31-June 1, 1921, were rarely discussed in public. The race massacre, as it's now known, was not generally included in history courses and only in the past 20 years has it again become common knowledge among Tulsa's residents.
With the massacre's centennial only a year away, this special section looks back at the secret Tulsa could never quite forget.
Randy Krehbiel
918-581-8365
Twitter: @rkrehbiel
Be the first to know
Get local news delivered to your inbox!