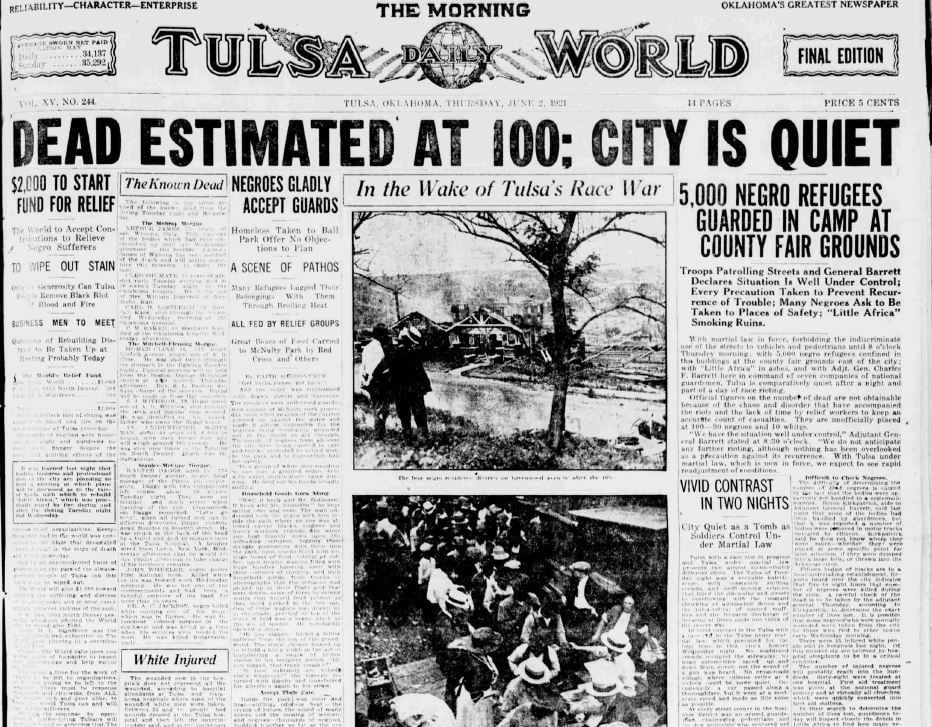 The number of people killed in the race massacre has been a mystery from the start.
As the June 2, 1921, Tulsa World reported, under a story headlined "Dead Estimated at 100":
"The difficulty ... is caused by the fact that the bodies were apparently not handled in a systematic manner."
Major Byron Kirkpatrick, a Tulsa attorney on Adjutant General Charles Barrett's staff, acknowledged reports that "a number of bodies were removed in motor trucks operated by citizens."
"Kirkpatrick said he did not know where (the bodies) were taken," said the World, "whether they were placed at some specific point for later attention, if they were dumped into a large hole, or thrown into the Arkansas river."
That early, "unofficial" estimate, made on the night of June 1, presumed 90 African American deaths and 10 whites. Major Charles Daley, a National Guard officer and the police department's inspector general, told the Tulsa Tribune the toll might be 175. The New York Times, relying on unnamed sources, reported 85 dead.
By the afternoon of June 2, however, the death count had been reduced to just 27. Daley and another National Guard officer said a search of the burned area had not, as expected, uncovered additional remains. Officials now scoffed at the rumors of bodies being hauled away to undisclosed locations.
By this time, the bodies of at least 18 African Americans had been delivered to Tulsa funeral directors. According to news reports and records, those 18 were buried in Oaklawn Cemetery.
The official death count grew slowly over the summer as a few more bodies were found, mostly in outlying areas, and injured men died of their wounds.
The massacre's last recorded fatality occurred on Aug. 20, with the death of Commodore Knox, a young black man.
Twenty years ago, the Tulsa Race Riot Commission put the number of verified deaths at 39. However, two of those included a stillborn black child who seems to have been delivered before the massacre and an adult white male shot four days afterward by supposed "guards" on the road between Tulsa and Sand Springs.
Of the 39, 26 were African American and 13 were white. All were male.
Then or now, hardly anyone seems to have accepted that as the true extent of fatalities — which is why the search for unmarked burial sites continues.
Randy Krehbiel
918-581-8365
Twitter: @rkrehbiel