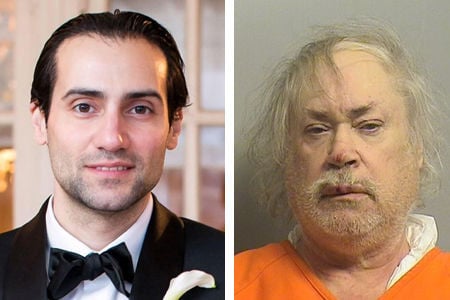 Nearly 18 months after a south Tulsa man was shot outside his family's home in a reported racially motivated hate crime, the man accused of murdering him will face a jury.
Defense attorneys for Stanley Vernon Majors, 63, are expected to present a mental health-based defense in hopes of an acquittal for his role in the Aug. 12, 2016, death of his neighbor 37-year-old Khalid Jabara, who died after being shot on his family's porch in the 9300 block of South 85th East Avenue.
Majors faces one count each of first-degree murder, malicious intimidation and harassment — also known as Oklahoma's hate crime law — as well as threatening an act of violence against a neighbor who witnessed the shooting and possession of a firearm after having a felony conviction in California.
He appeared Friday morning for his final pretrial hearing with shoulder-length and matted gray-to-white hair, wearing a dark gray striped uniform indicative of having segregated status at the Tulsa Jail. Majors waived his preliminary hearing last February and shortly afterward gave notice of his intent to argue he was insane at the time he shot Jabara, which was the alleged culmination of years of harassment against Jabara and his family for being Lebanese.
That defense, according to recently filed documents, will include testimony from a mental health professional who evaluated Majors for the defense, a private doctor who will discuss the difference between symptoms of intoxication and psychosis, and a Tulsa County Sheriff's Office doctor who has treated Majors for behavioral health needs. The state is set to call its own expert witness to discuss his findings from a separate evaluation of Majors, although prosecutors have not elaborated on his conclusions.
The trial will begin Monday morning with prospective jurors receiving a questionnaire, which they will complete before being released for the day to give attorneys a chance to review them. The questionnaires, according to a draft filed by Majors' defense, will likely seek information about pretrial knowledge of the case through the media, as well as opinions and attitudes about the LGBTQ community, of which Majors is a member.
District Judge Sharon Holmes has said she anticipates the trial will extend into the week of Jan. 29. Majors is not expected in court while the jurors receive the questionnaires.
Majors' late husband, Stephen Schmauss, completed a deposition last year about the case due to his declining health, which will be referenced in trial.
Jabara's death drew worldwide attention and outrage after evidence came to light about the lengthy history of reported racially charged conflicts Majors had with the family, which has in the past said Schmauss was kind and accommodating to Jabara before Majors moved into the residence.
Prosecutors in the case, according to a ruling Holmes made Friday morning, will be allowed to detail what they have said was Majors' "continued harassment and intimidation" of the Jabaras based on their Lebanese background and their apparent assumed religion, Islam, although the Jabaras are Orthodox Christians.
The jury can also hear information about a protective order filed against Majors, as well as allegations he violated it multiple times, most notably by running over Jabara's mother, Haifa Jabara, with his car and leaving the area without calling for help.
However, Holmes said she would limit information alluding to domestic violence perpetrated by Majors against Schmauss only to allegations made the day Khalid Jabara was shot, as evidence indicates Jabara called 911 the day of his death to report learning from Schmauss that Majors had been firing a gun in their home.
Holmes additionally said it would likely confuse jurors if they were subject to testimony both about Majors' and Schmauss' full relationship history of around four decades and about reports Majors also committed ethnic-based harassment against people who were friendly with the Jabara family.
In asking for that evidence to be excluded from the trial, Assistant Public Defender Travis Smith said the claims cast "a shadow" over the pertinent facts at issue and are overly prejudicial to Majors, who is not being charged with domestic assault. The defense has also noted that Majors sought a protective order against Khalid Jabara before.
Khalid Jabara died less than a year after Tulsa Police said Majors hit Haifa Jabara with his car, an incident for which Majors spent eight months at the Tulsa Jail without bond pending trial.
Schmauss and Khalid Jabara, according to police records, had contact the afternoon of the shooting that led Jabara to call authorities and his mother to report Majors had a gun. Jabara had made a previous report that day about hearing someone tapping on his window, according to Tulsa World archives.
Officers paid a visit to Majors' residence after the second call, but they said he did not answer a knock on the door, which — because of their belief they could not force entry — meant they decided to leave. They reported at the time that Jabara did not want to speak to police because he didn't want Majors to figure out he called them.
Majors, police records indicate, called 911 himself to ask why officers stopped by his house and had a tense conversation with a dispatcher that ended a few minutes before Khalid Jabara was shot. Haifa Jabara's 2013 protective order against Majors was in effect at the time, as was Majors' protective order against Khalid Jabara.
Court minutes state Khalid Jabara did not appear in court for a scheduled hearing on Majors' protective order, which — because Majors appeared — caused a judge to authorize it in January 2015 based only on Majors' allegations. In Haifa Jabara's November 2013 protective order, court minutes show she and Khalid Jabara, along with Schmauss, provided testimony.
In May 2016, Majors retained a new attorney on his assault case who successfully moved for District Judge William LaFortune — who has since recused from that matter and all others against Majors — to grant Majors the chance for release on $30,000 bond in accordance with Tulsa County's bond schedule.
Then-Assistant District Attorney Brett Mize argued in a hearing shortly afterward for LaFortune to either revoke that bond amount or increase it to $300,000, citing what he said was a serious safety risk to the Jabaras by their neighbor, Majors, who was increasingly escalating tensions. LaFortune increased Majors' bond to $60,000 based on information about Majors' prior felony history and advocated, along with the other attorneys present, for Majors to move away from the Jabaras' house if he posts bond. He did not do so, according to a past Tulsa World records review.
The Jabara family has criticized LaFortune's decision multiple times, with one family member going so far in a Tulsa World interview as saying he would pursue litigation if he could. Khalid Jabara was shot about 10 weeks after Majors' release from jail, and the Jabaras have said they want reforms to the system of reviewing bonds and increased protection for victims of crimes that include mandatory notification from courts when a defendant is released from custody.