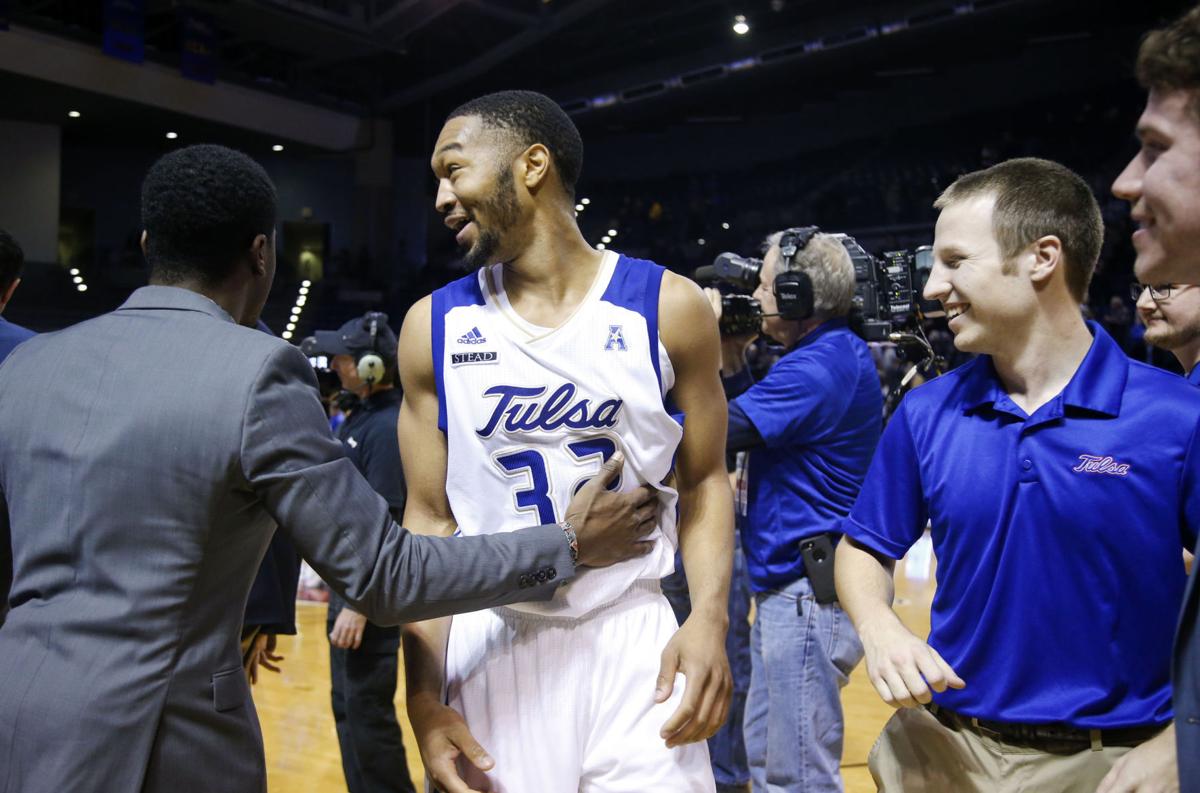 A little confidence can go a long way.
After shaky performances early in the year, the University of Tulsa has prevailed in six of its last seven games including three consecutive wins to open American Athletic Conference play.
"If you have confidence, your play goes to another level," coach Frank Haith said. "If you have trust and belief in what you're doing and in each other, those are the teams that win."
In its last outing, the Hurricane outlasted UConn in double overtime Wednesday night, relying on a conference-record 17 3-pointers and repeatedly coming back to life after seemingly being dead in the water.
"It's tremendous," guard Elijah Joiner said. "We wanted to go into our next game 3-0 and that's what we did. I think that builds confidence for us for the next game."
Corey Henderson Jr., in a breakout performance, hit eight of those 3-pointers, including a pair in the final minute of regulation en route to a career-high 30 points.
"I was waiting for him to have a moment like he had the other night because he's so capable," Haith said. "Hopefully he can build on it. He's got it in him."
As memorable a game as that was, Sunday's victory at Tulane looks more impressive after the Green Wave took down SMU on Thursday night. Tulsa and Tulane were picked near the bottom of a loaded league but are showing upset potential.
"It's going to be a grind of a year," Haith said. "(It will come down to) whichever team stays focused and can win the most close games."
Tulsa, which has held its three conference opponents to 37.3 percent shooting, joins top contenders Wichita State and Cincinnati as the remaining unbeatens in the American.
Having ended a 10-game skid in conference road games and still riding high from Wednesday's outcome, the Hurricane heads to Memphis with some swagger. The slumping Tigers host TU at 3 p.m. Saturday.
"Tulsa is coming off a big-time win over Connecticut," Memphis coach Tubby Smith said. "I'm sure they are playing with a lot of confidence. Right now, we are struggling to find our way."
Memphis has dropped three games in a row including league losses at Cincinnati and UCF, but the Tigers are 9-1 at home, with the only defeat coming against LSU.
"You know they're going to be super hungry (to get a win)," Haith said. "They're capable and you're playing in their arena. We just have to play well.
"It's still Memphis and it's still Tubby Smith, who I have a lot of respect for. In this league, anything can happen."
Kelly Hines
918-581-8452
Twitter: @KellyHinesTW
Be the first to know
Get local news delivered to your inbox!