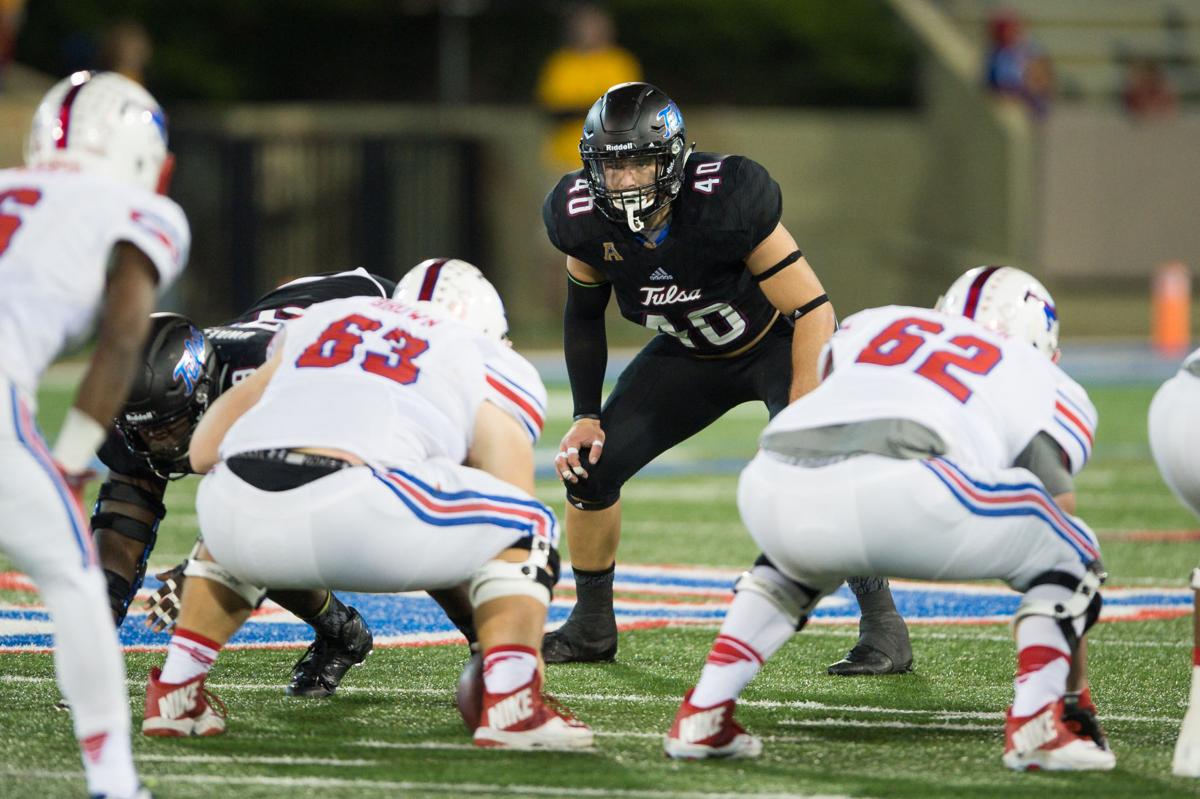 You sit across from Trent Martin, trying to understand how a man drags his beaten-down body through six years of college football, and then he tells you a story.
"I broke my leg my junior year at Jenks. I got leg-whipped," Martin said. "They put a plate in it, and I ended up coming back and playing through the playoffs."
Martin made a season-high 10 tackles in Jenks' Class 6A quarterfinal win over Edmond Memorial that year. The Trojans defeated Southmoore in the semis before falling to Union in the championship game.
At the end of the season, doctors noticed something.
"The plate broke," Martin said, "so they took it out. I've still got a good scar."
He was 17 years old at the time and already had written his football bio: a middle linebacker who lived to play, and who played to taste success.
It is no different now that he is a 24-year-old sixth-year senior about to play his final regular-season game for Tulsa. Martin has helped the Golden Hurricane to an 8-3 record this year by making a team-high 75 tackles and two interceptions.
"I mean, he's a fighter," quarterback Dane Evans said. "He's not gonna give up, and this team is not gonna give up. I don't think it's a coincidence that he's like that and our team's like that. I think it's because of him."
"A warrior," Golden Hurricane coach Philip Montgomery called Martin. "Trent is one of those guys that Sunday and Monday, you look at him and you're thinking, 'Can he put it back together?' "
It was neck and shoulder stingers early on, hampering Martin's 2011 and '12 seasons. Then came '13.
"I had both knees scoped because of meniscus damage," he said. "I had one in fall camp and one after the OU game (in September). At the end of the season, I had a big surgery where they put a bone plug in my knee, with the cartilage attached. I ended up missing a good chunk of cartilage. That took a long time to recover for my body to accept the bone. It was ACL recovery time."
Martin knew recovery by then.
"Every time something bad happened, I took a couple days to soak and say, 'This sucks,'" he said. "Then at some point I'd say, 'All right, how bad is this really? Can I come back from this?' The answer was always, 'Yes, I can.'
"The thing is I'll play football as long as I can. I love this game. A lot."
It has been so ever since Martin started playing front-yard ball as a tyke with his older brother, Blake.
"Usually it ended with me running away from him or getting beat up pretty good," Trent said, grinning.
From there, Martin got to know Kejuan Jones, a Jenks star running back at the time who would go on to acclaim at Oklahoma.
"I used to go to his house when his mom, Tracy, would babysit us," Martin said. "I would see his trophies and pictures, and I'd go to the Jenks games. It was like an addiction. It's never faded."
As Martin developed into a Trojans star in his own right, Todd Graham's Tulsa staff took notice. When Graham assistant Mike Norvell offered Martin a scholarship ...
"I committed a week later," Martin says. "I told coach (Allan) Trimble, 'I don't wanna take any more calls. I don't wanna do anything else.' That was it. I was the first commit in that class."
Graham left Tulsa for Pitt a month before 2011 signing day, but Martin didn't waver. In fact, he said he convinced Derrick Alexander, a close friend and a Booker T. Washington defensive standout at the time, to switch from Louisiana-Monroe to TU the week before signing day.
Martin joined the Golden Hurricane and began his long, hard-fought battle to both play consistently and taste steady success. He has met both of his goals this season, with the help of the drive he first showed after breaking that leg at Jenks, and some tender loving care.
"My wife, Paige, honestly, I don't know how much I would have been able to do if I didn't have her by my side for emotional support," Martin said. "She did all of the ice bags. I'd be like, 'Can you grab me this and that?' Or, 'Can you help get me from point A to point B?'
"When you get hurt, there's a lot of alone time. There's a lot of down time where you can't go do stuff. She filled that void and helped me stay positive."
It's right that Paige will be there for Martin as he takes the field against Cincinnati on Friday night. So will the siblings who fortified him and the parents who shuttled him to games and practices and the trainers who helped piece him back together and the coaches who never lost faith and the teammates who are grateful that Martin didn't either.
It takes a village? Maybe.
It also takes a passion, and the determination to act on it.
Guerin Emig
918-629-6229
Twitter: @GuerinEmig
Be the first to know
Get local news delivered to your inbox!