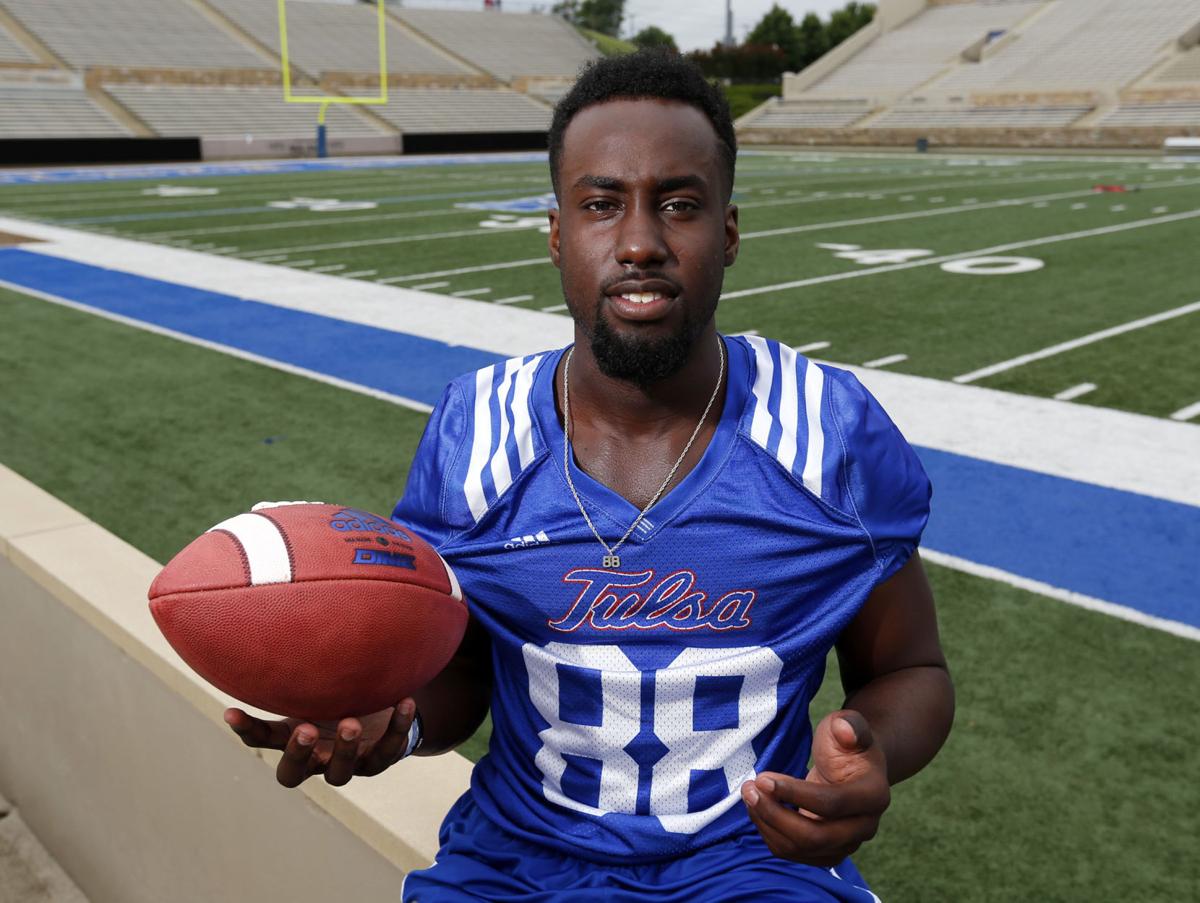 After seemingly flying under the radar throughout his University of Tulsa career, perhaps the time has arrived for wide receiver Josh Atkinson to step into the spotlight.
"He's a guy that doesn't get enough props but shows up every day and shows up at games," coach Philip Montgomery said. "He had 1,000 yards last year and nobody is really paying attention.
"The good thing about Josh is he's all about team and not worried about where credit is going. He's a fierce competitor and just a guy that has continued to work and get better at his craft."
A fifth-year senior, Atkinson is coming off a breakout season in which he recorded six 100-yard games and two more with 99, emerging as a key component of a passing offense that ranked 11th nationally.
With opposing defenses focusing on Keyarris Garrett and Keevan Lucas, Atkinson quietly cashed in. He scored the second touchdown of his career in Week 2 after recovering from a nagging injury and began a streak of five outings in a row with at least 100 yards.
"After that New Mexico game when I got my first 100-yard game, and then the OU game when I got 100 yards again, it was kind of like, 'OK, we're getting into a rhythm here,'" Atkinson said. "From then on, I was just trying to keep the ball rolling and keep my momentum."
Atkinson, who graduated from the Oakridge School in Arlington Texas, and whose parents, Shawn and Kim, attended Booker T. Washington, burst onto the Hurricane scene as a freshman during fall camp but sustained a season-ending ankle injury after playing in two games.
During redshirt freshman and sophomore seasons that produced 500 yards and a touchdown, Atkinson delivered several significant plays, including a crucial grab on a two-point conversion in the 2014 opener against Tulane that sent the eventual victory to overtime.
He was well on his way to a stellar season in 2015 when Lucas went down with a knee injury in the fourth game, but Atkinson challenged himself to help TU to bowl eligibility. Behind 2,659 yards from Atkinson and Garrett, that goal was accomplished.
"Last year when we lost Keevan, the receivers as a whole had to step their game up," Montgomery said. "Josh really took that to heart and he's one of those guys who really stepped up his game. He ended up making big, big plays for us throughout the year and he wasn't healthy all the time."
Atkinson, whose No. 88 also is worn by his favorite NFL player, Dez Bryant, dealt with a lower-leg injury late in the year that required surgery and sidelined him for the spring, and he has been limited in the preseason as a precaution.
Although Lucas is back from injury at inside receiver, Atkinson will have an increased role this season following the graduation of Garrett to the NFL. Garrett's 122.2 receiving yards per game ranked first in FBS last year.
"Keyarris was always everybody's fall-back guy: 'It's OK — we still have Keyarris,'" Atkinson said. "Now that weight is on our shoulders. We're not trying to let it bog us down. It's more like, 'Let's go lead our troops.'"
Atkinson, Lucas and quarterback Dane Evans have maintained a close bond during their time at TU and have high hopes for their final season together. Atkinson is admittedly the sentimental one in the group, always pointing out the "lasts" as they encounter them.
"It's our last ride, our last chance," Atkinson said. "Since we came in, Dane, Keevan and I have been talking about getting a conference championship together. It's like tunnel vision with that, but at the same time we're just enjoying every single second of it."
Kelly Hines
918-581-8452
Twitter: @KellyHinesTW
Be the first to know
Get local news delivered to your inbox!