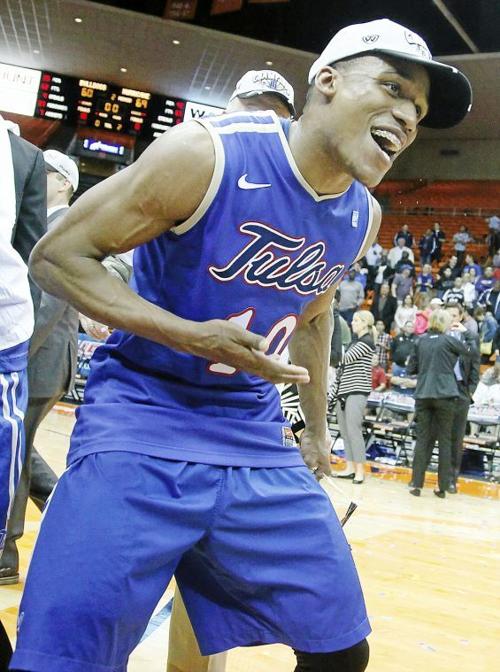 ---
While the American Athletic Conference features an upgrade in the level of competition, members are rewarded by being in a multi-bid league. By virtue of finishing in the top five, Tulsa could sneak into the NCAA Tournament with the help of a couple of key nonconference victories. The Hurricane will have early opportunities to make its case while facing ranked teams Oklahoma and Wichita State, and it also will play Creighton, Auburn and either Oregon State or Oklahoma State. But TU also will need to avoid bad losses to the bottom-dwelling conference teams.
Much like it did last year and now seemingly more likely with a new coach, Tulsa might struggle to develop rhythm and consistency early and then get going in the second half of the season. In that case, it would probably finish near the middle of the pack in the AAC and wouldn't have enough wins to land a bid to the NCAA Tournament. But making the NIT would be a solid finish to Frank Haith's first season, as well as the team's first season in a new conference.
---
TU men's basketball: Schedule for 2014-15 season
Nov. 8: vs. SW Okla St. (exh.) 4 p.m.
Nov. 15: at Oral Roberts 7 p.m.
Nov. 17: vs. La.-Lafayette 8:30 p.m.
Nov. 19: vs. Abilene Christian 7 p.m.
Nov. 24: vs. Auburn* 10 p.m.
Nov. 26: vs. OSU/Oregon St. * TBA
Nov. 29: at Wichita State TBA
Dec. 3: vs. Creighton 7 p.m.
Dec. 7: at Ark.-Little Rock 2 p.m.
Dec. 10: vs. SE Okla. St. 7 p.m.
Dec. 13: vs. Oklahoma 1:30 p.m.
Dec. 17: vs. Missouri State 7 p.m.
Dec. 22: vs. Incarnate Word 7 p.m.
Dec. 31: at Central Florida 11 a.m.
Jan. 4: vs. Houston 1 p.m.
Jan. 10: at Temple 2 p.m.
Jan. 13: vs. Connecticut 8:30 p.m.
Jan. 17: at South Florida 10 a.m.
Jan. 21: vs. Memphis 6 p.m.
Jan. 24: at East Carolina 11 a.m.
Jan. 27: at Tulane 6 p.m.
Jan. 31: vs. South Florida Noon
Feb. 5: at Houston 6 p.m.
Feb. 12: at Connecticut 6 p.m.
Feb. 18: vs. East Carolina 6 p.m.
Feb. 22: vs. Temple 5 p.m.
Feb. 25: vs. Tulane 7 p.m.
Feb. 28: at Memphis 7 p.m.
March 4: vs. Cincinnati 8 p.m.
March 12-15: The American
Championship, Hartford, Conn.
*MGM Grand Main Event, Las Vegas
Be the first to know
Get local news delivered to your inbox!