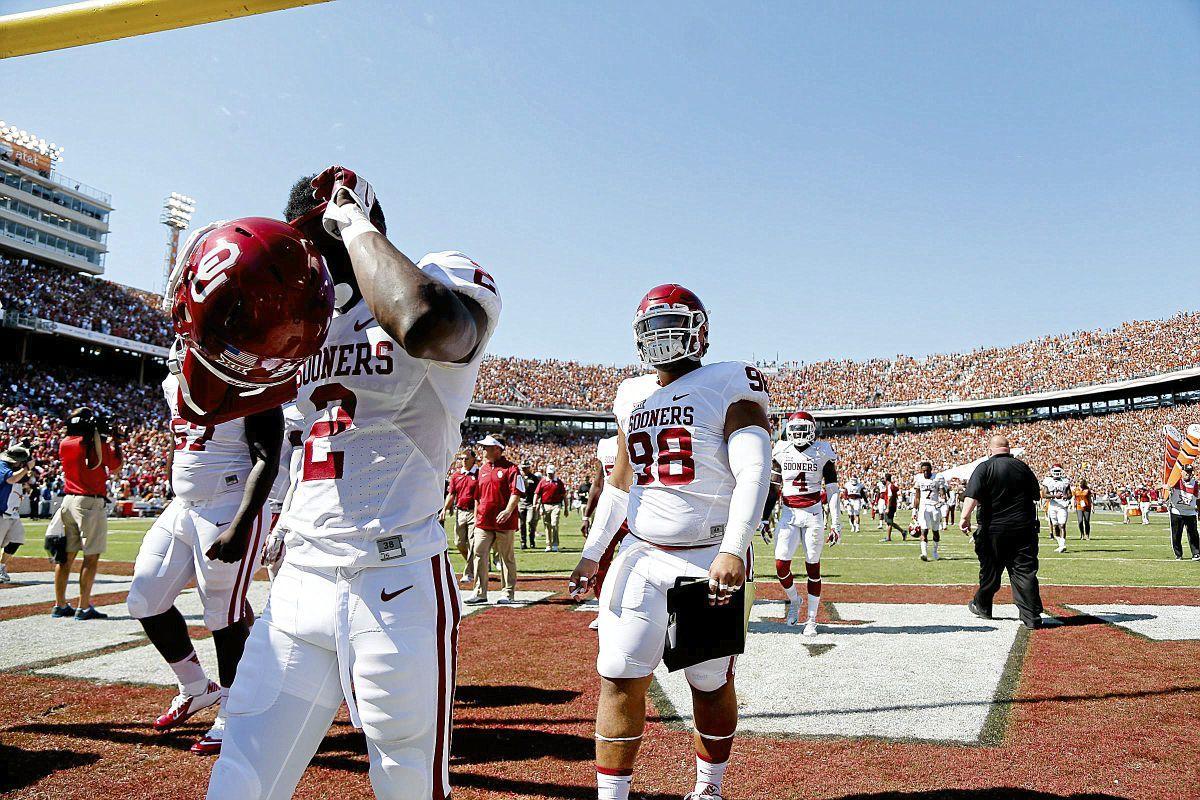 ---
NORMAN — It is a shocking development in the OU-Texas football series, something made disturbingly clear by Sooners center and captain Ty Darlington on Monday.
"The last couple years, especially '13 and this year, they've come out and they've been the more physical team. They've been the tougher team," he said. "They've played harder and had the chip on their shoulder, and we haven't."
Until 2013, the accepted storyline was that Texas' players had more recruiting stars, but OU's had more resolve. Some years, like 2005 when Vince Young quarterbacked the Longhorns' once-an-era team, Texas' talent was too much to overcome.
But OU losses looked more like the one from 2009. The Sooners fought an eventual national runner-up like their young lives hung in the balance, and came within Colt McCoy's post-interception tackle of Brian Jackson from an epic upset.
Now, OU wins don't even look sturdy.
"I disagree," Sooners coach Bob Stoops said Monday. "When you win and you're up two scores late in the fourth quarter, I thought you had taken the fight to them. That's my opinion."
It may be Stoops' opinion, but here are the facts from OU's 31-26 escape in 2014:
Texas had nearly twice as many first downs and rushing yards. Texas converted 13 third-down opportunities to OU's two. Texas had four sacks to OU's none.
Combine the last three Red River rumbles, you get more facts:
Texas has more first downs (68-45), rushing yards (716-300), offensive yards (1,295-773), third down conversions (29-6) and sacks (11-4) by wide margins. With such a disparity in the two running games in particular, there can hardly be any disputing which team has been more physical.
The Longhorns, after years of taking punches from Stoops' players, have landed them for three consecutive Octobers.
You could forgive the Sooners for not seeing the one in 2013 coming. Mack Brown's teams weren't exactly known for their fight. This particular group, Brown's last, finished 8-5 with losses by 19, 21, 25, 20 and 23 points.
You could even excuse OU for 2014, at least to a degree. Charlie Strong's team came in 2-3 and had already been drubbed by BYU 41-7.
"We talked about it all week, talked about it to you guys on Monday, addressed the team," Darlington said at OU's press conference. "We talked all about how the Texas team that we were gonna get was not gonna be the same one that played other teams, and they would come out fired up. And they did."
Not only that, the Longhorns came out running an offense solely dependent on ramming the ball right down OU's throat. They came out defensively by blitzing and overrunning Sooner offensive linemen. They didn't deviate much from either plan. They simply dared OU to do something about it.
And the Sooners could not.
"It's very disappointing," running back Samaje Perine said. "We knew they were going to come out swinging and we didn't match it at all... We knew what they were going to come out and do. But we couldn't match the hype that they had."
At one point in the third quarter, 280-pound defensive end Charles Tapper had 200-pound Jerrod Heard wrapped up for a sure sack. Tapper could not bring the Texas quarterback to the turf. Heard stayed upright and kept the field goal drive alive.
In the first quarter, Texas' Marcus Johnson came around on a jet sweep. Linebacker Dominique Alexander sprinted over to reach Johnson along the sideline, but chose to push Johnson off stride. He couldn't.
A few yards later, safety Hatari Byrd tried the same strategy. Johnson shrugged that off, too, and scored to give Texas a 7-0 lead.
Johnson is a flanker who is 25 pounds lighter than Alexander, OU's leading tackler, and 10 lighter than Byrd. Was this lack of effort?
"No, it's not lack of effort," Stoops answered. "It's lack of execution."
This has been Stoops' stance since Saturday's 24-17 loss. It wasn't missing toughness, fight or energy that cost OU. It was faulty execution. It was simply missed tackles and blocks.
Of course, the most successful offensive coordinator Stoops has had put it interestingly once, back when he was on the Sooners' staff.
"When you've got guys making tackles that are just getting off blocks, that has nothing to do with stacking the box. That has to do with an attitude or mindset of making a block or getting off a block," Kevin Wilson said. "Attitude and effort, that's all blocking and tackling is."
Another longtime lieutenant would agree.
"I think playing good defense is a lot about attitude," Brent Venables said when he was OU defensive coordinator. "That's as big as anything in tackling — attitude."
There was a time the Sooners had the attitude edge in the Cotton Bowl. They were tougher and stronger. They pushed the Longhorns around, not vice versa.
The most recent three-year run of OU-Texas games signals that day has come and gone, however. And that fact must eat at the Sooners.
"Yeah, it eats at you a lot," Darlington said. "I don't get another chance to go down there and prove that wrong. Obviously I don't believe that's who we are. But for whatever reason we haven't taken the field with that mentality."
As for the Longhorns' mentality last Saturday?
"They came out with that chip on their shoulder," Perine said. "They came out saying, 'We can beat you. We're going to beat you.' And that's what they did."