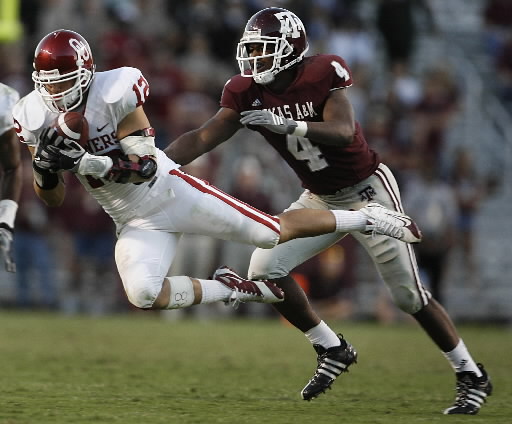 Gail Box has been through the heartache of burying a child.
Former Oklahoma linebacker Austin Box died from an accidental drug overdose in 2011. Since that tragic day, she has made a strong effort to keep families from going through similar pain.
When Oklahoma and Oklahoma State announced plans to wear a "Stop Opioids" helmet decal during Saturday's Bedlam game, she was ecstatic. OU and OSU are believed to be the first two schools in the FBS to work together to call attention to the crisis.
"I am so excited that we are coming together and raising awareness like this for the crisis we are facing," Box said on Tuesday. "I'm so proud of everyone involved in this."
Oklahoma Attorney General Mike Hunter said earlier this year that 2,684 Oklahoma deaths since 2014 have been attributed to opioid use.
Box has made it her life's work to educate the dangers of prescription drug overuse.
Last week, she spoke at Ada High School. She averages about two or three presentations a month.
"It is emotional for me to give my presentation. It's hard for me to give it multiple times," Box said. "I do two or three times a month because it does take its emotional toll on me but I will never stop as long as I have people listening and learning about addiction and the dangers that are out there in regard to our young people and just anyone falling under the spell of addiction."
Box has always been thankful for OU's support to their family and added that they "walked with us during the darkest time of our lives."
As someone who considered herself a "background person" she's been in the forefront against our state's crisis.
"I never thought I would be stepping forward and leading," she said. "Austin, he's my example. He was a great leader to his team and the people around him. It's his example that makes me want to step out of the background and try to lead."
Austin Box's memory will never fade.
"When Austin passed away, he was wearing the wristband with Proverbs 27:17 on it and it's 'iron sharpens iron so one man sharpens another,'" Gail Box said. "You know his memory is going to live by going out and teaching people to sharpen each other, to make a difference, whatever it might be, in someone else's life.
"My role seems to be trying to make a difference in this epidemic that is taking so many lives in our nation and raising awareness."
Eric Bailey
918-581-8391
Twitter: @ericbaileyTW