Marquise Brown's uncanny journey to setting the single-game receiving record at Oklahoma begins right where most stories in modern history begin. At a hospital.
In Brown's home state of Florida, Shannon James had just become pregnant around the time she got other news that changed her life. Her blood pressure was through the roof, and doctors said her kidneys were eventually going to fail. They said her pregnancy was at risk, and she had a choice.
"I chose to keep my baby," James says now, thinking back on her family's long journey.
For the better part of nine months, James was sick and on bed rest. She spent most of that time in the hospital, where she wasn't allowed to eat, hooked up to IVs that pumped nutrients into her and her unborn child, the aggravating wires and pricks serving as a necessary lifeblood.
Finally, Marquise Brown was born on June 4, two weeks early. He weighed 5 pounds, 6 ounces.
"He came out, and he was a little guy," James said.
Brown was small and a bit premature, but he was perfectly healthy. After two weeks in the hospital, Brown got to go home. From that day on, James says, he brought life to the family.
James raised Brown and his older sister, Shanice, on her own, with help from her parents. Her baby boy would go on to beat the odds in so many other ways, but the biggest challenge he ever faced was simply being born. A story of determination started with a mother's love.
"He was my miracle baby," James said.
Shannon James always did her best to raise her children despite a desperate circumstance.
Today, 25-year-old Shanice Brown looks back in awe of how her mother made it work.
"Sometimes we didn't even realize the things we went without," Shanice Brown said. "My mom really did an amazing job of not allowing us to feel so much of the struggle."
After giving birth, James' health only got worse. She experienced kidney failure and spent at least five years on dialysis. She went through her share of rough stretches, where she would have to stay in the hospital while the kids stayed with their grandmother.
Once, Shanice recalls, the doctors went into what they call "code blue" and had to perform a resuscitation. There was another long period where James was extremely ill, and family was worried she might not make it.
All this meant that even when James was able to be at home, she couldn't work. She raised two kids mostly off social security and government assistance, her unemployment not at all a measure of her indomitable will.
"I never (saw) her cry," Shanice said. "I don't know if she did that privately. She always was so strong and kept her faith in God. That was another thing that inspires me now as an adult. Seeing how strong she was going through that, that was so terrifying to us as kids."
Together, the family made things work. When Brown was entering sixth grade, James was able to move her family out of the rougher part of Hollywood, Florida, where there were drugs on the corners and violence all around.
James and her two kids developed a tight bond through the adversity, and they loved to have dance battles in the living room.
And in some ways, James always knew Brown was destined for something great.
When Brown was 2 years old, James put him in a Dan Marino jersey for Halloween, and he never wanted to take it off. His entire life, James never saw him with anything but football on TV. He would watch games and highlights, then play NCAA or Madden on the PlayStation.
She said Brown was always a simple kid. He was obedient and never had problems. He could be quiet, but loved to laugh and be goofy.
All he really wanted was to play football, but from his days playing peewee, coaches doubted his size. He was always the smallest, but he was also always the fastest. James remembers more than one occasion where Brown wasn't getting to play or wasn't getting the ball. Then he'd finally get one touch, and no one could catch him.
Once, a coach came up and apologized.
I'm sorry, I didn't know he was that fast.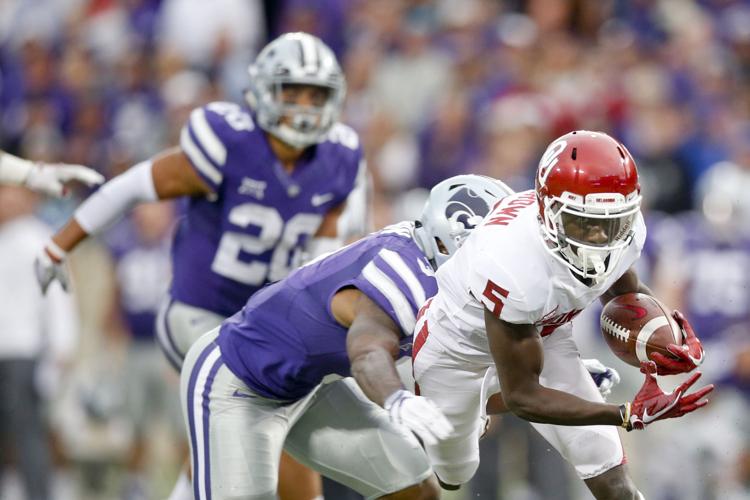 Brown went on to star at Chaminade-Madonna High School, where long touchdown receptions or dynamic kick returns fill his highlight tape.
A Facebook post from 2014 shows Brown getting letters from schools such as Miami and Memphis, but it seems those college letters never materialized into offers.
Brown was well under 6 feet tall and probably weighed 130 pounds coming out of high school. Interest was minimal, but Brown always told family he was determined to play at a Division I school.
Brown also says he "slacked off" on his ACT, and that resulted in him being a late Division I qualifier. In May 2015, he announced his commitment to Utah State. The exact story behind why Brown never played at Utah State isn't clear, but James says it was related to the ACT, and Ted Iacenda, who would eventually coach Brown at College of the Canyons, offered his own theory on how Brown slipped through the cracks.
"My inclination is that he was probably a late, late qualifier, either coursework or test score, so all the schools moved on," Iacenda said. "And his size. And lot of the bigger schools were probably put off by, 'Hey, academically it's a stretch. He's not ready right now. And he's 130 pounds'. … That's kind of what I got from Marquise in our discussions. (Utah State) was the only school that was really interested that late in the game, but they had to move on, and so he kind of just sat out the semester and decided to go the juco route."
So with his dreams on hold, Marquise Brown spent the fall of 2015 at home in Florida. He had looked for a place to play football, but no luck. He looked for a job, but no luck. Every morning, though, he would get up, grab his set of cones and walk down to a local park, where he'd work out and go through his own drills.
"He would still focus like he was on a team," James said. "There was no stopping Marquise."
The whole time, Brown says he was in contact with coaches. It was hard for his family to keep up with every single move, but Brown had extended family in California, and another player helped him get in contact with College of the Canyons.
His mother was initially apprehensive about the idea of him going 3,000 miles across the country, but he visited a few California junior college, and Canyons became the right fit.
"He never gave up," James said. "He never took no for an answer."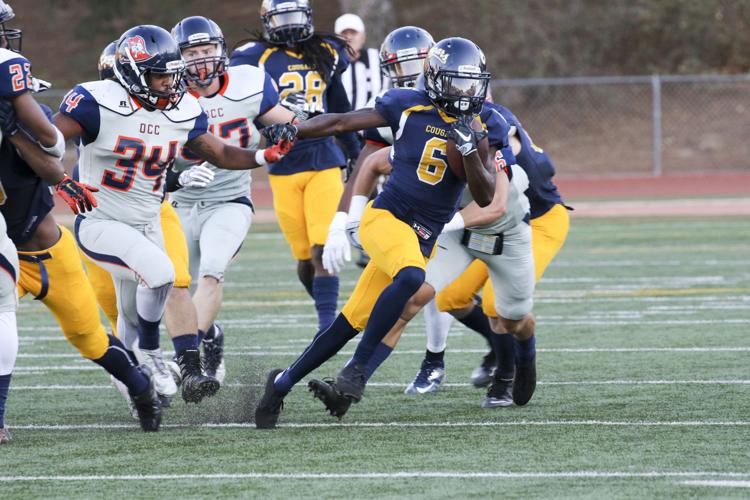 During Brown's first spring and summer in California, he would often show up to practice wearing a uniform from Six Flags.
Because California junior colleges do not allow athletic scholarships, Brown was paying his own way through school. Every week, his mother would send him $300 for rent, and his sister might try to send him a little cash, too. But the rest was up to Brown, and thanks to some connections at Canyons, he got a job at Six Flags Magic Mountain. He was a ride operator on the X2, a 215-foot-tall roller coaster.
Still, Brown didn't have a car, so he would walk, ride a bike, catch a bus or call an Uber.
"He did things I didn't know he had in him," James said.
Iacenda liked what he saw of Brown on tape, and he liked what he saw even more during spring practices in shorts. Division I coaches came by that spring, and Iacenda put Brown on a list of players to watch. Brown has said he was clocked with a 4.33 40-yard dash.
But the first time Iacenda knew Brown was for real came in an early practice or scrimmage. Iacenda doesn't remember the exact play because that's not the point. All he remembers is Marquise Brown catching a pass, then making five different defenders miss. Not something you see every day.
"We just looked at each other and go, 'Did that just happen?'" Iacenda said.
Brown scored a touchdown in his first game, and in his second junior college game, he had three receiving touchdowns and a kickoff return. The offers started from school such as Weber State and North Carolina Central. Soon, they turned into the likes of Oregon, Nebraska, USC, Tennessee and Oklahoma.
"It's monkey-see, monkey-do," Iacenda said. "We always laugh about it. Once you give a kid one offer, then he'll get 10 more. So after that, it was just a matter of … we would do his highlight tape every week, update it, and of course it would have like a new 90-yard catch or something. Boom."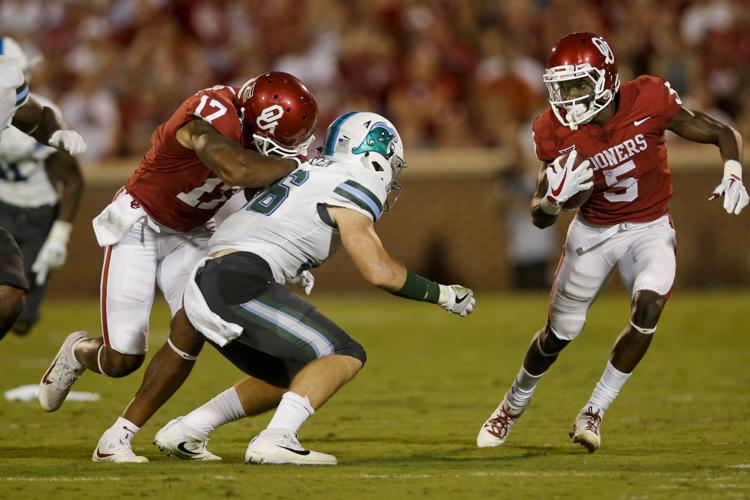 Last winter, Marquise Brown went back home to Chaminade-Madonna to announce his big decision.
Iacenda said USC pulled Brown's offer late in the game because of his size, so his decision came down to West Virginia and Oklahoma.
Brown liked both schools and was having a hard time deciding. But James says she was in love with OU from the start. She accompanied Brown on his visit and was wowed by the coaching staff and facilities. There was a cookie cake with Brown's number on it, and the staff put her and her son's name up in lights as part of the recruiting display.
"Just to see your son's name on a poster, it was like something you'd see on television," James said. "You'd never imagine that's your little boy."
Back at Canyons, Iacenda liked Oklahoma, too. He says the Sooners' staff was cooperative and kept in touch, even moving Brown's visit after it was first scheduled for the day of a game. West Virginia, Iacenda says, scheduled Brown for the day of Canyons' bowl game and didn't want to reschedule.
"They were awesome," Iacenda said. "As a lower-level coach, trying to help your kids get out, that's what you want a Division I staff to do, is to treat you right."
Brown liked the way he fit in at OU, too, so when the day finally came, he put on a crimson hat and flashed a big smile. His mom said it felt like Christmas Day.
But like any player going from JUCO to a Power 5 school, Brown's adjustment wasn't necessarily easy. He showed up at OU in January, and the first spring roster listed him at 147 pounds. Accurate or not, there were doubts he could play at anything close to that size.
Flash ahead to early in the season, and Brown wasn't getting much playing time. In OU's big-time win against Ohio State, Brown didn't play, and against Baylor, he gave up a costly fumble.
Through that time, Brown leaned on his faith and his family back home. He also sought guidance from Jeff Badet, a senior graduate transfer from Kentucky who's taken it upon himself to mentor younger players.
"I just knew I had to work harder so I could get on the field," Brown said.
Badet and Brown are roommates on road games, and they stay up late breaking down film. In the times Brown was discouraged, Badet tried to keep him positive.
"That's something that pushed Marquise a lot, having people keep saying that he's too small to do this, too small to do that," Badet said. "When really that's not the case. I think it's all about how big your heart is, and Marquise, he's a guy with a big heart."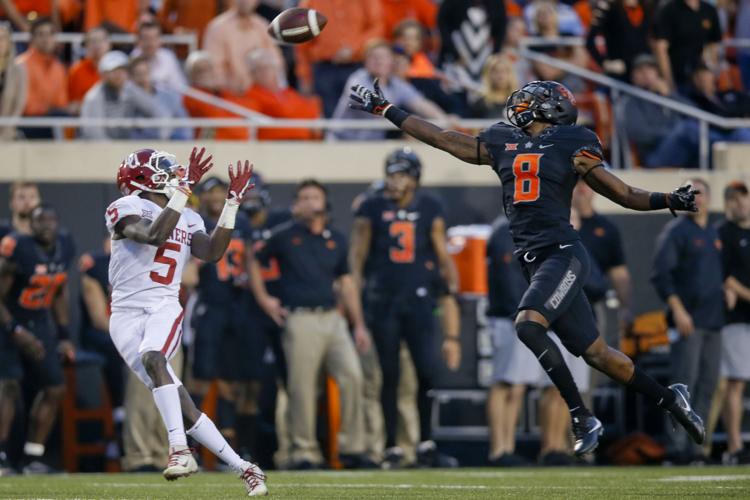 With 11:54 remaining Saturday against Oklahoma State, the Sooners were up 48-45, and Baker Mayfield dropped back to pass. Brown was lined up on the right side, and he ran a fade pattern along the numbers.
As Mayfield launched a deep ball and Brown cradled it in his arms, Fox announcer Gus Johnson went nuts.
"Hollywood!" Johnson yelled, repeating the nickname he gave Brown two weeks earlier against Kansas State.
"Who is this kid? Where'd he come from?" Johnson went on to say.
There was a pause in the broadcast, then this:
"He was a junior college transfer, from the College of the Canyons. That's where he came from."
Brown's 77-yard touchdown reception helped the Sooners win Bedlam and gave him nine receptions for 265 yards and two touchdowns. His yardage total passed Dede Westbrook for the most ever by a Sooner in a single game.
After the victory, Brown stood against a brick wall in Stillwater, quietly explaining part of how he got this far.
"I got a lot of faith in God and I pray a lot," Brown said. " I knew I was gonna have my time eventually."
The next morning in California, Iacenda says he woke up to a text from a USC assistant.
Doesn't it feel good to say I told you so?
Iacenda replied: Yes it does.
And the next week in Florida, Shanice says the community is rallying around Brown and his Hollywood nickname, which he's now using on Twitter. Supervisors are talking about her brother at work, and one coworker who has never watched football has started following the Sooners.
As for James, she had a kidney transplant a few years ago, and her health has gradually improved. Not long ago, she went to cosmetology school and got a job styling hair.
She says certain people were born for certain moments, and Marquise Brown was born to play football at OU. Her miracle baby is still doing miraculous things.
"Every day staying in the hospital, every day on IVs, it was worth it," James said. "I can honestly say it was worth every minute of it, and it was worth it, just to see this moment."