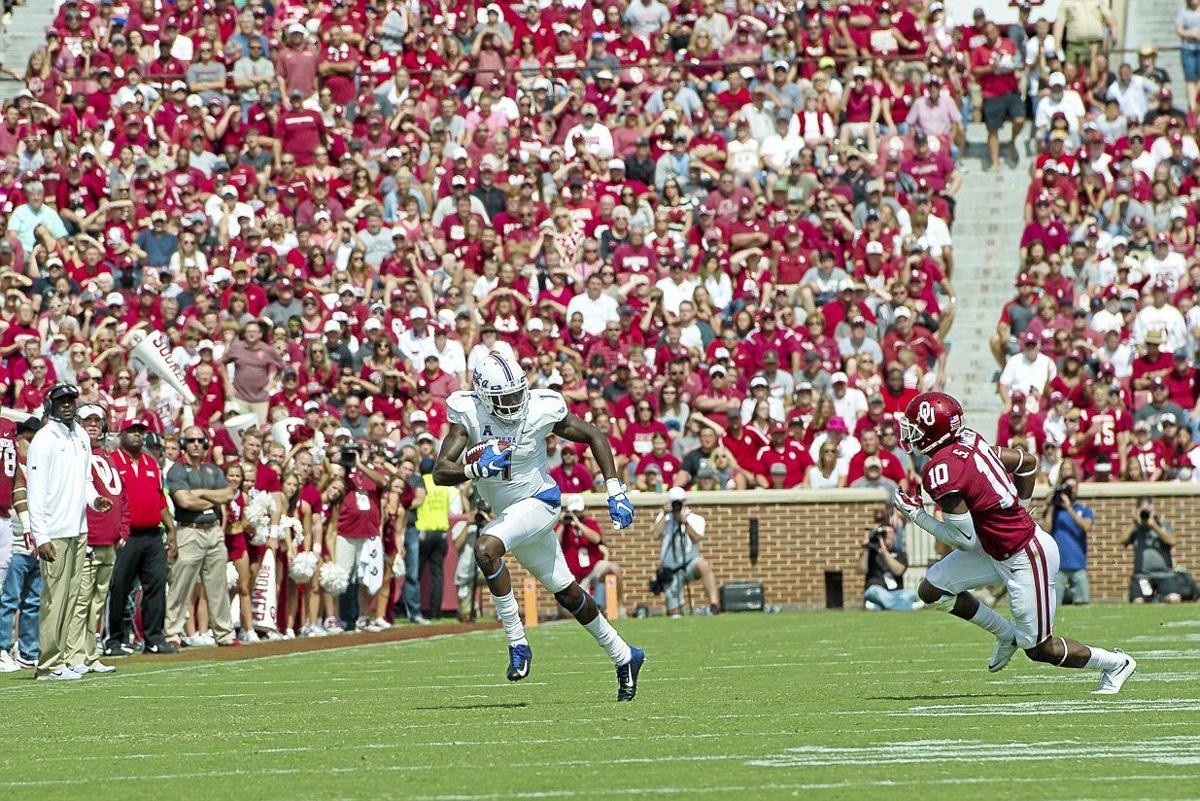 ---
NORMAN — Oklahoma football fans who cringed throughout the Tulsa game two weeks ago might not have a particularly warm feeling about Saturday's showdown with West Virginia.
If the Golden Hurricane can ring up 600 yards and 38 points in Norman, what can the Mountaineers do?
"It was a great teaching moment for us," OU defensive back Steven Parker said Monday about the damage inflicted by the Tulsa offense in a 52-38 victory. "It kept us on our feet and made us think a little bit more."
In the Big 12 Conference, OU will face more efficient offenses than it did in TU — perhaps beginning this week — and even defensive coordinator Mike Stoops might be agreeable to yielding 600 yards and 40 points if it means the Sooners prevail.
So what is a reasonable expectation for a college football defense these days?
"A win," coach Bob Stoops said. "A win. I think TCU's probably pretty satisfied with their win last weekend."
No doubt, defensive whiz Gary Patterson and the Horned Frogs are tickled purple with their 55-52 victory at Texas Tech on Saturday night. The Red Raiders piled up 52 points, 607 yards of offense and 32 first downs, and clearly TCU's defense, gutted by injuries and other issues, isn't what it was. But it's TCU who's still undefeated.
"The week before, at Tennessee, we won a different way," Stoops said. "You win differently every week and that's why it's a team (sport), and I say it a lot, about playing together as a team, that's what I mean by it. One side of the ball doesn't win or lose for you. It's always a combination. A team win any way you can get it."
In a way, this is the kind of game for which Stoops brought in offensive coordinator Lincoln Riley.
"You've got to be able to hold serve and (score prolifically) as well," Stoops said.
Stoops pointed out that although Oklahoma ranks 19th nationally in points per game and 10th in the country in total yards per game, there's plenty he and his charges need to work on.
"I like the direction it's going in, but let's face it: we've had some spotty moments, too," Stoops said. "You know, we can't forget three quarters at Tennessee. So it all has to keep improving."
That's where an improved West Virginia defense might come into play. This isn't quite the same Mountaineer squad that gave up 242 rushing yards to Samaje Perine last year or 554 passing yards to Landry Jones in 2012.
Nine starters returned from that 2014 squad, and now in their second season under defensive coordinator Tony Gibson, West Virginia leads the nation in scoring defense and turnover margin. Offensive guru Dana Holgorsen values a stout defense. Imagine that.
One of the new metrics in measuring defensive success is points allowed per possession. An average of 1.0 is exceptional, 1.5 is dominating and 2.0 can bring championships, and in three non-conference games, the Mountaineers are giving up just 0.56 points per possession.
Some of that can be attributed to a lousy nonconference schedule of Georgia Southern, Liberty and Maryland. Liberty is an FCS program, and although Georgia Southern and Maryland are a combined 5-3 so far, their schedules outside of WVU have been soft.
Facing Oklahoma will swell the Mountaineers' defensive numbers, of course. Might even pop them altogether.
Still, 21 of the 25 players on West Virginia's defensive two-deep are juniors or seniors.
"Usually your better defenses have more experience on the field," Stoops said, "and time on the field usually makes a big difference with your communication and understanding of the defense and understanding what offenses are trying to do to you."
​Read John E. Hoover's blog