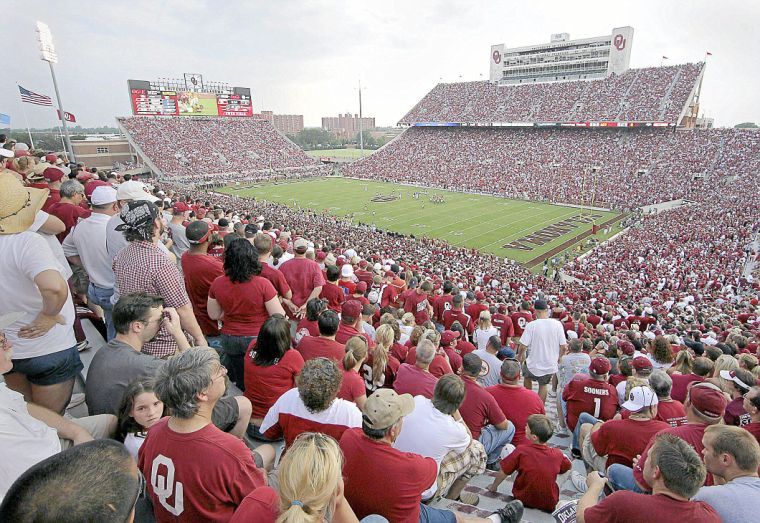 ---
Home attendance at college football games was down nationwide in 2014, lower on average than it has been at any time in the past decade.
The numbers at a few schools were up — Oklahoma somehow was among them, from 84,722 in 2013 to 85,162 in 2014 — but the overall trend continues downward.
The problem? Television. College football is so popular it has begun devouring itself.
It's almost like Yogi said: Nobody goes there anymore; it's too crowded.
Athletic departments still are trying to decipher that magic formula — reaping the immense rewards of having every game televised, and yet still finding a way to put fans in the seats.
At Oklahoma State, average home attendance dipped from an all-time high of 59,126 in 2013 to 54,387 in 2014, an average of 4,739 per game.
Even a program as trendy as OSU can't hope to set a record every year. But that's a massive drop. Seven college football programs nationwide experienced an attendance plunge of 5,000 or more, and the Cowboys were nearly the eighth.
Everyone experiences a bad year on the field once in awhile. Oklahoma State fell from 10-3 in 2013 to 7-6 last year. But two years before, from 2011 to 2012, OSU fell from 12-1 and Big 12 champ to 8-5, and attendance dipped only a little, by 672 per game.
The 2014 drop probably was due to the overall vibe around the program — head coach Mike Gundy let his rifts with athletic director Mike Holder and billionaire booster Boone Pickens fester — as much as they were to an inferior product on the field.
Tulsa's average home attendance fell for the third consecutive year, though that was foreseeable.
TU averaged 20,020 per game in 2012, when the Golden Hurricane went 11-3 and won Conference USA. But crowds during Bill Blankenship's final two seasons as coach fell to 19,893 in 2013 and 19,647 last year as TU fell to 3-9 and 2-10.
It's unlikely that TU games will ever draw satisfying numbers, but fewer than 20,000 — and some of those games may have been just a slight exaggeration — isn't doing the athletic department any favors.
New coach Philip Montgomery and his high-tempo offense and deep Texas recruiting roots seem to have re-energized things at 11th and Harvard. It's certainly not inconceivable that TU could draw close to 25,000 again.
In 2007 and 2008, when TU led the nation in total offense in back-to-back seasons, the Golden Hurricane also pulled in respective crowds of 24,539 and 24,368. Montgomery stated one of his goals is to "put 'em in the seats," and he knows an exciting offense will accomplish that.
Last season, Oklahoma somehow bucked the trend of bad football resulting in smaller crowds.
The Sooners had their worst season under coach Bob Stoops, and yet average home attendance rose by 440 per game. Certainly there were high hopes after OU beat Alabama in the Sugar Bowl, but as home losses piled up last year at an unprecedented pace, fans still came to see the show.
Those same fans did voice their opinion as OU was blown out again by Baylor — first by booing the defensive game plan, then by walking out early, then by roasting their favorite team on social media — but they still returned for the season finale against Oklahoma State.
OU's 2013 number was down from an all-time high of 85,243, but that dip seems more like a blip, as evidenced by the throng that turned out for this spring's Red/White Game.
Coming off an entirely miserable season — three players sat out following high-profile accusations of violence against women, OU lost three home games, the Sooners were was blown out in their bowl game and Stoops fired or reassigned all but one assistant coach — some 42,000 citizens of Sooner Nation came out to watch the spring scrimmage, an all-time high.
And, yes, OU's spring game was televised.
At OU, the quality of the home schedule may have as much to do with attendance as the team's win-loss total. Last year's home slate featured Tennessee, Kansas State, Baylor and OSU. This year's highlights are West Virginia and TCU, so expect 2015 attendance to fall off some, though things should pick up in 2016 as Owen Field finally gets its south end zone bowled in.
Filling a college football stadium is a battle worth fighting.
Athletic departments make millions of dollars off conference television payouts for football games, enough to subsidize nearly every other sport on campus. That's a great thing. Young people are able to get a college education because they can play a sport at a school that also plays football. Society is better for it.
And yet, the commodity of televised college football is presented so well — massive flat-screen TVs, high-definition feeds, multiple replay angles, access to countless other games — many fans have decided to stay home rather than spend money on travel and parking, fight traffic and crowds and shell out hundreds of dollars for tickets.
TU athletic director Derrick Gragg joked that the ideal formula for every school would be to have every road game on television and every home game available only to the ticket-buying public.
Read John E. Hoover's blog at
Be the first to know
Get local news delivered to your inbox!