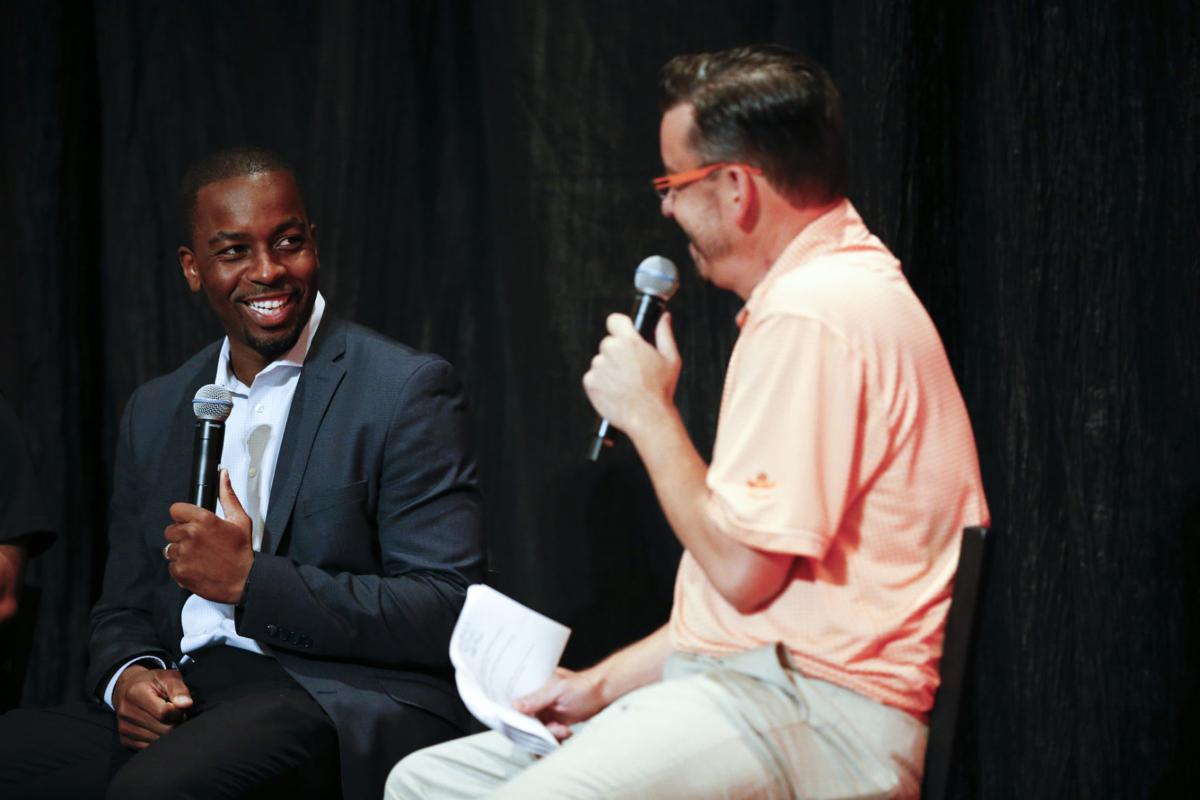 Mike Boynton is expected to remain Oklahoma State's head coach as the Cowboys begin preseason practice on Friday.
Boynton's associate head coach, Lamont Evans, was fired for cause by Oklahoma State on Thursday, two days after he was charged in a bribery and corruption investigation by the FBI.
But there has been no indication that Oklahoma State is planning to do anything with Boynton other than stay committed to him, the Tulsa World has learned.
Based on info from those around the program, Boynton isn't believed to be connected to the allegations against Evans. Court documents allege Evans received at least $22,000 in bribes in exchange for influencing student-athletes during his time at South Carolina and Oklahoma State to retain business advisory and/or investment management services from the bribe payers.
Oklahoma State begins practice six weeks to the day before its regular-season opener against Pepperdine Nov. 10. Amid the news that Evans was one of 10 men — including four men's basketball assistant coaches — charged in a scandal that could have ripple effects throughout college basketball, the first practice feels like a footnote.
No players are expected to be held out when the team convenes for the first practice.
The 59-page court document in which Evans' charges are listed brought into question whether there could be potential player eligibility issues. The court document alleges Evans both took bribes to steer student-athletes toward financial advisers and sought money to pay recruits and their families.
One player was allegedly brought into a meeting with Evans and a financial adviser who was a cooperating witness for the government, according to court documents. That meeting took place in Evans' hotel room on Feb. 3 in West Virginia, the day before Oklahoma State played West Virginia. According to court documents, the player ultimately decided to return to school.
Oklahoma State has added three new players to its roster this season.
Only one is a freshman: Zack Dawson, a 6-foot-3 guard from South Miami (Fla.). The others are point guard Kendall Smith, a graduate transfer who averaged 16.7 points per game for Cal State Northridge last season, and Michael Weathers, a guard who will sit out this season after transferring from Miami (Ohio).
Prior to Thursday afternoon's announcement of Evans' termination, the now-former coach was suspended with pay by the university on Tuesday.
Evans voluntarily surrendered himself to authorities in Oklahoma City on Wednesday and was released after an initial appearance in U.S. District Court on $50,000 bond.
His next hearing is scheduled for Oct. 10 at 9 a.m. in New York.
Evans faces six charges: conspiracy to commit bribery, solicitation of bribes and gratuities by an agent of a federally funded organization, conspiracy to commit honest services fraud, honest wire services fraud, conspiracy to commit wire fraud and Travel Act conspiracy.
The charges, together, carry a maximum sentence of 80 years.
Evans had been employed at Oklahoma State since April 2016, when Brad Underwood hired him as an assistant. Evans worked for four seasons as an assistant at South Carolina before OSU.
Evans' annual salary was $600,000 at the time of his termination. Per his contract, OSU's obligations to Evans cease at the end of the month because he was fired for cause.
If Evans is terminated for just cause due to governing athletic rules violations — which would seem to mean NCAA rule violations — he could owe the university up to $100,000 in damages, according to his contract. That's contingent upon whether the university sustains damages as a result of repeated rule violations.
Boynton's contract has not been finalized because details are still being worked on, a university spokesman told the Tulsa World on Wednesday. In March, Athletic Director Mike Holder said Boynton would start at $1 million on what would likely be a five-year contract.
There was no indication Thursday on what Boynton will do with the vacancy on his staff now that Evans has been fired. John Cooper and David Kontaxis are Boynton's other two assistants. Each enters his first season in Stillwater.
Mark Cooper 
918-581-8387
Twitter: @mark_cooperjr