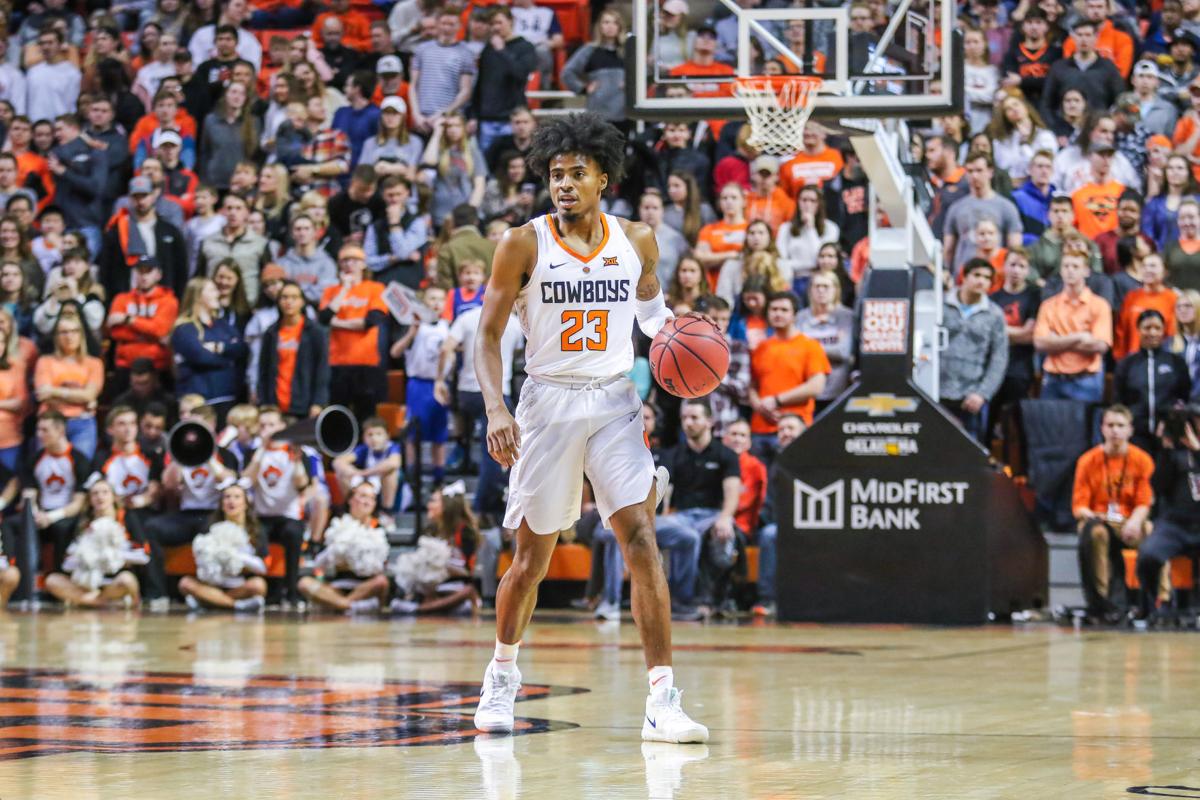 STILLWATER — Oklahoma State's roster is down to eight scholarship players after Mike Boynton dismissed three players from the program on Wednesday.
Michael Weathers, Maurice Calloo and Kentrevious Jones are no longer with OSU because of "a situation that these young men were a part of that doesn't necessarily fit into what we believe is the right way to build our program," Boynton said Wednesday.
It's believed the dismissals are connected to an ongoing investigation of a Jan. 1 vandalism of vehicles with BB guns in Stillwater.
According to a Stillwater Police Department public information report, officers investigated a reported vandalism that included two shattered back door windows, damage to a 2015 Toyota Rav-4 and a 2011 Chevy Cruze. The Rav-4 sustained approximately 30 BB holes/dents in the windows and body on both sides, totaling $5,000 in damage. The Cruze sustained approximately three BB holes in the windshield, totaling $500 in damage. The incident occurred between 11:30 and 11:45 p.m. on Jan. 1. The document was provided by police in response to an open records request for reports involving the three players.
No charges have been filed. A Stillwater Police Department employee said in an email she could not comment on or provide any other information because the investigation is still ongoing.
Boynton spoke to reporters Wednesday afternoon, three hours after OSU announced the players had been kicked off the team.
He did not reveal the cause of the dismissal but alluded to a "situation" taking place.
"In terms of the incident itself there was some kind of noise about something that may have happened but it was very, very cloudy on details," Boynton said. "I never want to make a rush to judgment. I want to make sure I have as much information as I can before I make a decision, and that would have been late last week. More information came about when we got back, late Saturday night. We moved forward from there and more information more recently last night."
Oklahoma State has played five games since Jan. 1 — the first five games on its Big 12 schedule. Weathers, a sophomore, and Calloo, a freshman, played in all five games. Jones, a freshman who was suspended from the team before Monday's game against Baylor, appeared in one.
Boynton said he spoke to Jones on Sunday. He informed Weathers and Calloo of his decision to remove them from the team on Wednesday.
Asked if their dismissal was permanent, or if there was any chance of the players returning to the program, Boynton said: "I don't have a crystal ball. I would put the odds at very, very slim that any of them return at any point."
The news comes a week after OSU and another player, graduate transfer Mike Cunningham, parted ways.
All three players dismissed Wednesday were brought in after Boynton became head coach in 2017.
Weathers, who transferred from Miami (Ohio) and followed his former coach John Cooper, one of Boynton's assistants, was suspended from the program in the fall after he was arrested outside a Stillwater bar on Sept. 9. Weathers pleaded guilty to knowingly concealing stolen property in November and was reinstated to the program.
At the time of Weathers' reinstatement, Boynton said he made it a point to him that he wouldn't have a second opportunity to "screw up."
"If he does anything close to what he did, he won't have another opportunity with our program, so that's the message," Boynton said in November. "'Hey, you've got another chance by grace, and now's the chance to do the right thing with that second chance.'"
Calloo, a forward from Windsor, Canada, and Jones, from Macon, Georgia, were part of a five-man freshman class. Jones had previously been suspended for a team rules violation twice.
"Each situation that comes up is in and of itself a situation we gotta deal with," Boynton said. "Like I said, it's not always public, what goes on, and there's been discipline before for these guys. Now is just the time to make this decision right now for them and for our program."
Weathers and Calloo were key players off the bench for this year's team. Weathers averaged 20.4 minutes and 9.2 points per game. Calloo averaged 10.8 minutes.
In Boynton's 22 months as head coach, Oklahoma State has brought in 10 new scholarship players. One — graduate transfer Kendall Smith — exhausted his eligibility last year.
Five others have either been dismissed or left the program — Zack Dawson (dismissed in December 2017), Cunningham and the three players kicked off the team Wednesday.
Asked if this will cause he and his staff to change anything they do to evaluate players in recruiting, Boynton discussed the challenge of learning everything about a player during the recruiting process.
"I do think our staff does a good job of finding out as much information as we can," Boynton said. "You never know everything, and when things come up, it's really about more so how you deal with them in that moment. We want to know everything, we don't, and you've got to figure out how to deal with things as they come up."
The Cowboys are now down to eight scholarship players, one of whom is former walk-on Trey Reeves.
The others: Lindy Waters, Cameron McGriff, Thomas Dziagwa, Curtis Jones, Isaac Likekele, Yor Anei and Duncan Demuth.
Boynton's session with reporters ended after he addressed what Wednesday's news might mean for fan perception after the largest crowd of the season turned out for Monday's game against Baylor.
"I'm very sensitive to how our fans feel about our program," he said. "There's no question. This is their program. They deserve to see a product that they feel good about. They also deserve to have young men out there in the uniform that they know are about the right things, and so that's what's most important to me right now."
Mark Cooper 
918-581-8387
Twitter: @mark_cooperjr