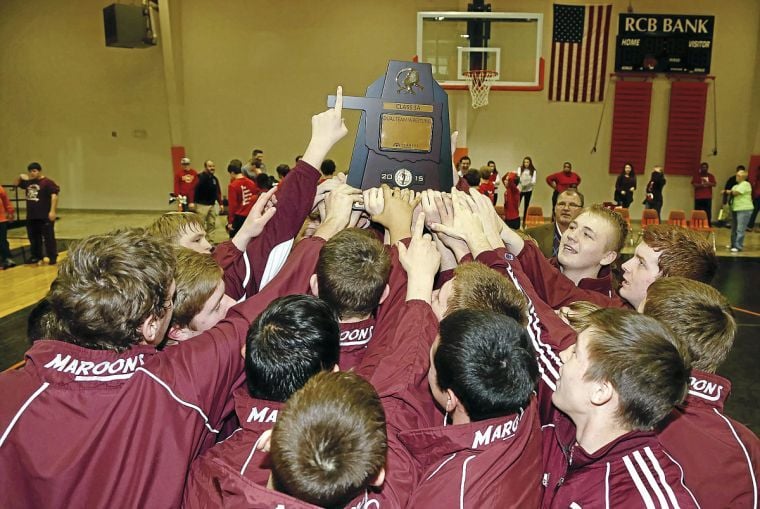 CUSHING — Matt Jones and Garrett Beier won the last two matches to give No. 2 Perry a 30-28 win over top-ranked Plainview in the Class 3A Dual State Championship Saturday night, giving the Maroons their seventh straight title and 14th in 17 years.
With Plainview up 28-22, Perry's title run was being threatened because one more loss would have clinched it for the Indians. But Jones won a 2-1 thriller over Darric Caruthers at 220 pounds to get three points, and Beier delivered a pin at 1:15 on Dorian Fagan at 285 for six more.
Perry did have one point deducted for a celebration penalty afterward. It didn't matter.
"We came out and showed who the real champs are," Jones said.
Jones fell 1-0 early when Caruthers escaped his grip with 1:40 left in the second period.
"I was thinking about the team," Jones said. "We were down, and (Maroon teammates) kept telling me, 'You got to have heart! You got to have heart!' So I kept thinking about them. I didn't care about me. I didn't care about how tired I felt because I know I had been training every day."
Starting out on bottom, Jones got himself a takedown at the start of the third period.
"One thing we stress at Perry is conditioning," Jones said. "You got to stay in good shape and in good position. My one thing is I can snap him down, he will get tired and he will hit the mat. All I had to do was keep pushing the pace, where he breaks.
"(Beier) who won heavyweight (285); I train with him every day," Jones said. "I work hard with him so I can succeed in matches like those."
It wasn't the first time Beier faced Fagan. The two wrestlers had a earlier match.
"I was pretty confident going into the match because I pinned him early in the season," Beier said. "So I was confident if I go out there and attack him and keep attacking, he would eventually break."
Beier had a takedown before enforcing the fall with 45 seconds left in the first period.
The Maroons took a 16-3 lead with wins at 106, 113 and 126.
The tide would turn in Plainview's favor as it won the next three weights.
At 152, Plainview moved ahead 19-16 when Tanner O'Neal pinned Dustin Smith at 14 seconds into the match. But Perry responded as Riley Bethchan scored a late takedown to beat Bodie Davis, 5-3, at 160, tying the dual score.
The teams exchanged matches at 170 and 182 and it was 22-22.
Ruston Duke administered a fall to Perry's Robert Speikers at 5:28 in the 195-pound match and the stage was set.
Fifth-ranked Sperry was eliminated in the first round after dropping a 48-25 loss to Plainview.
The Pirates took a 6-3 lead after Nate Thompson forced a fall on Caruthers at 1:36 into the 220-pound match
Devon Ball's pin of Bruce Smith at 3:47 of the 126-pound bout, tied the score at 18-18.
Plainview won the next match and never relinquished the advantage.
Josh Walls 5-3 win against Dominus Ducharme at 182 increased the advantage to 42-24, putting it out of reach for Sperry.
In a first round upset, No. 6 Geary-Watonga beat No. 3 Chandler, 39-34.