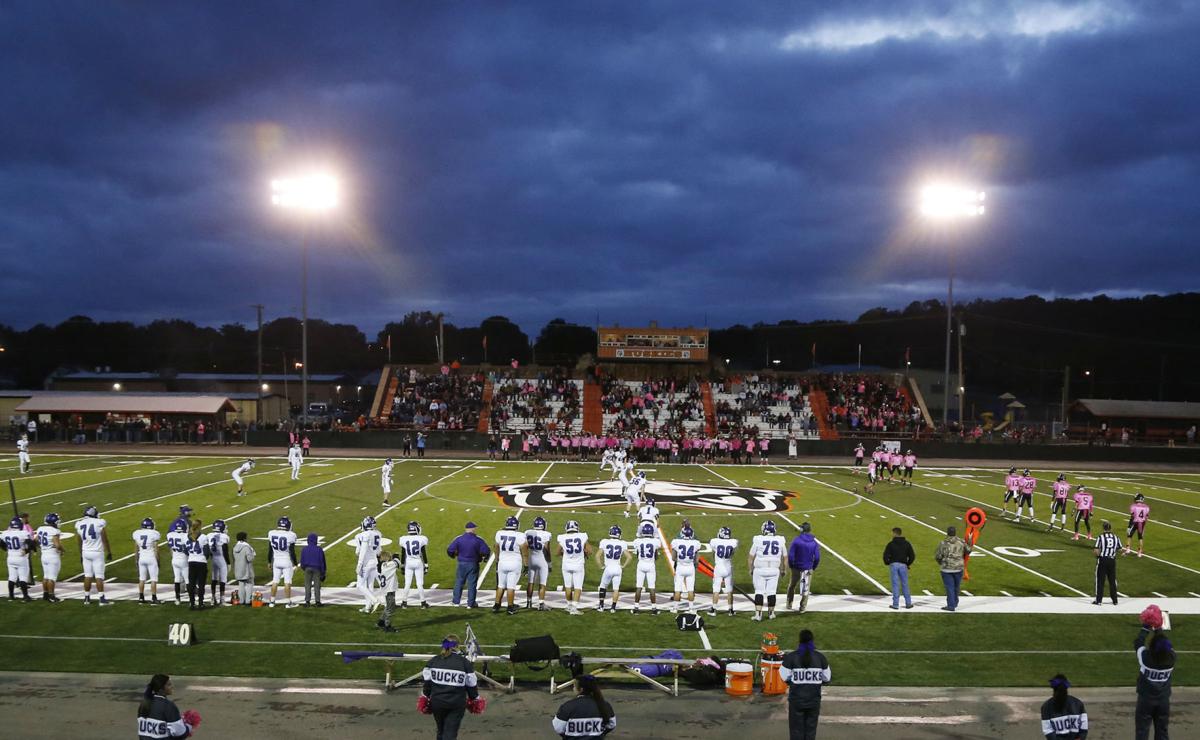 CORRECTION: This story originally misstated the educational status of Bryce Drummond. Drummond is enrolled at Pawhuska High School and attends classes there two hours per day, while also taking school approved online classes off site. This story has been corrected.
---
Several women are buying snacks in a Pawhuska convenience store when they are asked if they know the whereabouts of the city's high school.
"Lands, no," one of the women says. "We're not from here. We're from St. (Joseph) Missouri. We're on a girls play day."
The women have traveled nearly 300 miles to visit Ree Drummond's Pioneer Woman Mercantile. They are like thousands who come to Pawhuska each year.
The popularity of the downtown restaurant and bakery and Drummond's Food Network cooking show have helped spawn an economic rebirth in the Osage tribal capital.
But the biggest news in town these days is that Drummond's son, Bryce, a 6-foot-4 sophomore quarterback, is helping spur a Huskies football rebirth.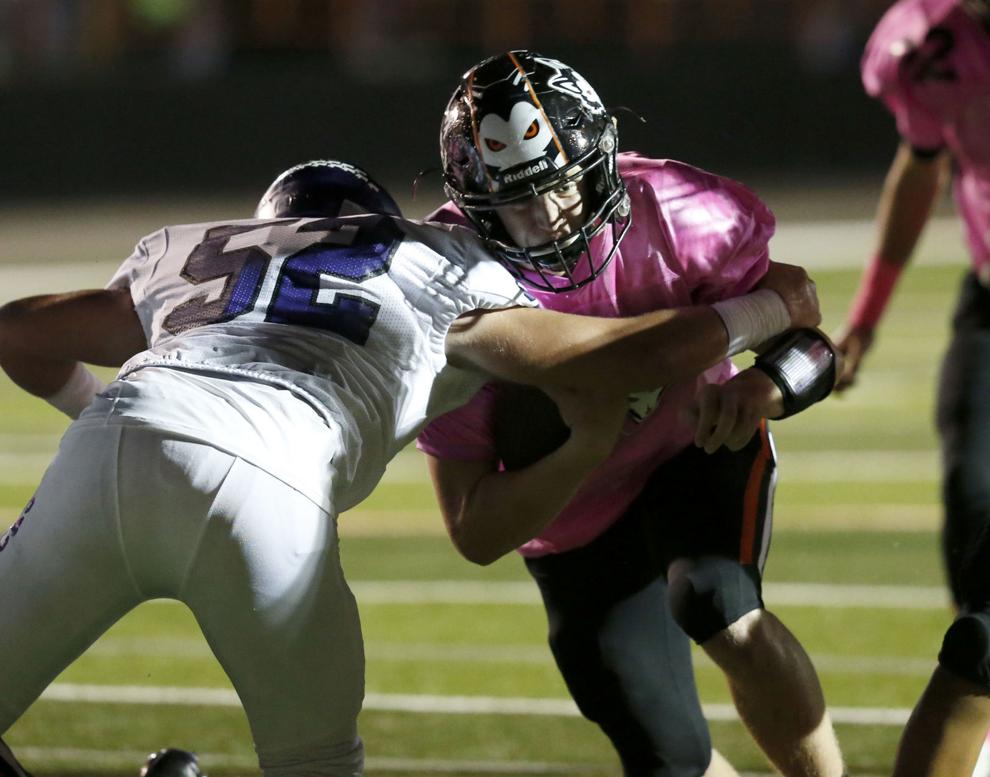 Winners of just four games over the past three years and 0-10 last season, the Huskies (5-3) own a prestige win over perennial powerhouse Hominy and control their destiny to reach the playoffs as they host Langston Hughes on Friday night.
"It's a lot more fun coming to practice," said Drummond, who has accounted for 1,884 yards and 26 touchdowns.
"Halfway through last year, we weren't enthusiastic at all. But it's all different now," he said. "We look forward to everything we do."
Overseeing all the fun is a coach who needs no introduction. Matt Hennesy pulled up stakes in Mayes County in January after leading Locust Grove for six wildly entertaining seasons.
The era produced video-game type offensive numbers; the state's all-time passing leader in Mason Fine, now the junior starting quarterback at the University of North Texas; a 37-3 record over Fine's final three seasons; and a 3A semifinal finish in 2014.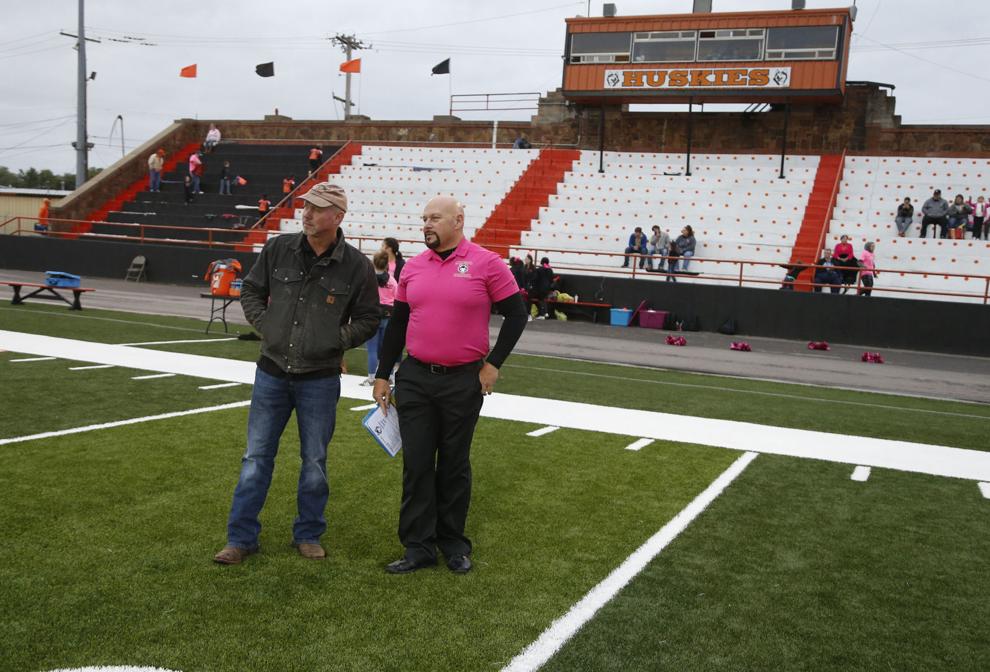 "I really wasn't looking to leave. I was as happy as I could be at Locust Grove," said Hennesy, who played football for Bill Snyder at Kansas State University and tries to follow his mentor's advice.
"(Snyder) always said, 'Don't be looking for your next job. If it's meant to be, it'll find you,'" Hennesy said.
It happened that Pawhuska was looking, and Athletic Director Chris Walker found Hennesy. Actually, they knew each other quite well.
At Ponca City previously, Walker had tried to hire Hennesy to coach the Wildcats. He knew about Hennesy's reputation for rebuilding sagging programs. Locust Grove was only 2-28 over the three seasons before Hennesy's arrival in 2012.
Walker had a story to tell about facilities and the future.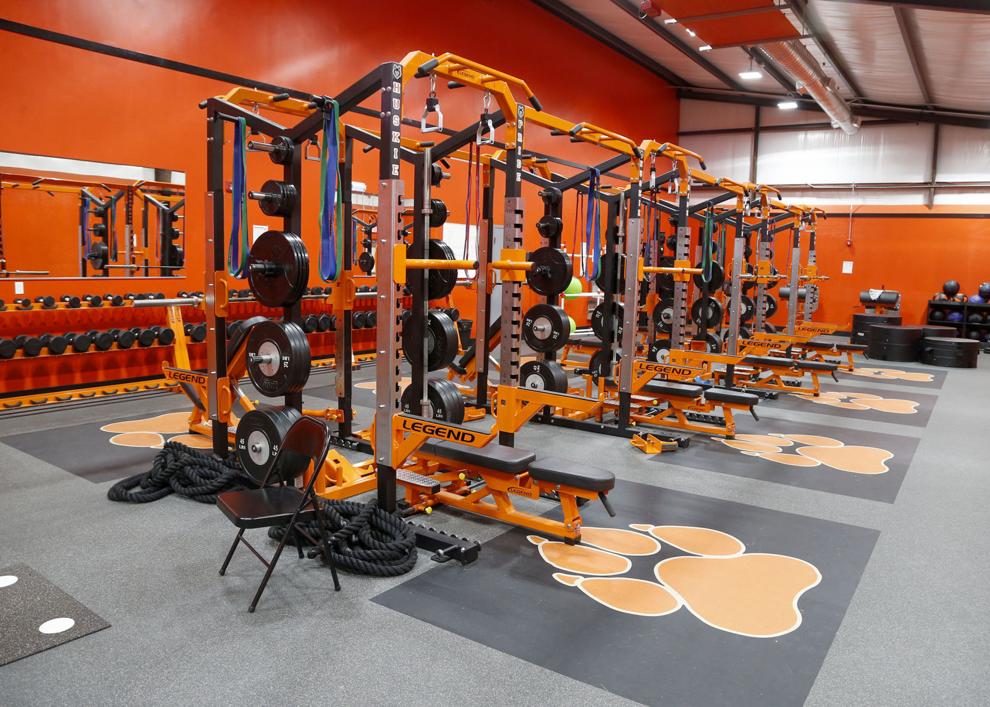 Ree Drummond and her husband, Ladd, are among the donors who have paid for roughly $2 million in improvements at Ormond Beach Memorial Stadium. However, they declined to be interviewed for this story, saying they hoped it would focus on the athletes.
The Huskies have a new locker room facility, a state-of-the-art weight room and a new artificial playing surface, and they soon will have a new running track. Hennesy said older Pawhuska athletes remember running in something akin to gravel.
"(Walker) said, 'We've got a unique situation here with great facilities, and we're able to do what we need to do,'" Hennesy said. "He said they've got a good young group coming up. They hadn't been good in a while, and they just needed a little structure."
A good young group coming? Mason Gilkey, Dalton Hurd, Jack Long and Hagen McGuire are part of a freshman class that until this season hadn't lost a football game since they started playing in the fourth grade.
And the best news is that almost all the Huskies will return next year. Defensive end Price Perrier is the only senior.
Junior running back Easton Kirk returned after bypassing football last season. A basketball and baseball standout, he leads the team in rushing, averaging 5.3 yards per carry.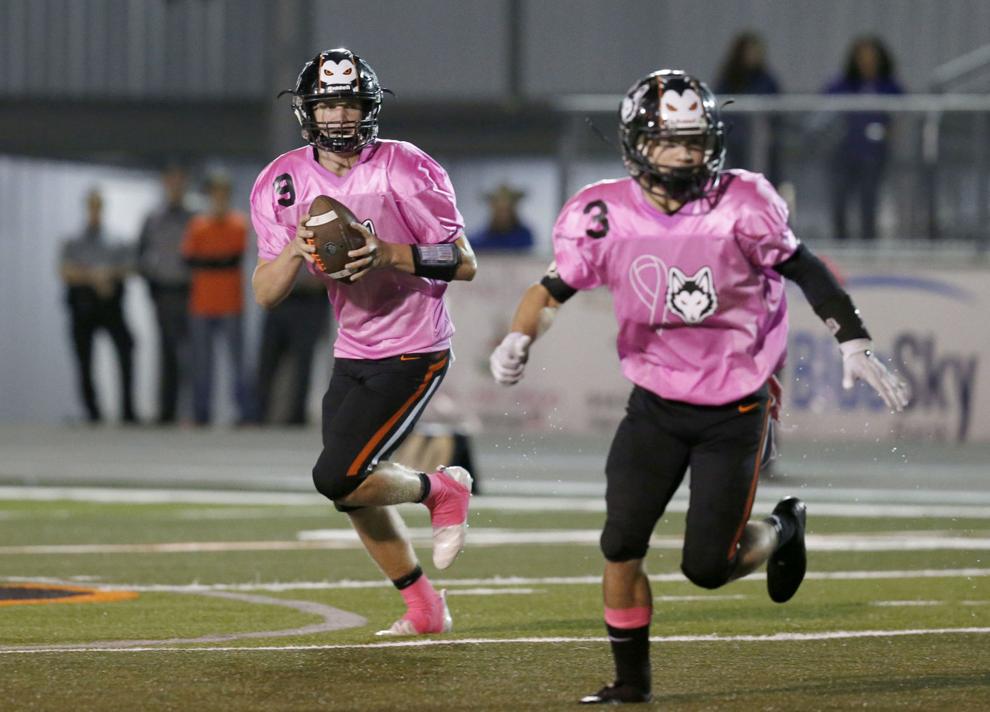 Junior linebacker Hunter Reed has 32 tackles for loss among his team-leading 116 stops. Junior receiver Cade McNeil has 10 TD receptions, averages 20 yards per catch and also has five interceptions on defense.
Since a season-opening loss to Kellyville, the Huskies have won five out of seven and their only losses are to Class A's No. 8 Tonkawa and No. 9 Morrison in district play. With additional wins over Barnsdall and Woodland, they are rightly proud to proclaim themselves, if only unofficially, as Osage County champs.
After hearing Walker's spiel, Hennesy was convinced. He said the time was right for a change at Locust Grove. Everything was running smoothly — perhaps too smoothly, he said.
"I tend to get bored when everything becomes too self-sufficient," he said with a smile.
He also felt it was time for his former offensive coordinator, David Blevins, to get his shot as a head coach. Under Blevins this season, Locust Grove is 6-2 and in the thick of the District 3A-4 playoff race after upsetting Cascia Hall last week.
A former assistant under Ron Lancaster at Jenks and Muskogee, Hennesy was also 34-23 in five seasons at the Roughers' helm (2006-10).
He was thrilled by how quickly the Huskies took to the program.
"We said we're gonna start weights at 6:30 a.m., and everybody showed up, and it wasn't like it was mandatory," he said.
But that's to be expected when everyone is hoping for a fresh start.
"These kids didn't like losing. They didn't want to be 0-10 again," he said. " All of a sudden, a new idea comes into town and they're like, 'OK, if he says this is what we're going to do, and he's won everyplace else he's been, we'll do it.'"
Bryce Drummond, who attends classes at the high school two hours per day, while also taking school approved online classes off site, took advantage of the fresh start by petitioning Hennesy to let him try out at quarterback.
Drummond had played the position growing up, but he started at offensive guard last year because he was one of the biggest men on the team.
He started working with quarterback trainer Joe McCulley, who also helped develop Owasso's Will Kuehne. Drummond's improvement has been startling.
"If you watched film of me throwing this year and then last year, you wouldn't even know it's the same guy," he said.
Mike Brown
918-581-8390
Twitter: @mikebrownTW