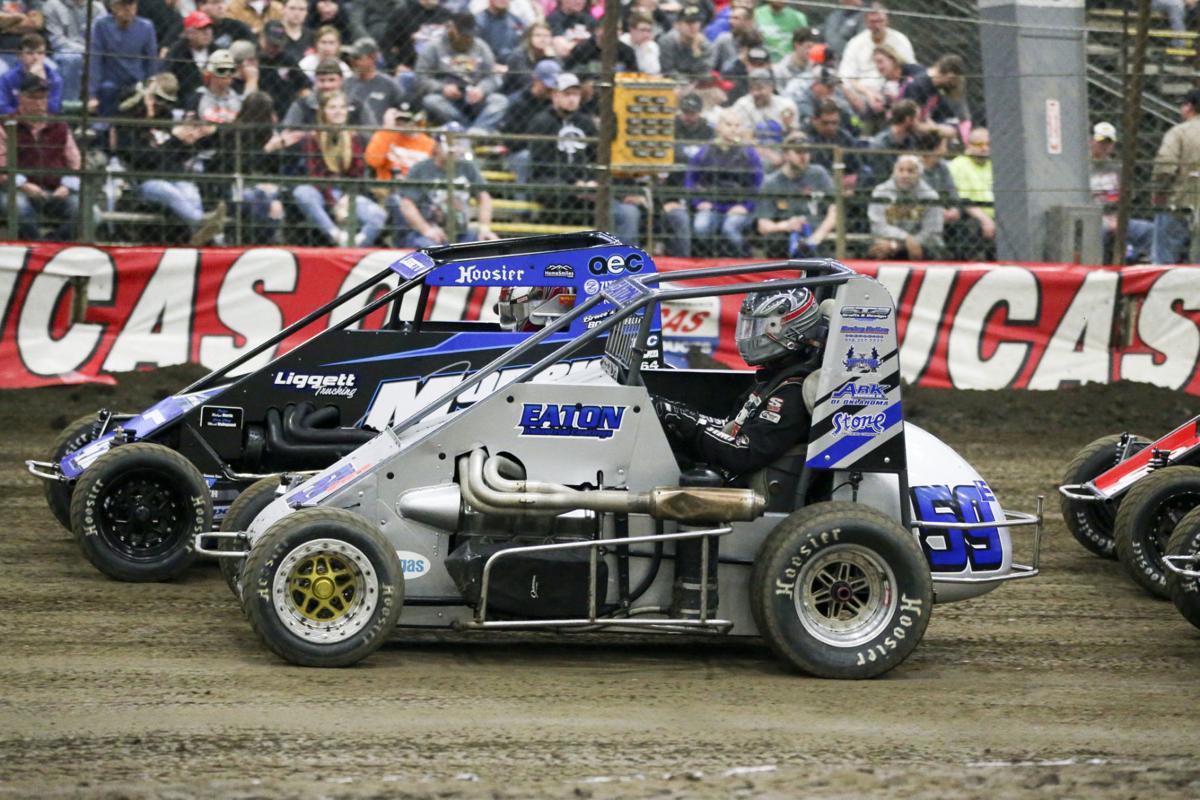 Christopher Bell would like nothing better than to become a three-time Chili Bowl winner come Saturday night, and he put himself in position to do just that on Thursday.
Bell is concerned, even though he won the Thursday preliminary for the fifth consecutive year. The victory was a struggle for him, unlike for teammates Rico Abreu, a two-time winner who won Wednesday, Tuesday winner Lyle Larson and Monday winner Logan Seavey. All had easier runs to victory than Bell.
"I don't know what the deal was, but it seemed I had the hardest time winning tonight out of all my teammates," Bell said after Thursday's victory. "Logan, Kyle and Rico made it look easy. It definitely was not easy tonight and that has me a little shaken up how good my teammates are or the guys all around me (are).
"I kind of felt rusty in this building tonight. I don't know why that was. The qualifier was outstanding and he (C.J. Leary) got away from me and even Justin Allgaier was really good and I could not do anything with him."
It did not help that the 25-lap feature was plagued with restarts because of crashes. Bell was out front for most of a race that had 11 restarts over a 27-minute run, giving competitors numerous shots at him. Bell likes to get a rhythm going in a race and that was difficult with so many delays.
Finally, after the last restart, Shane Golobic and Leary got a shot at Bell and it was all he could do to retain the top spot.
"It was a lot busier than I wanted it to be," Bell said. "Shane really made a race out of it. I hope it was a good show. It was fun, but if I hadn't won it (wouldn't) have been as much fun."
Golobic was able to pass Bell for the lead twice with a turn 4 slide, but Bell crossed over and charged back in front.
"Shane got underneath me in (turn) 3," Bell said of his tight inside line in turns 1-2 and high side line in turns 3-4. "It got so slick in (turn) 2 and all the way to 4 you are kind of just sitting there waiting on it.
"Opening up my entry like that I was very vulnerable. I keep hitting bottom off of 2 and going straight to the top. I did not really want to change what I was doing. I don't know what I was doing, but I got too much berm and biked up and that allowed him to pull the trigger on me."
Meanwhile, 2015-16 winner Abreu is ready to take advantage. After winning the prelim on Wednesday, Abreu said he feels like he is back in winning form.
"I won those back-to-back years, then I had a slump year, then came back to be competitive," Abreu said. "Last year, I was not as good as the top two. I think if the roles were reversed and in a better position where they (Bell and Larson) could chase me instead of me chasing them. Those two don't make many mistakes.
"I think this year it is just minimizing the mistakes like I did those two years I went back-to-back."
While 24 cars will start the 55-lap feature Saturday, Bell figures his biggest threats are Abreu, Larson and Seavey. If he has his way, though, he will be more prepared.
"The longer you are on top, the harder it is to stay there and the easier it is to lose," Bell said. "I am going to do my best to figure out why I did not feel my best and why I did not run as good of a race as I normally do."