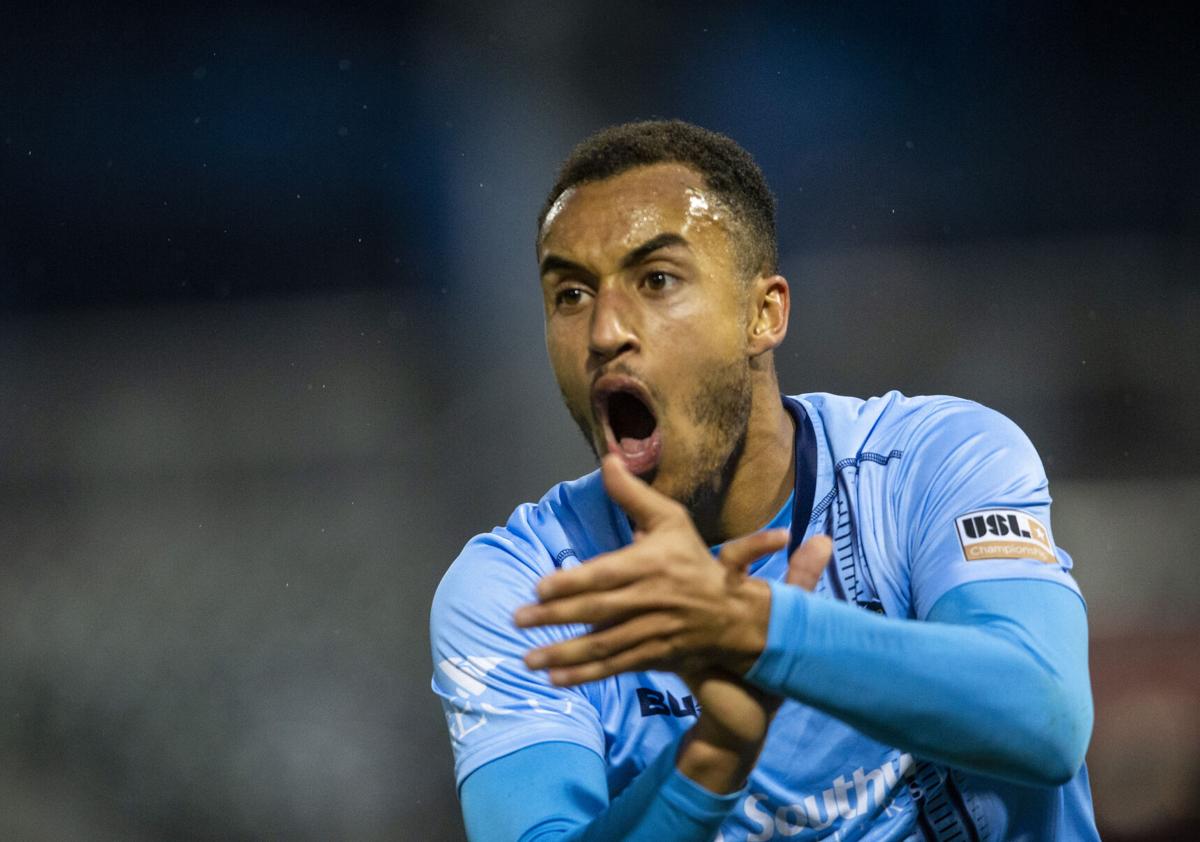 For the first time, FC Tulsa's lineup in 2021 will include a player with U.S. Men's National Team experience.
On Thursday, FC Tulsa announced the signing of U.S. international and former Bundesliga forward Jerome Kiesewetter to a multi-year contract.
FC Tulsa explored initially acquiring Kiesewetter late last season during its run to the USL Championship playoffs. In 2020, he played for Major League Soccer expansion club Miami CF, and also was loaned to the club's USL League One team, Fort Lauderdale CF.
"It didn't come together then, but those talks were fruitful in that we were able to stay in touch and announce him today as what we believe will be a key part of what's already an exciting roster with many exciting pieces left to come," FC Tulsa president James Cannon said. "We're excited to have Jerome as a young standout player."
Kiesewetter, 27, is looking forward to playing for FC Tulsa coach Michael Nsien.
"Our conversations were great," Kiesewetter said. "He just gave me the feeling that I want to be part of this club and we have a bright future. He truly convinced me and basically it was a no-brainer after that. Conversations between players and coach are always important and if you have a good feeling, most of the time it works out. And I had a great feeling from my side."
Kiesewetter played for El Paso against Tulsa during the 2019 season. He scored 10 goals in his first 10 matches and was the USL's May player of the month. His 10th goal came on a penalty kick in a win over Tulsa at ONEOK Field.
"I remember the stadium, it was good, and I remember the city a little bit," Kiesewetter said. "It's a new year and we'll see what we can achieve there at the home stadium."
Later in '19, he had a goal late in a match that helped El Paso salvage a tie with Tulsa.
"He's a player that caught my eye right away," Nsien said. "He's a dual threat, when he's not creating for himself, he's creating for teammates, just the pressure he puts on opponents with good movement. I'm very excited not only for him but for the pieces we're putting around him. He's going to thrive in our environment for sure. If he's causing problems, he's going to free up other players and there are great players who are going to supply him the ball, so I'm looking forward to putting it all together."
In 2016, Kiesewetter appeared in two USMNT wins over Iceland and Canada. He also has played for the United States at the U-18, U-20 and U-23 levels. In 2015, he had four goals and two assists in five matches in the U-23 2015 CONCACAF Men's Olympic Qualifying Championship and was the tournament's top scorer.
Kiesewetter was raised in Berlin. The German-American played in the youth system of Hertha BSC. He made his pro debut with VfB Stuttgart, progressing to make his Bundesliga debut in 2015 with Stuttgart. He appeared in two matches in the Bundesliga in '15 before signing with Fortuna Düsseldorf in 2016.
Nsien said, "He fits my profile of what I want in a striker — his height, he has pace, can run in behind, can link with players, has experience playing in wide positions also, so he knows how to be direct and create his own shots and scoring chances. And the way that we play with our front four players and some of the interchange we have, he's going to fit right in.
"He's a steady professional with his head on his shoulders and he's going to do exciting things for us in Tulsa."
In other recent moves, FC Tulsa announced that midfielders Eric Bird and Tulsa native Ciaran Winters will return in 2021. Bird had two match-winning goals last year. Winters is the first player in club history to a gain a pro contract following a USL Academy contract.
"It means a lot for me to return to Tulsa," Bird said in a press release. "I stand by what I said last year when I initially signed. This is a franchise that is looking to grow and hungry for trophies. It is the perfect place to be."
Nsien added, "Eric's return is very important as we build upon the success we had in 2020. Eric is a dynamic two-way midfielder that played the majority of last season in deeper positions, but based on game plan and moments of the match you could really see his attacking abilities as well. Every team must have players like Eric that have the patience and understanding of when and how to use their abilities and always put the team's success at the heart of what they do.
"After his first pro season under his belt, the expectations for Ciaran will be higher. Becoming a pro player during a year like 2020 was a big challenge. However, every day we saw growth from Ciaran, and now we expect him to capitalize on that growth this season. He has so many tools. This could be a breakout year from him."