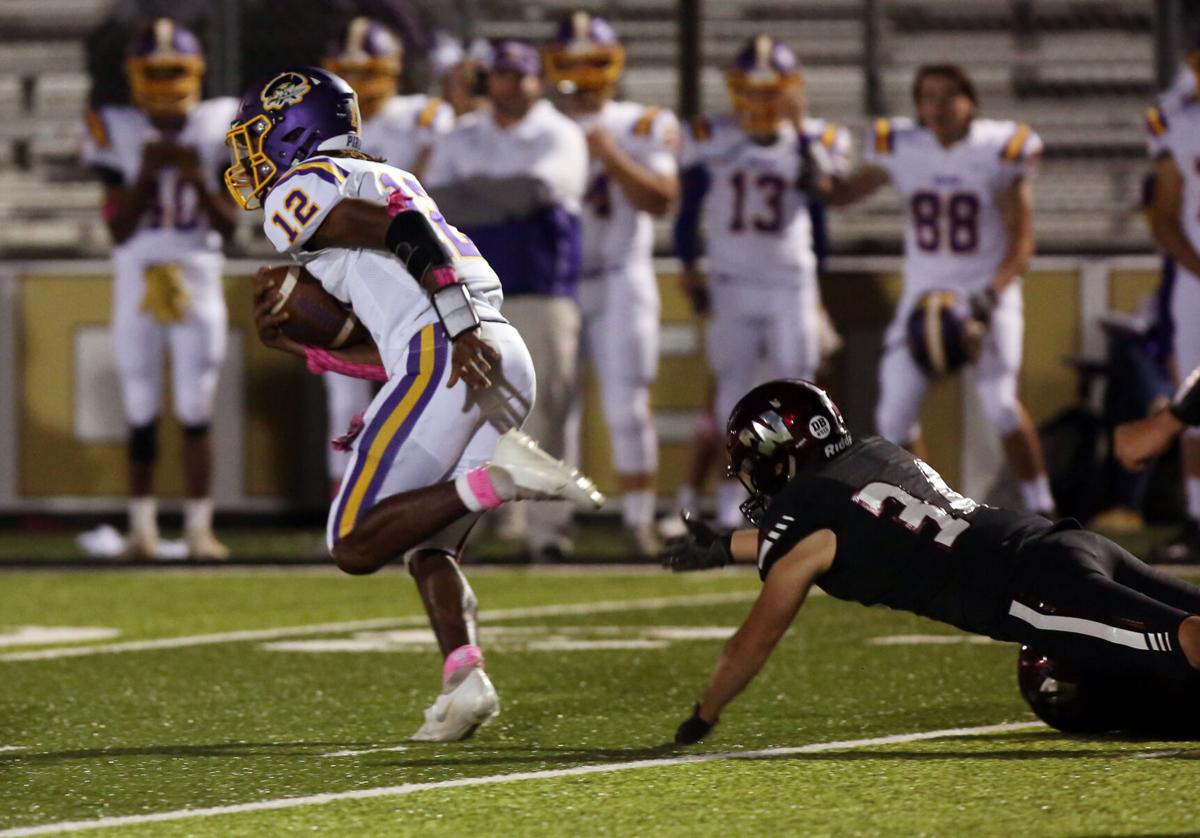 Purple Pirates avenge loss
Class 4A No. 8 Bristow avenged last year's playoff loss to Broken Bow with a thrilling 35-34 victory in a second-round game on Friday night. The Purple Pirates' Stephon Tolon scored on 1-yard touchdown run with 34 seconds left to help Bristow reach the 4A quarterfinals, where it'll take on Blanchard.
"We had all of our timeouts left so I knew we would be able to run the ball," said Bristow coach Brett Jones, whose team took over with two minutes remaining in the game and needing a TD to go ahead. "They had done a good job in stopping us in the red zone so I was a little nervous. I wanted to keep it in our best players' hands."
That's where Tolon came in. The senior quarterback capped his 191-yard, two-touchdown performance with a go-ahead touchdown to get the Purple Pirates to 315 yards rushing in the game.
Tolon's other touchdown was a 37-yard rush in the fourth quarter, and Cord Dobrinski added a 50-yard touchdown rush for the Purple Pirates in the third quarter. The Purple Pirates also had Sutton Titsworth score on a 45-yard interception return for a touchdown in the third period.
"To score the winning touchdown is just par for the course; he's been our dude all year," Jones said of Tolon. "This win was monumental in securing a Thanksgiving week game which hasn't been done since 2000. It was also special in getting some redemption from last year's heartbreaking loss."
Class 2A No. 2 Cascia Hall doubled up Keys' offensive production, but three turnovers doomed the Commandos as Keys scored a 16-14 upset in a second-round game Friday night at Siegfried Stadium.
The Cougars advance to play Beggs in the next round of the Class 2A playoffs.
For Keys (5-7), Garin Barnes put the Cougars in front 6-0 on a 3-yard touchdown run late in the first quarter, and Cascia Hall responded with Baxter Robertson's 25-yard TD run midway through the second quarter.
But it was the second half that belonged to Keys, which was led by Colby Nottingham's 113 yards on 29 carries.
Gage Barnes had a 26-yard field goal, and Lane Taylor scored on a 2-yard run with four minutes left in the third period. From there, Keys managed to hold off Cascia Hall, which had 329 yards on offense compared to Keys' 156.
The game was only the second matchup between the two clubs after Cascia Hall won a playoff matchup in 2011.
"It was a great win for our players," Keys coach Adam Haas said. "They really played their guts out. This team has been through so much adversity this year I am happy that they have learned to push through and overcome on the field. Each week these young men play for each other, the student body and for the community. To avenge that 2011 loss, with the circumstances of 2020, is great for all."
Robertson had 20 rushes for 120 yards, two catches for 48 yards and a fumble recovery for Cascia (8-2).
Tigers topple Weatherford
Blaze Berlowitz completed 12-of-25 passes for 239 yards and three touchdowns, and Hayden Fry had 103 yards and a touchdown on 15 carries to lead Cushing to a 34-30 victory over 4A No. 2 Weatherford in a second-round game Friday night. The Tigers (8-3) advance to the 4A quarterfinals to take on Hilldale.
"I thought our guys dug deep tonight on the road against a very good football team," Cushing coach Rusty Morgan said. "Offensively, we are finding success running and throwing the ball which is what teams that play late in the playoffs have to do."
Camden Crooks had five receptions for 157 yards and a touchdown, and he also had an interception return for a touchdown for the Tigers.
"Defensively, we are finding stops and creating turnovers when we have to," said Morgan, whose team knocked off last season's 4A runner-up. "Couldn't be more proud of this entire group of players and coaches right now."
Todd Mattox had 134 yards and three touchdowns on 22 carries to lead Class 4A No. 3 Poteau to a 52-27 victory over ninth-ranked Skiatook in a second-round game Friday night.
Dax Collins, Jake Patterson and Colton Williamson also scored on touchdown runs for the defending state champion Pirates (9-2).
"Huge win for us," Poteau coach Greg Werner said. "Offensively, we played our best game and defense made plays when we needed them."
Poteau will now host Clinton in the 4A quarterfinals.
Sophomore Carter Smith caught 11 passes for 341 yards and seven touchdowns in Class B No. 5 Regent Prep's 67-16 victory over Barnsdall on Friday night. With the win, Regent Prep advances to Wetumka in the next round of the Class B playoffs.
"This team remained focused throughout the first-round bye week," Regent Prep coach Adam Bishop said. "Our guys really enjoy playing together. I cannot say enough about the leadership of these seniors and the way the underclassmen continue to improve with each practice and game. We are excited to be able to play another week."
Erik McCarty rushed for 134 yards and three touchdowns, and he also added a 75-yard interception return for a touchdown to guide Class 5A No. 6 McAlester to a 47-0 victory over Pryor on Friday night. With the victory, the Buffaloes (9-2) advance to play at El Reno in the 5A quarterfinals.
Also on offense, McAlester's Trent Boatright completed 10-of-12 passes for 172 yards and a touchdown to help the Buffaloes reach 500 yards on offense. Pryor, playing without quarterback Ben Ward, was limited to 74 yards on offense.
"We had a dominant week of practice and a dominant performance in the game," McAlester coach Forrest Mazey said. "No question how you practice is how you end up playing."
— Ben Johnson, for the Tulsa World
Get in the game with our Prep Sports Newsletter
Sent weekly directly to your inbox!