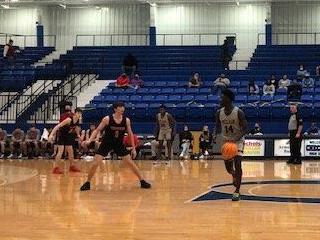 CHECOTAH — With a 6-8 record and a four-game losing streak that included a 45-point setback to No. 3 Webster in the regular-season finale, McLain seemed to be a long shot to make a deep Class 4A playoff run.
However, looks can be deceiving. McLain posted regular-season wins over 5A regional champion Coweta, 5A area tournament qualifier Edison and 3A regional champion Metro Christian.
"Because we play a 5A-6A schedule, and people look at our record, they say we can't be very good," McLain coach Randy Rutherford said. "We're not worried about who we're playing, we just have to meet the challenge every day and have the right frame of mind."
The Titans have made it to Class 4A's Sweet 16 with four wins in five postseason games. On Thursday night, Eimon Galloway scored 18 points and Kejuan McCall added 17 to lead the unranked Titans past No. 9 Verdigris 61-50 in a 4A area elimination game at the Checotah Event Center. McLain is two wins away from a state tournament berth.
"The biggest thing is our defense," Rutherford said. "Our pressure defensively always comes to the forefront."
McLain's defense set the tone during a 9-0 start. Verdigris (20-3), however, rallied to take a 26-25 lead briefly in the third quarter before McLain's defense and Galloway's basket ignited a decisive 22-2 run that included 14 points from Galloway.
"When Eimon plays well, we play well," Rutherford said.
Verdigris, led by Trent Haddock with 12 of his 20 points in the fourth quarter, cut its deficit from 22 to 58-50 before McCall broke the press and fed Tyree Brooks with a clinching layup.
"We've had trouble all year closing games," Rutherford said. "We've been up on good teams in 5A and 6A late in the fourth quarter but haven't been able to close because we're inexperienced and today was a similar thing. We started to celebrate when we were up by 20 with four minutes left."
McLain (10-9) advances to play sixth-ranked Tuttle at 3 p.m. Friday in a rematch of Tuttle's 58-55 overtime regional win Feb. 25.
"We look forward to the challenge," Rutherford said.
Inola 66, Ada 55 (girls): Kylee Day scored 21 points and Miller Weast added 16 to help the Lady Longhorns (19-4) eliminate the Lady Cougars (18-6). Weast made 8-of-8 free throws in the fourth quarter to help ensure that Inola would advance to play Blanchard, a 49-43 winner over Broken Bow, at 1 p.m. Friday.
Ada jumped to a 7-2 lead, but Inola answered with a 20-1 run and was never caught.
"I thought we did a really good job of setting the tone defensively and one of our goals was to attack early and get Kylee Day involved," Inola coach Travis Bryant said. "She's one of our seniors and a big-time player for us, and had a really good night. We got her rolling and we hit shots and we found a way to finish."
Inola led 38-25 at halftime, but Landyn Owens, who was shut out before intermission, went on a personal 9-0 run to open the second half. Owens finished with 21 points.
Inola, however, responded and held a double-digit lead for much of the fourth quarter before Ada cut its deficit to 60-53 with 1:11 left before Day went 4-of-4 and Weast 2-of-2 on free throws to seal the outcome.
Tuttle 90, Wagoner 83 (boys): Isaac McDoulett scored 29 of his 40 points in the second half to lead the sixth-ranked Tigers (14-6) past the Bulldogs (14-8). Caden Pawpa scored 26 of his 31 after halftime for Wagoner before fouling out with 3:27 left.
Wagoner pulled off a dramatic comeback against Tuttle in the football playoffs en route to a state title last fall and the Bulldogs came close to another in Thursday's elimination game. Tuttle led 70-48 going into the fourth quarter, but Wagoner roared back and cut its deficit to 84-78 on Bristo Love's 3 with 1:03 left. Six seconds later, McDoulett sank two free throws and later added a 3-point play to keep the Bulldogs from getting getting any closer in their first area tournament appearance since 2010 despite scoring 61 points in the second half.
"I told the boys that probably the greatest compliment I can give them is that I honestly thought we were going to win that game until there were about 44 seconds left," Wagoner coach Zack Ange said. "I knew with the competitive nature of our kids that they would battle and they did. Obviously we wanted to win, but I couldn't be more proud of them."
McLain 61, Verdigris 50 (boys)
Verdigris (20-3): Haddock 20, Keith 18, Lechlider 4, Buntin 3, Layton 3, Bell 2.
McLain (10-9): Galloway 18, McCall 17, Brooks 9, Liggins 9, Bennett 2, Nichols 2, Smith 2, Taylor 2.
Inola (19-4): Day 21, Weast 16, Courtney 11, Bryant 8, Eaves 5, Mootry 5.
Ada (18-6): Owens 21, M.Nelson 12, Frizell 8, Wofford 5, C.Nelson 3, Hamilton 2, Ward 2, Williams 2.
Tuttle 90, Wagoner 83 (boys)
Wagoner (14-8): Pawpa 31, Scroggins 20, Love 14, Nanni 8, Jones 6, Southern 3.
Tuttle (14-6): McDoulett 40, Vande 25, Redwine 11, Skaggs 8, Dennis 3, McCarthey 3.