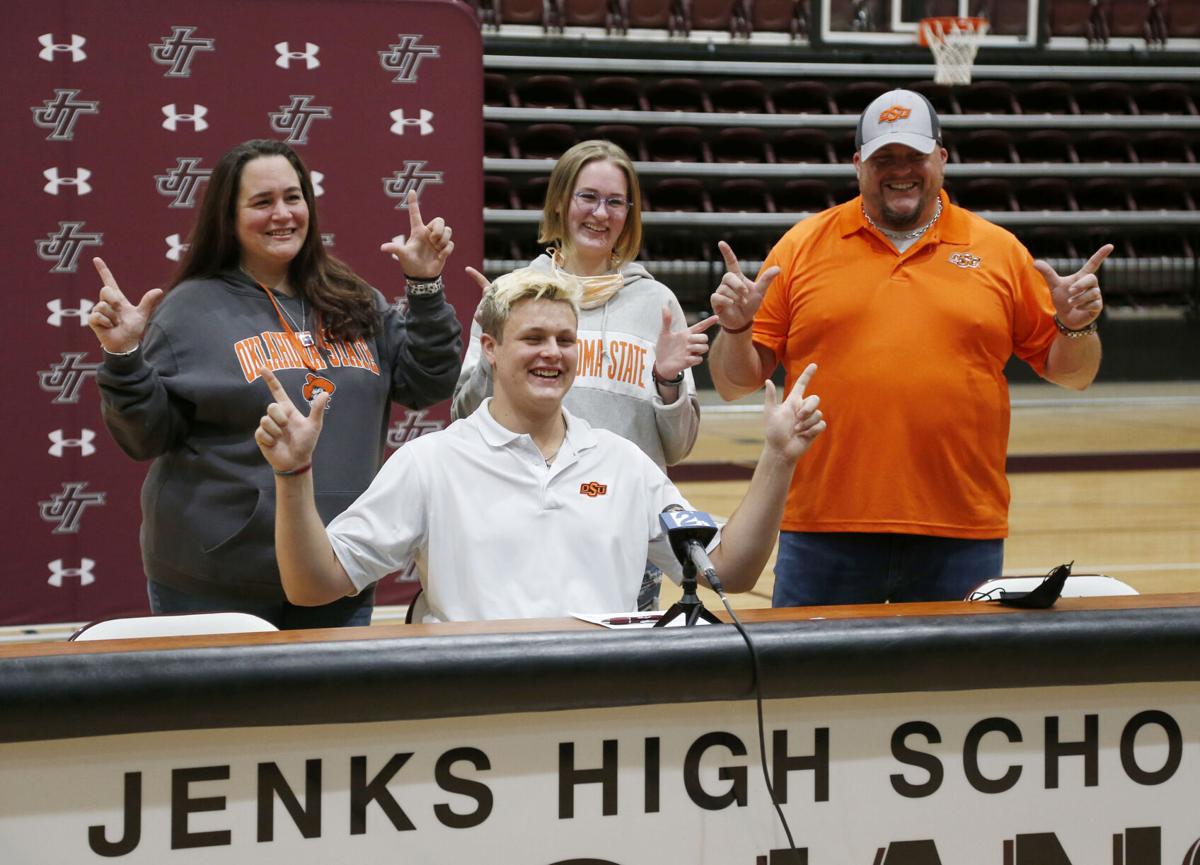 JENKS — Jenks offensive tackle Logan Nobles spent the night before signing with Oklahoma State watching the new Disney+ movie "Safety."
The movie is based on the true story of former Clemson safety Ray McElrathbey and how he raised his 11-year-old brother while becoming a football standout. There is a scene in the movie that gave Nobles a glimpse of his future.
"The guy walked on to the field his first time and he stopped as they were running out of the tunnel and he stopped and stared, and I felt that's almost what's going to happen to me," Nobles said Wednesday after he signed with OSU during a ceremony at Jenks' Frank Herald Fieldhouse.
"It's a pretty good movie. That's what its going to be like to play college football, except his story is a little bit different."
Nobles, who is 6-foot-7 and helped Jenks win the Class 6AI state title, added 40 pounds during the past offseason and that helped raise his stock with major college coaches.
"Power-5 schools look at 240 as pretty skinny," Jenks coach Keith Riggs said. "But his work in the offseason to get bigger and stronger and to get up where he's at now, around 280, is a testament to his work ethic, especially in the pandemic situation we're in, to put that added weight on and to improve his athleticism. I think Logan has a really high ceiling and he's going to continue to grow."
Riggs said Nobles grew in many aspects.
"Everybody knows the physical growth he has experienced as he went from being a tall skinny kid as a sophomore to a taller not quite so skinny senior," Riggs said. "But to me, the special part and thing I've enjoyed the most is the growth in other areas, the growth as a young man, the growth in the mental aspects of football over these three years and his growth as a leader.
"He showed great leadership skills. We saw all those things in Logan early in his career, but it was really special to see all those things come to fruition and to see him mature both as a football player an a young man, I think that even more than the physical aspects are why we are here today."
Nobles described signing as "still kind of dream."
"It really settled in last year when I was watching a couple of other friends sign, I thought there's a good chance that will be me on the floor signing those papers," Nobles said. "It's hard to believe, everybody wants to play college football."
Nobles will graduate with the rest of the Jenks senior class in the spring and plans to study civil engineering.
"OSU feels like home, they're all really nice people just like here at Jenks," Nobles said. "I'm very excited there's a whole bunch of talent there.
"I have a whole bunch of family that lives in Stillwater. I have been an OSU fan a very long time."
December Signing Day: A look at OSU's class