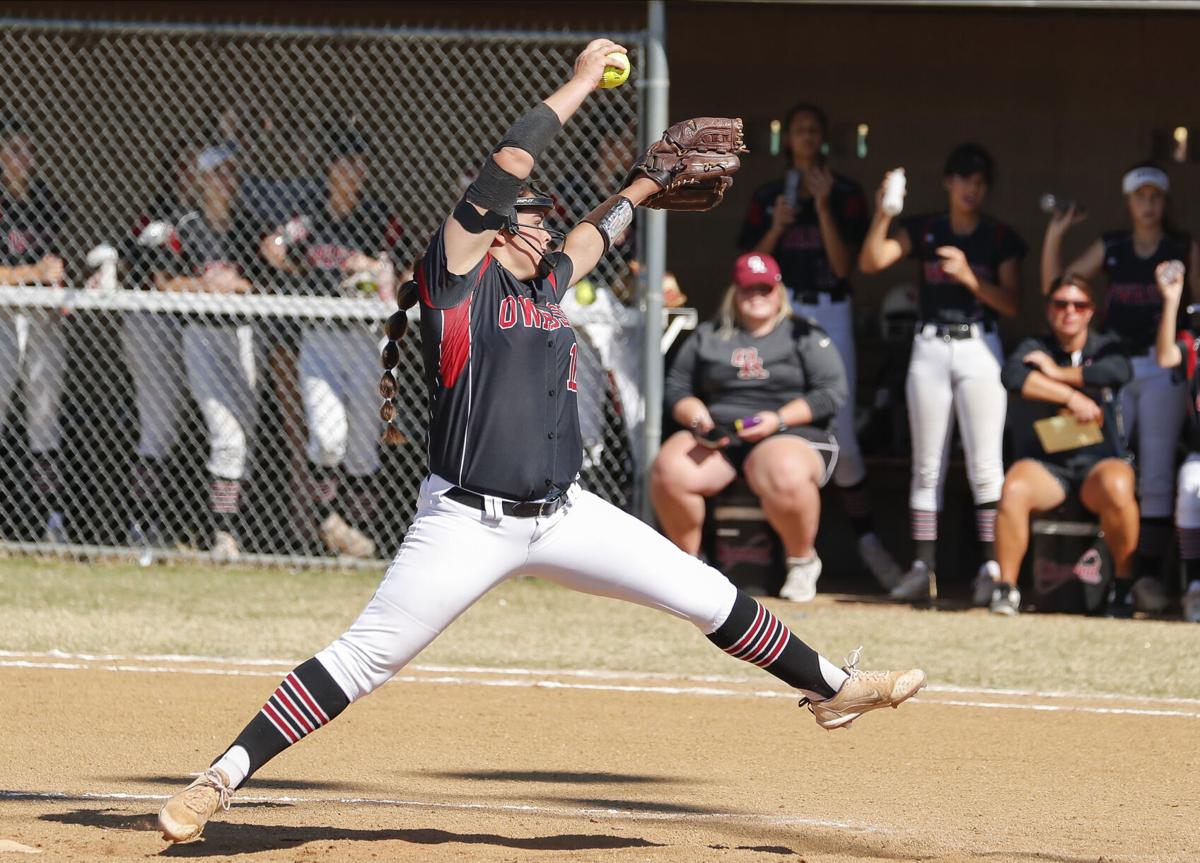 Here are fastpitch softball districts for the 2021/2022 seasons, approved Wednesday by the Oklahoma Secondary School Activities Association:
Class 6A
District 1: Edmond Santa Fe, Lawton, Midwest City, Moore, Mustang, Norman, Southmoore, U.S. Grant.
District 2: Edmond Deer Creek, Edmond Memorial, Edmond North, OKC Northwest, Putnam City, Putnam West, Westmoore, Yukon.
District 3: Bartlesville, Bixby, Booker T. Washington, Enid, Jenks, Putnam North, Sand Springs, Stillwater.
District 4: Broken Arrow, Choctaw, Del City, Muskogee, Norman North, Owasso, Ponca City, Union.
Class 5A
District 1: Altus, Ardmore, Carl Albert, Duncan, Lawton Ike, Lawton Mac, Santa Fe South, OKC Southeast.
District 2: OKC Bishop McGuinness, OKC Capitol Hill, El Reno, Guthrie, Guymon, Noble, Piedmont, Western Heights.
District 3: Bishop Kelley, Claremore, Collinsville, Coweta, Edison, Nathan Hale, Pryor, Sapulpa.
District 4: Durant, Glenpool, East Central, McAlester, Memorial, Shawnee, Tahlequah, Will Rogers.
Class 4A
District 1: Tuttle, Cache, Elk City, Weatherford, Clinton, Woodward, Anadarko.
District 2: Tecumseh, Perkins-Tryon, Ada, Byng, Seminole, Classen SAS, McLoud, Mount St. Mary.
District 3: Lone Grove, Plainview, Sulphur, Pauls Valley, Marlow, Dickson, Madill.
District 4: Newcastle, Chickasha, Blanchard, Bridge Creek, Elgin, Kingfisher, Bethany, OKC John Marshall.
District 5: Bristow, Harrah, Cushing, Berryhill, Inola, Catoosa, Mannford, McLain.
District 6: Hilldale, Verdigris, Fort Gibson, Locust Grove, Westville, Stilwell, Wagoner.
District 7: Skiatook, Miami, Grove, Cleveland, Oologah, Vinita, Jay.
District 8: Broken Bow, Poteau, Checotah, Stigler, Muldrow, Sallisaw, Idabel.
Class 3A
District 1: Alva, Blackwell, Chisholm, Kellyville, Newkirk, Perry, Star-Spencer.
District 2: Comanche, Community Christian, Davis, Kingston, Lindsay, Marietta, Riverside.
District 3: Crossings Christian, Heritage Hall, Jones, Millwood, North Rock Creek, Prague, Washington.
District 4: Bethel, Chandler, Crooked Oak, Meeker, Lexington, Little Axe, Purcell.
District 5: Adair, Dewey, Holland Hall, Kiefer, Lincoln Christian, Salina, Sequoyah (Claremore).
District 6: Kansas, Keys (Parkhill), Roland, Sequoyah (Tahlequah), Sperry, Spiro, Vian.
District 7: Beggs, Eufaula, Haskell, Henryetta, Holdenville, Morris, Okmulgee.
District 8: Antlers, Atoka, Coalgate, Heavener, Hugo, Tishomingo, Valliant.
Class 2A
District 1: Cordell, Frederick, Hobart, Mangum, Merritt, Minco, Sayre, Walters.
District 2: Cashion, Crescent, Hennessey, Luther, Morrison, Pawhuska, Pawnee, Tonkawa.
District 3: Amber-Pocasset, Apache, Fairview, Hinton, Hooker, Texhoma/Goodwell, Watonga.
District 4: Dibble, Healdton, Konawa, Latta, Okemah, Stratford, Wewoka, Wynnewood.
District 5: Calera, Canadian, Colbert, Hartshorne, Savanna, Silo, Wilburton.
District 6: Central (Sallisaw), Chouteau, Colcord, Howe, Hulbert, Panama, Pocola, Oktaha.
District 7: Dale, Gore, Mounds, Porter Consolidated, Preston, Rejoice Christian, Stroud, Warner.
District 8: Caney Valley, Chelsea, Commerce, Fairland, Ketchum, Nowata, Oklahoma Union, Wyandotte.