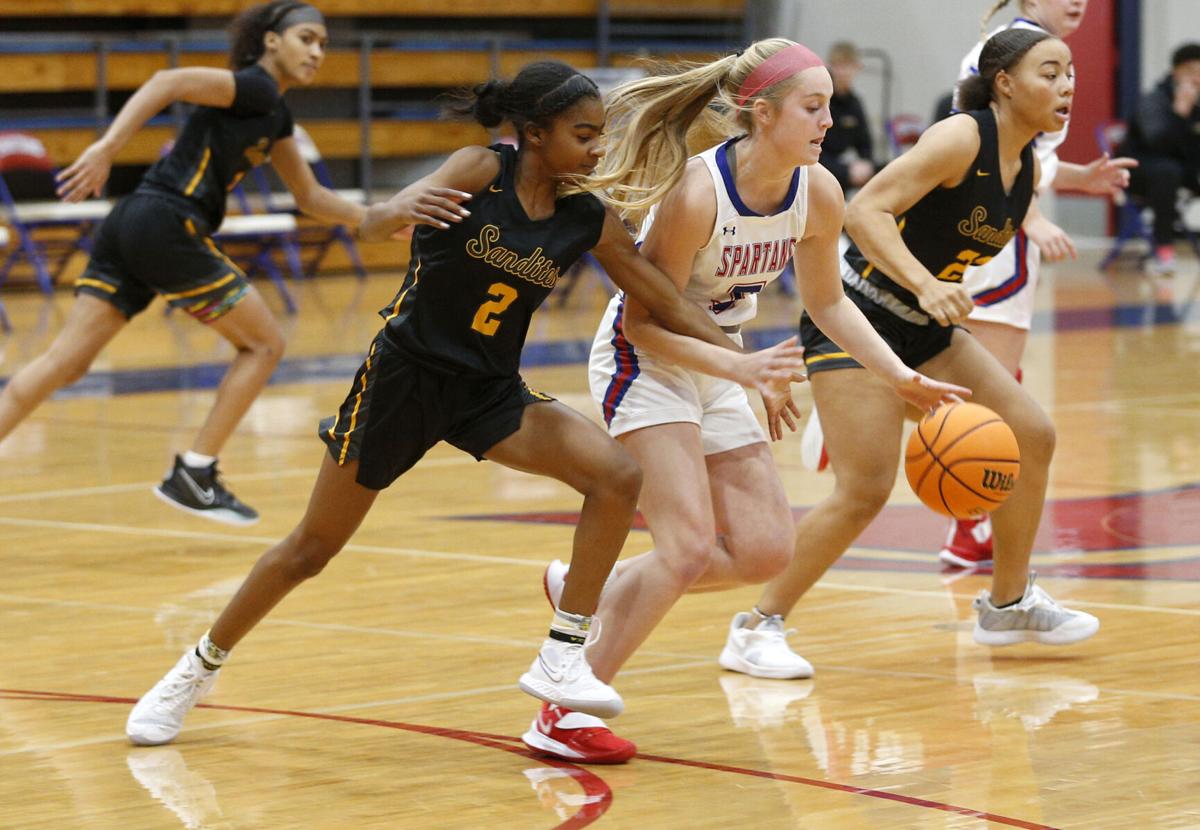 BIXBY — As the senior leader of a young team, Kate Bradley feels the need to provide a spark for her Bixby Spartans teammates.
She scored a career-high 23 points Tuesday, hitting five 3-pointers, as the No. 9 Spartans pulled away from No. 13 Sand Springs 53-44 in their 2020-21 home opener before 300 socially distance spectators in the Whitey Ford Sports Complex.
Bradley went 3-for-4 from long-range and scored 11 second-quarter points as the Spartans built a 26-20 halftime lead after both teams were sluggish in the first quarter.
She hit her fourth trey to break the game's final tie late in the third quarter and her fifth early in the fourth quarter. Both were part of a 15-5 run, along with Gentry Baldwin's old-fashioned 3-point play, pushing Bixby's lead to 47-37 with three minutes left.
Bradley, who averaged a team-leading 13.1 points going into the game, finished 7-for-13 overall, 5-for-7 from 3-point range a 4-for-4 from the foul line.
"It was an intense game and I feel like feed off of my teammates' energy," she said.
But it was Bradley providing the energy in the second quarter.
"I think it's stepping up as a senior, knowing I have to do something to get these girls going, whether it's offensively or defensively," she said.
Bixby's sophomore starters did the rest in a battle of Frontier Conference contenders. Alyssa Nielsen scored 11 points, Gracy Wernli added 10 points and Meredith Mayes had a game-high 10 rebounds to go with four points and a game-high 10 rebounds.
Baldwin finished with five points and five assists, with most of them going to Bradley on her 3-pointers. She also had four rebounds and two steals.
Bixby improved to 6-3 overall and 2-0 in Frontier Conference play while Sand Springs fell to 4-3 overall and suffered its first league loss in three games.
Journey Armstead, averaging 20.3 points per game, scored 16 to lead the Sandites, who had their chances but could never capitzlize and rarely got second shots because the Spartans were so dominant on the boards.
Nates and Nielsen combined for 17 rebounds and the Spartans had a 34-21 rebounding edge as a team.
"I think this is one of the better games we've played, but we've gotta execute better and finish layups," Sand Springs coach Josh Berry said. "We had open layups and we forced turnovers and didn't capitalize on them. We had 2-on-1 breaks and mess them up and we've just gotta fix those things and we can play better."
Freshman guard Sakauri Wilson took a spill and had to be helped from the floor, unable to put weight on her right knee, but Berry said he didn't think the injury was serious.
"We won't know anything until we can look at it, but I think it scared her more than anything else," he said. "She's had these kinds of injuries before and she bounces back pretty good, so I think she'll be OK."
Bixby 77, Sand Springs 76 (boys)
Connor Loney speared a long miss by Parker Friedrickson and scored off the glass with little time left as the No. 10 Spartans improved to 6-0.
Sand Springs led with 14 seconds left and Bixby tried a long pass that Marlo Fox leaped to intercept but was called for walking when he shuffled his feet as he landed. The Spartans called timeout and set up what turned out to be the winning play.