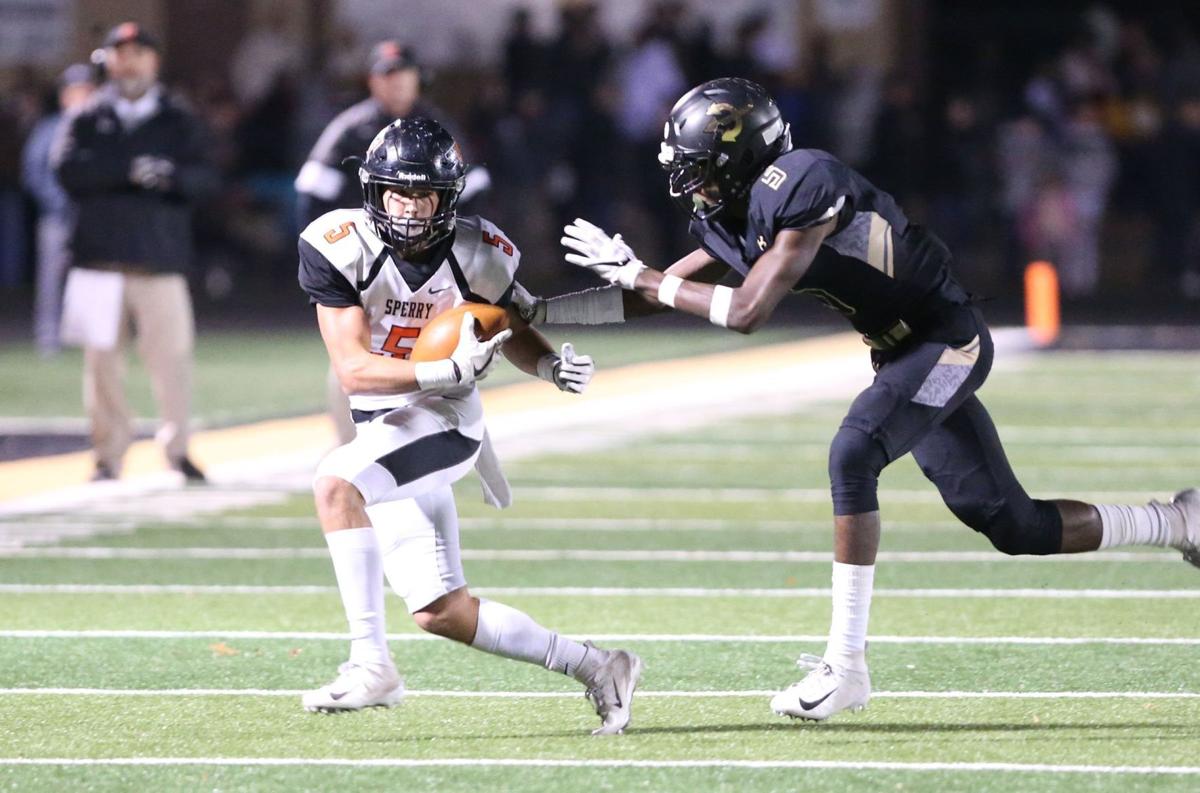 Sperry slotback/linebacker Joe Whiteley's favorite athlete is former Dallas Cowboys receiver Cole Beasley, who is now with the Buffalo Bills.
"Heart over height," Whiteley said about the 5-foot-8 Beasley.
Whiteley, who is 5-11 and 180 pounds, is having another stellar season for the defending state champion Pirates, who are No. 1 in the Tulsa World's Class 2A rankings.
On Friday night, the versatile Whiteley had his first career four-touchdown performance in a 56-6 win at Dewey. He opened the scoring with an 81-yard run, later scored in the first quarter on a 65-yard fumble return, and then produced TDs on a 15-yard run and a 26-yard reception.
When Whiteley touches the ball, something big often happens. He is averaging 29 yards on 19 carries for a total of 550 yards and nine TDs. As a receiver, he has 13 catches for 435 yards and five touchdowns. On defense, he has 44 tackles, five sacks and two interceptions.
In 2018 as a junior, Whiteley finished with 90 tackles and 17 sacks while producing 607 yards on offense. Last week, Bethel (Kansas) gave him his first college offer.
"Joe is an amazing athlete and a great kid and he's worked extremely hard," Sperry coach Robert Park said. "He's having a great season and when we call his number, he delivers."
Although Sperry returned many key players from last year's team, several media outlets didn't have the Pirates ranked among 2A's top two teams when this season started.
"We were kind of surprised," Whiteley said Saturday. "We've used that as motivation."
Sperry also won its first nine games last season. The Pirates' average winning margin this year is 44.6 compared to 40.2 at the same time in 2018.
"And teams are more focused this year on knocking us off after we won the championship," Whiteley said.
The Pirates' lone loss last season came in Week 10, 35-21 at Beggs. Sperry avenged that loss in the state final, 35-14. This Friday, the teams meet again, at 7 p.m. at Sperry with the District 2A-3 title at stake. Beggs is 8-1 and ranked No. 6.
"We're excited, we can't wait for the game," said Whiteley, who had 13 tackles with two sacks in the title game. "The whole town is excited and supporting us. This game has been on my calendar.
"Going undefeated is really important to us, it's a big goal."
Sperry's smallest margin of victory in six district games has been 42 points. Although Sperry lost last year's season finale at Beggs, the game proved to be good preparation for the Pirates going into the playoffs.
"That helped a lot," Whiteley said. "Beggs has athletes (all) over the field and plays hard. They are football players and they have incredible coaches."
Bristow ends title drought
Bristow remains No. 4 in 4A after a 42-0 victory at Catoosa on Friday as the Pirates clinched their first district title since 1999. Luke Miller rushed for 135 yards and two touchdowns to lead the Purple Pirates.
"Huge win for our program and community," Bristow coach Brett Jones said. "We have come in second for three years in a row and we finally got that breakthrough. Our kids and my assistants really deserved it, and it's good to see what we have tried to build come to fruition."
Bristow (8-1, 6-0 District 4A-3) finished with 388 yards on offense, a week after knocking off No. 5 Wagoner, 30-7, in a showdown of 4A-3's top two teams.
"I was pretty nervous about a letdown coming off a big emotional victory," Jones said. "The weather was so bad this week, and I was afraid of it affecting our preparation. But we have a senior-laden team and they didn't let anything stand in their way."
Santa Fe soars
Edmond Santa Fe moves up to No. 4 in the 6AI rankings after a 33-30 win Friday night at Jenks, which drops from No. 2 to No. 6. The Wolves have won at Broken Arrow and Jenks in the past three weeks.
"The sky's the limit," Santa Fe coach Kyle White said to his team after the game.
Jenks had not lost at home to a West-side team since Enid came away with a 12-6 win in 1989.
Notable
Mannford's Aiden Jones had 30 rushes for 330 yards and three TDs plus five receptions for 80 yards in a 27-13 win over Bridge Creek on Friday. On defense, he had four tackles, an interception and a forced fumble.
Ben Johnson, for the Tulsa World, contributed to this column.
Barry Lewis 918-581-8393
Twitter: @BarryLewisTW
Get in the game with our Prep Sports Newsletter
Sent weekly directly to your inbox!