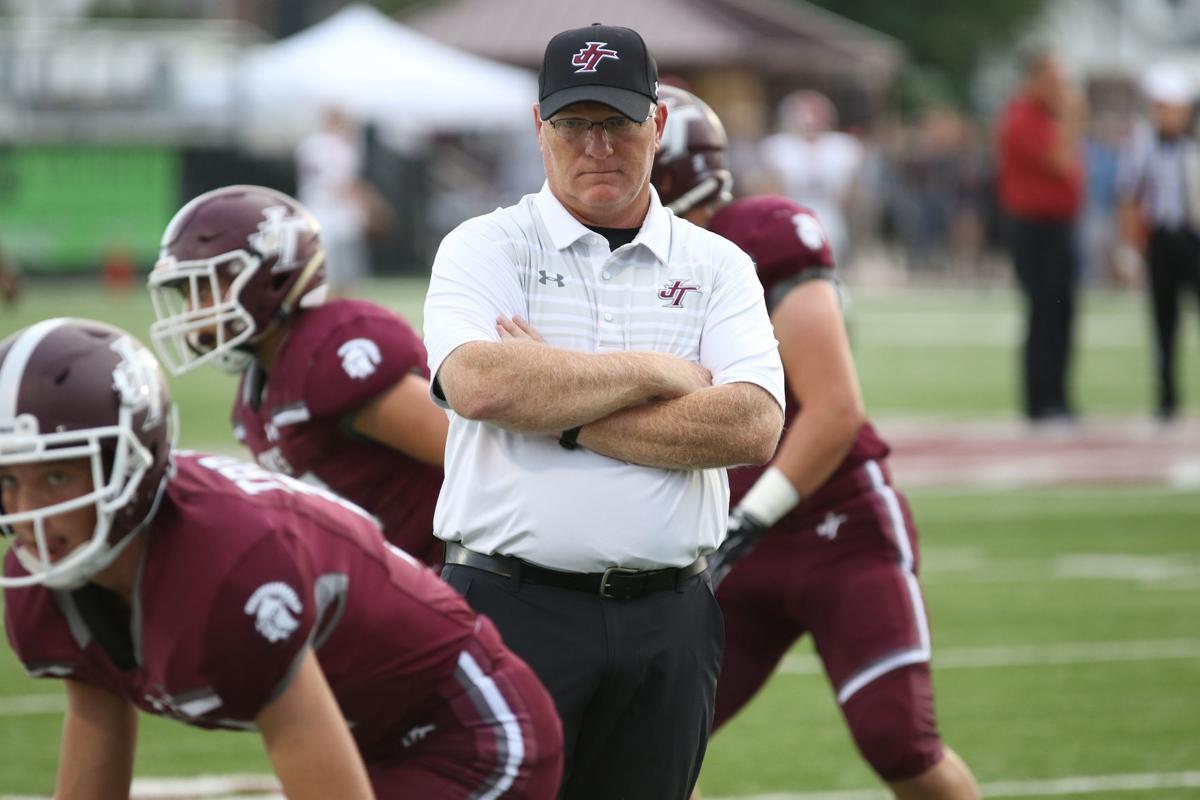 Jenks High School announced Friday it will promote Keith Riggs to head football coach, pending approval at its regularly scheduled board meeting at 5 p.m. Monday.
Riggs has been the Trojans' assistant head coach and defensive coordinator since 2010. He joined the Jenks staff as a defensive backs coach in 2003 and also has been the technology coach since then.
Riggs will succeed Allan Trimble, who was the head coach for a state-record 13 state titles in 22 years from 1996-2017. Trimble announced his retirement on April 12.
Since Riggs has been on the Trojans staff, Jenks has won seven state championships.
Riggs, 52, was a 1983 All-State defensive end and halfback at Owasso, where he gained 2,400 yards in his last two seasons. He was the Metro Lakes Conference's 1983 co-player of the year. In a 1982 game, he rushed for a then-Owasso record 245 yards in a 28-21 win over Bixby.
Riggs passed up an academic scholarship from Princeton to continue his football career at Northeastern A&M, where he was a starting linebacker at NEO in 1984 and '85.
Riggs is an Oklahoma State graduate.
Jenks athletic director Tony Dillingham said he could not comment on Riggs' hiring until after board approval. Jenks director of communications Rob Loeber said Riggs would not be available for comment until after his promotion becomes official Monday.
Riggs said in the 2017 Trojans game program that his favorite thing about coaching at Jenks is "The commitment to excellence in all areas of academics and athletics from the entire community."
Broken Arrow head coach David Alexander is a former Jenks assistant and is very familiar with Riggs as a colleague and opponent.
"Coach Riggs is a great hire for Jenks for several reasons," Alexander said. "He's been Allan's right-hand man for a long time. He knows the community, the kids know him and he knows their kids.
"His greatest asset is he's one of the smartest men I've been around. He really knows how to dissect an offense and put a great game plan together. I was around him for 6-7 years and saw his great attention to detail and great work ethic seven days a week. They will be as well prepared as they were under coach Trimble.
"No one can ever really fill coach Trimble's shoes, but he will have the community's support and that's important."
Jenks is going in a similar direction as it did 22 years ago when Trimble was promoted to replace Ron Lancaster. Trimble had been the offensive coordinator for the previous four very successful seasons and on Jenks' staff for six years.
Kirk Fridrich, who has led Union to five state titles in 11 seasons, was named the Redskins' head coach in 2007 after earlier having been an assistant there under Bill Blankenship.
"He (Riggs) has done a great job at Jenks and I have a lot of respect for him," Fridrich said. "I think he's an awesome fit for Jenks. It's a very tough job for anyone to replace coach Trimble, but he's been on the staff and understands how things work there and that gives you a leg up. Having been at Union previously made for a good transition for me when I came back as head coach."
Jenks also will submit for board approval Diego Henao as head swimming coach. Henao will succeed John Turner, who retired April 27 after winning 17 boys and 11 girls state titles in 36 seasons.
Henao is the Jenks Trojan Swim Club coordinator and senior head coach. He is a Jenks graduate and a member of the 1991 state championship team. Henao also is a graduate of Louisiana-Monroe, where he holds records in the 100- and 200-yard freestyle and the 100-yard butterfly. He was a Junior National and Senior National qualifier and ULM team captain in 1995-96.
From 1988-96, Henao also represented his native country of Venezuela in many international swim meets. He was a member of the 1996 Venezuelan team that competed at Olympics in Atlanta. Henao was a bronze medalist at the Pan-American Games in 1995.