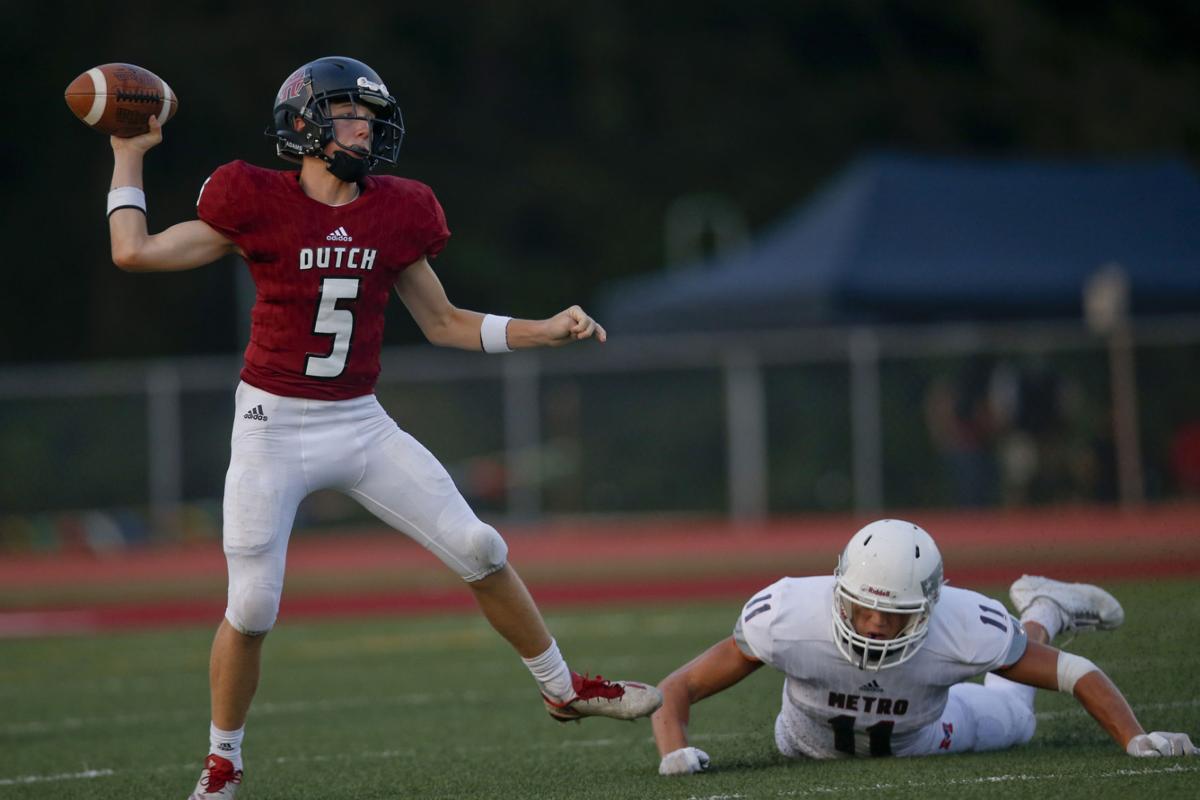 All games at 7 p.m. Friday unless noted
1. Class 2A No. 4 Metro Christian (1-1) at 3A No. 4 Holland Hall (2-0)
The outlook: The Dutch, after outscoring their first two opponents 97-6, will try to avenge last year's 35-13 loss at Metro in this rivalry between private schools only 5 1/2 miles apart.
Key matchup: Holland Hall's offense, led by senior quarterback Wallace Clark, against Metro's defense, led by linebacker Cade Gibson. Dutch coach Tag Gross said, "Last year, they blitzed us a lot and we didn't hold up the whole game. Hopefully, we'll do better protecting our quarterback and we'll need our wide receivers to make plays."
In 2017, Clark completed 12-of-17 for 134 yards and a TD in a 45-14 win over Holland Hall, and defensive lineman Owen Ostroski led a dominating pass rush. Defending 2A champion Metro has won the past two years as it has contained the Dutch's offense and pass rush. This season, Clark has completed 20-of-30 passes for 480 yards and eight TDs in the first two games. Metro has a first-year starting QB, Colton Cook, who has passed for 400 yards over the first two games.
Quotable: Metro coach Jared McCoy said, "Holland Hall has a lot of playmakers. We've got to protect the ball and eliminate turnovers. I feel good about our team after two games."
Gross said, "I'm very pleased with our execution so far — our defense has really played well. Metro plays with a lot of confidence, they've had a great two-year run and I think they'll make another run at winning 2A."
Series history: Holland Hall leads 14-6. The teams played annually from 1988-2003 before a hiatus that ended with Metro's 37-7 victory in 2016.
2. 2A No. 2 Jones (2-0) at 3A No. 2 Lincoln Christian (1-0)
The outlook: This game was pushed back two weeks from Sept. 4 due to COVID issues involving Beggs after Lincoln won its opener 36-8 on Aug. 28 at Beggs.
Series history: Lincoln leads 3-2. This has been an interesting series since their first meeting in the 2015 3A semifinals, won by Lincoln 39-14. Lincoln has won the past two years after Jones swept the 2016 and '17 meetings.
3. Shiloh Christian (1-0) at 6AII No. 9 Sand Springs (1-1)
The outlook: The Sandites continue their annual tradition of playing a top team from Arkansas. Shiloh won seven state titles from 1998-2010 and narrowly missed an eighth last year when it lost in the 4A final.
Notable: Shiloh, led by quarterback Eli Wisdom, edged defending Oklahoma 4A champion Poteau 34-28 in the season opener. Wisdom, a run-pass threat, accounted for 215 yards with three TDs on offense and also scored on an 85-yard interception return. Sand Springs has played two thrillers, winning 21-17 at 5A No. 7 Sapulpa and losing 28-24 to 5A No. 2 Bishop Kelley.
4. 6AII No. 10 Bartlesville (1-1) at 5A No. 4 Collinsville (2-0)
The outlook: Has the potential to be a thriller similar to last year's meeting when Collinsville rallied late twice during a wild finish for a 20-17 overtime victory. Brayden Gilkey scored on a tying Pick-6 with 2:22 left in the fourth quarter and then the Cardinals answered again in OT after the Bruins regained the lead with a field goal.
Key matchup: Collinsville's Oscar Hammond against the Bruins' secondary. He has two TD catches in each of the first two games with a combined total of 219 receiving yards.
Series history: Collinsville also won a thriller, 34-27, in 2018 – as the schools met for the first time since 1924.
5. 4A No. 1 Wagoner (2-0) at 2A No. 6 Sperry (1-1)
The outlook: This is the first-ever meeting between the schools. Since the start of 2017, Sperry is 37-6 and Wagoner is 33-6.
Best of the rest
• 3A No. 10 Berryhill (0-0) at Cushing (2-0): The Chiefs edged Cushing 36-33 last year as Jake Miller completed 28-of-43 passes for 397 yards and four TDs.
• Catoosa (0-2) at Claremore (1-1): This Rogers Country rivalry resumes after a 12-year hiatus.
• Pryor (2-0) at 4A No. 10 Grove (2-0): Grove looks to avenge last year's 38-7 loss.
• Victory Christian (0-2) at 3A No. 3 Verdigris (2-0): A good quarterback matchup -- Victory's Triton Chandler and Verdigris' Dylan White.
• Class A: No. 10 Hominy (2-1) at No. 1 Pawhuska (2-0): Bryce Drummond passed for 303 yards and four TDs in the Huskies' 46-12 win over Hominy last year.
Barry Lewis
918-581-8393
Twitter: @BarryLewisTW
Get in the game with our Prep Sports Newsletter
Sent weekly directly to your inbox!