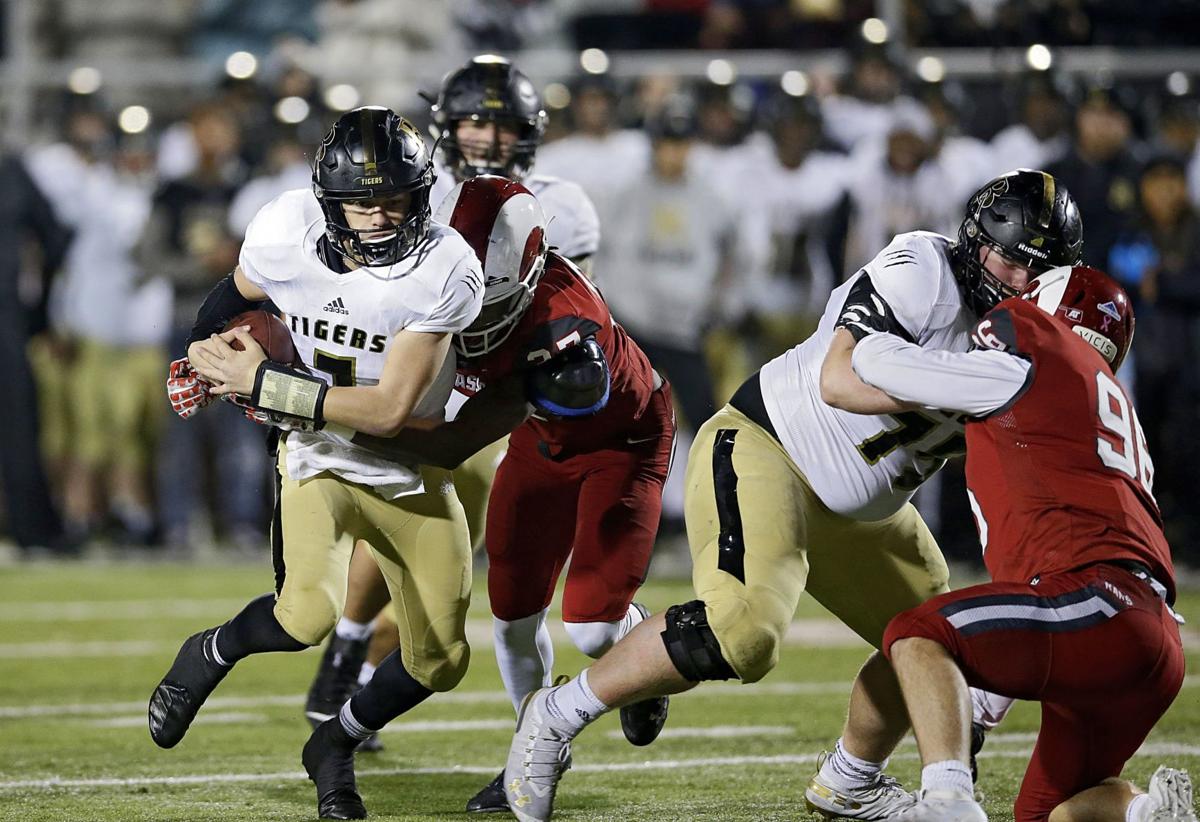 All games at 7 p.m. Friday unless noted
1. Class 6AI: No. 1 Owasso (2-0) at No. 2 Broken Arrow (2-0)
The outlook: These teams have combined to win the past three 6AI state titles. This is their third consecutive meeting that has been a No. 1 vs. No. 2 showdown. Owasso won both of those matchups last year, 42-19 in the Folds of Honor Patriot Bowl and 42-27 in the state semifinals.
Notable: Both teams have been very balanced on offense this season. Owasso, with sophomore Austin Havens emerging as the primary quarterback, has 858 total yards — 434 rushing and 424 passing. Broken Arrow, with returning starting QB Jake Raines, has 766 total yards — 421 rushing and 345 passing.
Series history: Broken Arrow has prevailed in 12 of the past 16 meetings, including a two-game sweep en route to the state title in 2018.
2. 6AI: No. 5 Union (0-2) at No. 3 Jenks (1-1)
The outlook: The 17th MidFirst Bank Backyard Bowl moves to Allan Trimble Stadium — the first time since 1998 that this rivalry has been played at Jenks.
Notable: Both teams have lost to Bixby — Union 34-0 and Jenks 42-35. ... It's the second consecutive year that Jenks is 1-1 and Union 0-2 going into the Backyard Bowl. ... Union is trying to avoid its first 0-3 start since 2006.
Series history: Union won 35-20 last year, but Jenks leads the MidFirst Backyard Bowl series 9-7 and has won nine of the past 13 overall meetings between the teams.
3. 5A: No. 2 OKC McGuinness (1-0) at No. 3 Bishop Kelley (2-0)
The outlook: Kelley looks to avenge two lopsided losses last year in this traditional battle for the shillelagh (an Irish fighting stick). McGuinness won 41-14 in Week 2 and 48-22 in the state semifinals.
Key players: Kelley running back/safety Owen Heinecke is a force on both sides of the ball. He had two TD runs, including the winner with 59 seconds left, in last week's 21-17 win at Sand Springs. He also had two TDs against McGuinness in last year's semifinals, including a 98-yard run. McGuinness QB Luke Tarman, a three-year starter, rushed for five TDs in the two games against Kelley last year.
Notable: Look for a game Friday that more resembles their 2018 meetings at Kelley when McGuinness won 24-21 in overtime, but the Comets prevailed 34-33 in the quarterfinals. ... Kelley is 2-0 for the first time since 2015 when it started 3-0.
Series history: Kelley's last regular-season win over McGuinness was in 2015. Before last year, seven of their past eight games were decided by seven points or fewer.
4. 5A No. 4 Collinsville (1-0) at 4A No. 3 Skiatook (1-0)
The outlook: For the first time since 2015, the Highway 20 rivalry is a nondistrict game early in the season. In '15, they met again in the semifinals. They won't meet in this year's playoffs as Skiatook has moved to 4A, but they both have the potential for deep playoff runs.
Key players: Brayden Gilkey had two TD runs in last year's win over Skiatook and two in last week's 34-24 win over Oologah. Collinsville quarterback Andrew Carney accounted for three TDs — including two scoring passes to Oscar Hammond, who had three catches for 119 yards. Skiatook QB Mason Willingham ran and passed for a TD against Collinsville last year. Willingham had two TD runs in a 31-7 win last week at Glenpool.
Series history: This will be their 98th meeting. Collinsville won 27-25 last year and 17-3 in 2018. Seven of the last 12 meetings have been decided by 8 points or less. Collinsville has won 12 of the past 16 games in the rivalry that dates back to 1921.
5. 6AII No. 2 Stillwater (1-0) at 6AI No. 4 Mustang (1-0)
The outlook: Both teams are coming off wins over top-10 6AI opponents as this series resumes after a two-year hiatus.
Series history: Mustang leads 5-3, but Stillwater won the last meeting, 31-14, in 2017 when then-freshman Qwontrel Walker, now the Pioneers' career rushing leader, gave fans an early look at his potential as he rushed for 163 yards and a TD.
6AII No. 9 Bartlesville (1-0) at 5A No. 7 Sapulpa (1-1): First team to 50 wins — that's been the case in five of their six meetings over the past six years when they were district foes — the exception was Bartlesville's 9-2 win in 2017. Sapulpa won 55-40 last year and 63-58 in '18. This series dates back to at least 1920.
2A No. 9 Cascia Hall (1-1) at Rejoice Christian (0-1): A late addition to the schedule after COVID-19 issues involving their scheduled opponents. Both Pinnacle Conference members are coming off rare lopsided losses.
5A Claremore (0-1) at 4A Oologah (0-1): The Rogers Country rivalry resumes after a six-year hiatus.
5A Edison (0-1) at Memorial (1-0): It's the MidTown Classic between these traditional rivals located only three miles apart and both call LaFortune Stadium home. Edison routed the Chargers 67-0 last year, but Memorial has won 10 of the past 13 meetings.
5A Hale (0-1) at Rogers (0-2): This will be the grand opening of Rogers' on-campus stadium that will be home for both teams. These schools, located less than four miles apart, played each other 42 times from 1960-2010, but have not met since Hale's 58-20 win in '10.
Get in the game with our Prep Sports Newsletter
Sent weekly directly to your inbox!