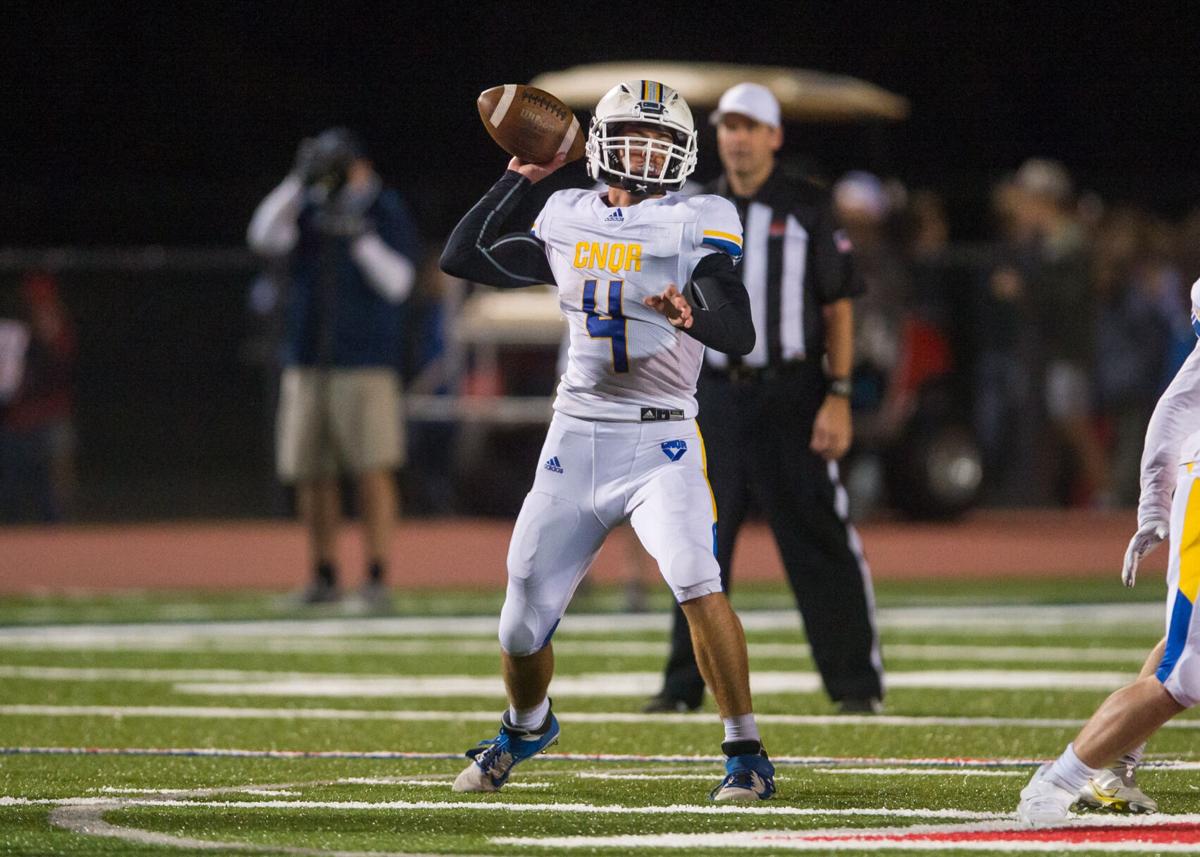 Because of COVID-19, it's been a challenging year for all football teams, but especially those with a new head coach.
Victory Christian, in its first season with Ben Palmer at its helm, has battled back from an 0-3 start with five wins in its past seven games.
On Friday, the Conquerors, who were 3-7 last year and in the Class 2A state final as recently as 2016, posted their first playoff victory since '17, 46-7 over Salina.
"It's been a difficult year for everyone, no one wants to have a year like this again," Palmer said. "We have a very young team. It's a testament to our kids' hard work that they have gotten better each week.
"We did not start out well on offense (Friday), but our defense played the best it has all year."
Salina, which finished 4-7, scored its only points in the fourth quarter on a fumble return. Two of the Victory defensive standouts were sophomores — linebacker Jalid Brown with six tackles and Ethan Alter, who had three tackles with a sack. Alter moved from linebacker to defensive end. The Victory defense starts four freshmen and three sophomores.
Victory's offense got rolling after Solomon Byrams' 41-yard run provided the first quarter's only TD. Byrams had 20 rushes for 209 yards and four TDs. Triton Chandler completed 20-of-27 passes for 259 yards and also rushed for three TDs. Josh Udoumoh (122 yards) and Luke Freeman (63 yards) had seven receptions each.
"Triton is a dual threat who is hard to stop," Palmer said. "He's like a coach out on the field.
Palmer, a former sergeant in the Marines and a combat veteran of Afghanistan, spent the past three seasons as assistant head coach and offensive coordinator at Shreveport-based Calvary Baptist, which had Louisiana's top-scoring offense in 2019 at 52.9 points per game en route to going 11-1. He was a head coach at Baton Rouge's Christian Life Academy, where he went 10-10 in two seasons (2015-16).
Victory's five losses have come against 3A No. 6 Verdigris, 2A No. 1 Metro Christian, 2A No. 2 Cascia Hall, 2A No. 8 Beggs and Class A No. 1 Pawhuska.
The Conquerors visit Sperry (6-3) in the second round Friday.
"Our kids are battle-tested," Palmer said. "I like our chance to compete at Sperry, give everything we have and look to extend our season."
Zebras join rankings
Claremore moves into the Tulsa World's 5A rankings at No. 10 after it opened the playoffs with a 36-28 win over East Central.
"Demetrice Coronado had a big game and Brooks Sherl had an outstanding night," Claremore coach Jarrett Hurt said.
Conorado rushed for 150 yards and three TDs while Sherl had six catches for 125 yards, a 21-yard touchdown run, completed a pass and had two big punt returns.
Claremore's defense stopped three potential tying East Central drives in the fourth quarter.
The Zebras, who held on after leading 33-14, picked up their third playoff win in five years under Hurt, but it was their first playoff home game since 2012. Claremore (6-4) clinched its fifth consecutive winning season. The Zebras bounced back from a last-play loss a week earlier to No. 7 Pryor.
"I could write a book about all the adversity we've had to overcome," Hurt said. "Our players have fought hard and persevered, and found a way to win against East Central. Our seniors have led us and we have great chemistry. I'm proud of our players."
Claremore also overcame William McGuire's performance for East Central. McGuire had eight catches for 193 yards and two TDs from Cunu Fields, and also also scored on a 100-yard interception return.
"He (McGuire) is phenomenal, an outstanding player," Hurt said.
Hornets handle Miami
Fifth-ranked Hilldale won its 4A playoff opener, 42-0, over Miami on Friday. Johnnie Durossette completed 11-of-14 passes for 172 yards and a touchdown, and Dylan Walker had seven receptions for 147 yards and a TD. Walker also snagged an interception on defense for the Hornets, who will host Grove in the second round.
"Good team win," said Hilldale coach David Blevins, whose team produced 316 yards on offense and only allowed 166 on defense. "Not a perfect game but good effort and were able to move on to the next round."
Few surprises
Except for the bottom half of 6AI and Claremore in 5A, there were no changes in this week's rankings as there were few surprises in the playoffs' opening week. None of the teams that finished first or second in a district lost. The only sixth-place team still alive is Berryhill, a 35-0 winner at Seminole. Berryhill's 3-4 overall record is deceiving as it had several games canceled.
Notable
The most stunning ending in a playoff opener was in Shawnee's 35-34 win over Sapulpa in 5A. Sapulpa led 34-28 and tried to run out the clock, but Jaylon Orange stripped the ball away from a Chieftains rusher and raced 12 yards into the end zone for a touchdown. Ian Johnson kicked the winning extra point with 32 seconds left...
Shawn Tiemann, who has been 6AII No. 1 Bixby's radio announcer for five years, worked his final Spartans game in the regular-season finale. Tiemann has moved on to become the University of Montana women's basketball broadcaster....
Due to the pandemic, the ninth annual Tulsa Public Schools Athletics Hall of Fame banquet has been postponed from January to June 10, 2021, at the DoubleTree Hotel at Warren Place. That will be on the eve of TPS' annual Legends Foundation tournament at LaFortune Park Golf Course.
Ben Johnson, for the Tulsa World, contributed to this column.
Get in the game with our Prep Sports Newsletter
Sent weekly directly to your inbox!