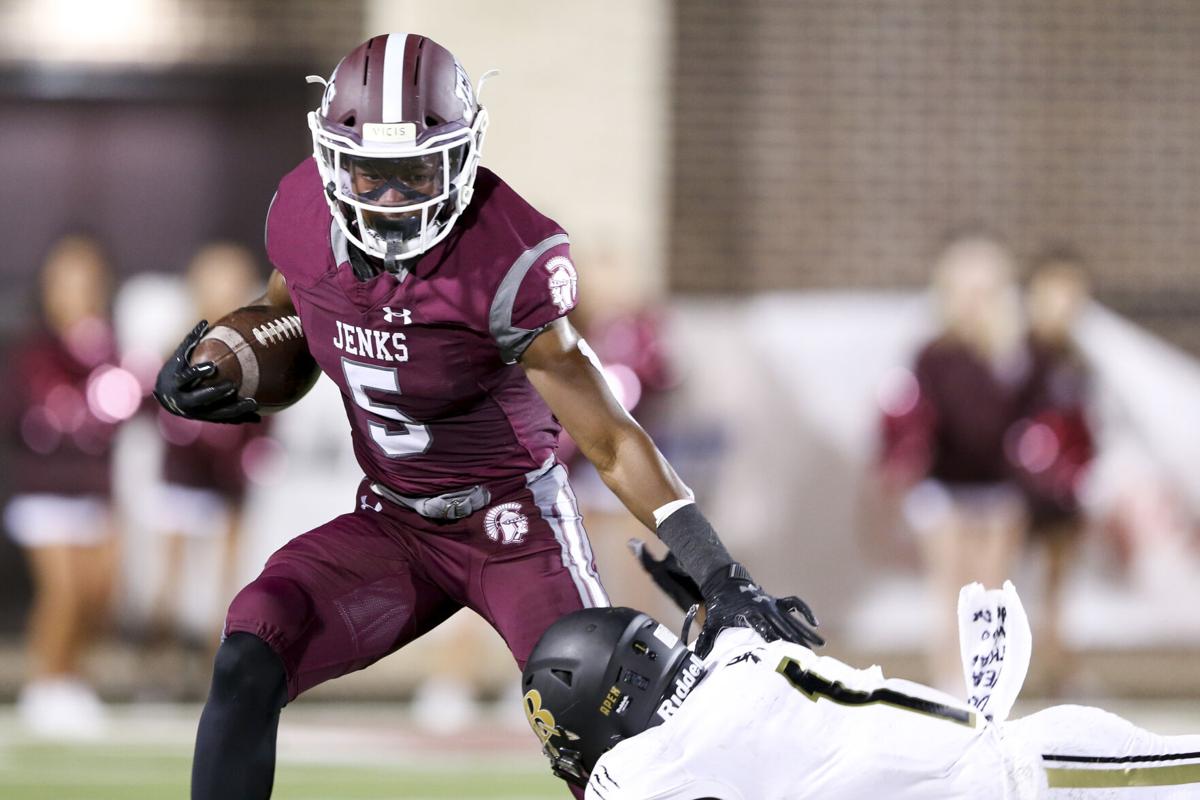 It's no surprise that Jenks senior Jayden Patrick has been one of the area's top defensive backs this season.
But to those outside of the Trojans' program, Patrick's emergence as a dynamic wide receiver in 2020 was probably unexpected after not seeing much action at that position previously.
Patrick, as he has all season, showed his stellar skills on both sides of the ball in a 38-30 victory over Broken Arrow on Friday. Jenks remains No. 2 and Broken Arrow No. 3 in the Tulsa World's Class 6AI rankings.
"He did really good in all phases, he does so many different things for us," Jenks coach Keith Riggs said.
On offense, Patrick had three catches for 81 yards, including a scintillating 50-yard touchdown, and scored the final TD on a 3-yard run. On defense, Patrick shut down another dynamic wideout, RJ Spears-Jennings, holding him to 13 yards on four catches. Spears-Jennings entered the game with 11 catches for 247 yards.
"He's a helluva player and it was a great matchup," Patrick said.
Patrick has a Pick-6 and three TD catches this season. Riggs saw his potential as a receiver during the offseason. And everyone else began to see it when he had seven catches for 244 yards and two TDs against Booker T. Washington and Muskogee in the Trojan Preview.
"We thought he could be an impact player on offense," Riggs said. "Even without spring ball we saw the progress he was making in the weight room and our summer pride program. He gives us a spark at receiver."
So how did Patrick prepare for his receiving duties?
"Extra sprints, learning the playbook," Patrick said. "Getting myself in condition to go both ways."
Patrick, who is 5-foot-11 and 168 pounds, also returns punts and kicks, and as a placekicker holder passed for a TD against Union. Three years ago, he filled in as a quarterback on the freshman team.
How much does he like playing receiver?
"A lot, I love scoring touchdowns," Patrick said. "I love doing my part for the team, it's extremely fun."
BTW's King is 'a true ball hawk'
Booker T. Washington junior Jaden King is emerging as one of the area's top cornerbacks. He got off to a good start Friday night, and everything snowballed from there.
King intercepted three passes in the first half and added a fourth after intermission, possibly tying a state record, in the 6AII No. 5 Hornets' 34-7 win at Bartlesville.
"It's a matter of studying a lot of film and recognizing what plays and formations (other teams) are running, and we have good play-calling by the coaches to put us in a position to excel," King said. "I got an opportunity and I took it."
He also had returns totaling 106 yards.
King took over as starting cornerback when Gentry Williams tore his right ACL against Del City and totals seven interceptions in five games.
If his four picks in one game don't equal a state record, they are close. Records in that category are sketchy, but the National High School Sports Record Book shows no Oklahoman with more.
Two former Hominy players also had four in a game. Current Ponca City head coach Scott Harmon had four against Barnsdall in 1989. And Harmon said current Hominy coach Caleb Christian had four in a game playing for him when he was coach of the Bucks in 2007.
Mike Blitch, Hornets defensive coordinator, described the 5-foot-11 King as "a tremendous athlete. He has springs for legs and is a true ball hawk."
King said he hasn't had his vertical jump measured recently, but he's been dunking a basketball since the eighth grade.
Huskies win big
It was an offensive explosion for Class A No. 1 Pawhuska on Friday in a 92-0 win over Fairland. It was the largest margin of victory for any team In Oklahoma since Ada beat Seminole 98-0 in 1964.
For Pawhuska, Bryce Drummond completed 20-of-25 passes for 310 yards and seven touchdowns. He also ran for 63 yards and a touchdown on five carries.
Dalton Hurd hauled in four touchdowns and Mason Gilkey two for the Huskies. Hurd also scored on two punt returns.
"I was proud of our kids for doing what we asked: Come out and play hard, fast, and smart for the first half," Pawhuska coach Matt Hennesy said. "Our JV did a good job finishing things off."
Notable
There's a new No. 1 team in 5A as Bishop Kelley moves up to the top spot after previous-No. 1 Midwest City Carl Albert lost 56-14 to 6AII No. 1 Bixby...
Oklahoma City Millwood outlasted Kellyville 56-48 on Saturday. Millwood replaces Kellyville at No. 10 in the 2A rankings...
COVID postponements are resulting in some more Monday Night Football in the state as 6AII No. 7 Putnam North will visit Edmond Deer Creek in a game that was pushed back a few days from Friday.
Mike Brown, Tulsa World, and Ben Johnson, for the Tulsa World, contributed to this column.
Barry Lewis
918-581-8393
Twitter: @BarryLewisTW
Get in the game with our Prep Sports Newsletter
Sent weekly directly to your inbox!