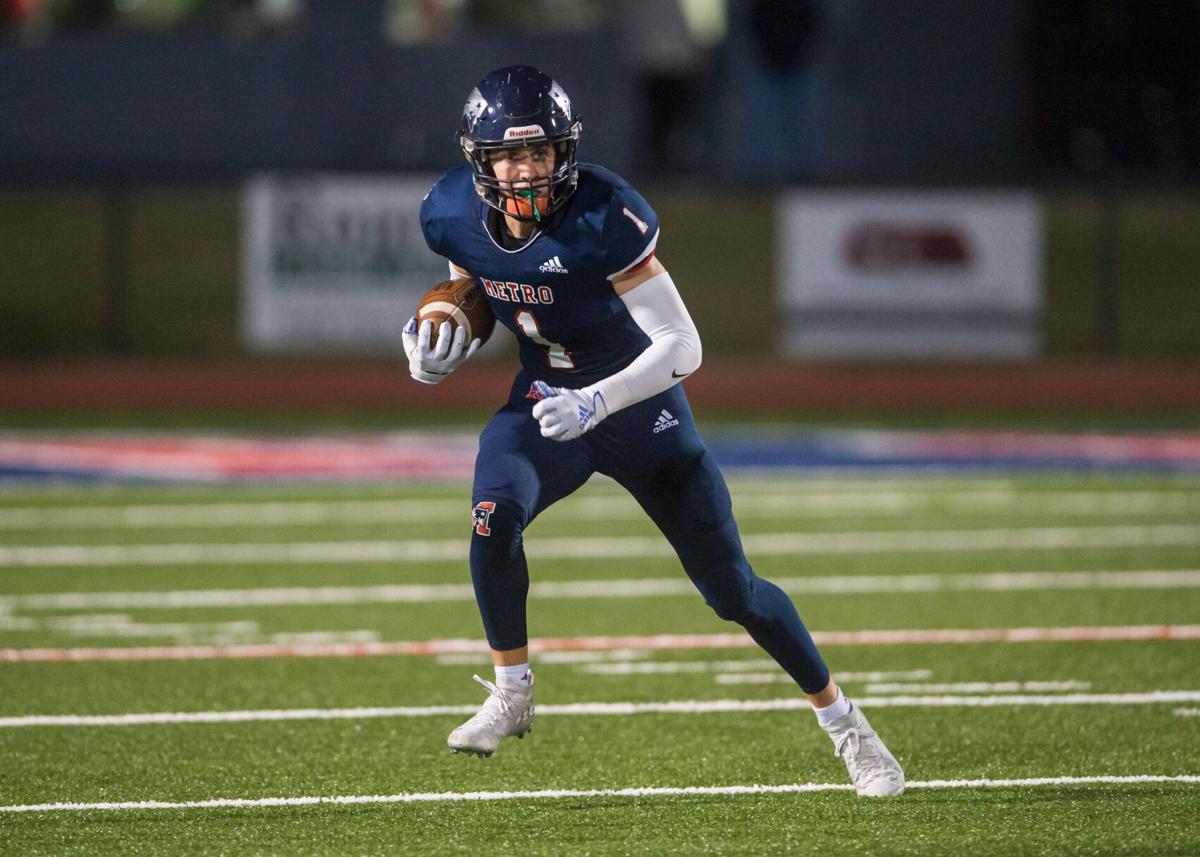 Most of Malachi Penland's Metro Christian teammates have experienced the thrill of winning a state championship, but that has eluded him despite having been in title games the past two years.
Penland is a senior move-in from Jenks, where he was a receiver on the Trojans' Class 6AI state runners-up in 2018 and '19. Last year, he had a touchdown catch in the quarterfinals against Mustang and a 29-yard reception on the final drive that ultimately came up short in a 14-6 loss to Owasso in the title game.
This season, he is with the defending 2A champion Patriots after moving to Metro, where his mother was hired as a teacher. It didn't take him long to fit in with his new teammates. Penland scored the Patriots' first TD of the season on a pass from Colton Cook, who also moved from Jenks.
"They just came off a championship run and that's our mindset every week, going for that championship run," Penland said. "I've been there my sophomore and junior years and I want to finally get that gold ball."
Penland has been a big addition for the Patriots — on both sides of the ball. As a defensive back, his last-second pass breakup sealed a 14-6 win over No. 7 Beggs in Week 6. Last week, he had a goal-line interception that helped the Patriots defeat Victory Christian 49-21 in a showdown for the District 2A-7 lead.
Penland also had a big game as a receiver against Victory with eight catches for 89 yards as Cook and Kirk Francis combined to pass for 302 yards and five TDs.
"Most people don't see all his attributes," Metro coach Jared McCoy said. "For us, our receivers take their turns. Malachi is the ultimate team player, he blocks, runs people off. He's been stellar all year."
The Patriots (5-2) have won four in a row and remain No. 3 in the Tulsa World's 2A rankings.
Penland, who is 6-foot-3 and 190 pounds, is enjoying the added duties of being a starter in the Patriots' secondary as well as being a receiver.
"I knew I had to step up this year as a leader on both sides of the ball and honestly I thought it would be more than I could handle," Penland said. "But it's everything I want in football, making plays on both sides of the ball. It's a lot of fun, more fun that way. I'm having a great time over here."
Penland is part of a deep Patriots receiving corps that makes Metro's passing game hard to defend.
"We have a lot of talent on the perimeter and it's always great to be able to spread the love among those guys," Francis said.
Metro has outscored its past four opponents 150-27 after a 42-7 loss to 3A No. 3 Holland Hall.
"We need to get better," McCoy said. "But we're light years away from where we were in Week 1 and even Week 3."
Black Diamonds upset Fort Gibson
Unlike the previous week, there weren't many upsets in Week 7. The biggest was unranked Sallisaw's 39-34 win over Fort Gibson, which falls two spots to No. 9 in 4A. Fort Gibson, Sallisaw and Hilldale are tied at 3-1 in 4A-4 with Poteau leading at 4-0.
Sallisaw's Jaxon McTyre passed for 290 yards and four touchdowns while adding 72 yards on 19 carries.
The Black Diamonds finished with 217 yards on the ground, with Pason Dotson gaining 95 yards and Isiah Blaylock adding 50 yards and two TDs.
Rylee Scavo caught three of McTyre's touchdown passes and finished with eight receptions for 171 yards. Sallisaw amassed 507 yards on offense.
"I was extremely proud of the effort our kids played with," Sallisaw coach Randon Lowe said. "We overcame a lot of adversity."
Notable
Sapulpa's Te'Zohn Taft caught two TD passes, scored on a 58-yard kickoff return and had a Pick-6 — one of his two interceptions — in a 64-0 win over Hale on Thursday. The Chieftains move up one spot to No. 7 in the 5A rankings....
It's rare for a team to be winless at this point of the season and still be in the rankings, but Del City (0-5) is No. 7 in 6AII. The Eagles have losses to four of 6AII's top six teams by an average of fewer than 10 points and 21-14 to 5A No. 2 Midwest City Carl Albert...
There are two interesting matchups Monday night in 4A-3 as No. 5 Skiatook (4-1, 2-0) visits Cleveland (4-2, 1-2) and Grove (3-2, 1-2) hosts Oologah (2-2, 2-0) in makeup games. All teams played last Thursday and will play again Friday.