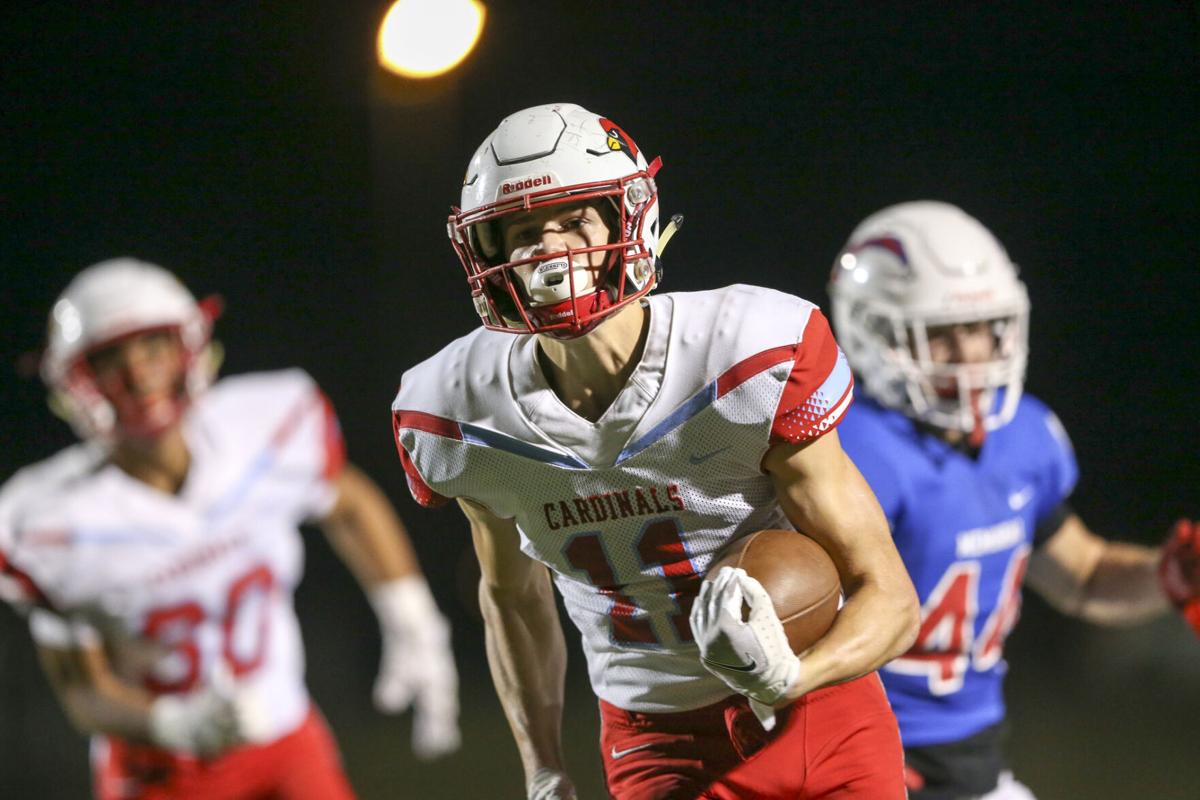 Even to some of those close to the Collinsville program, junior Oscar Hammond seemingly came from out of nowhere to emerge as one of the area's most dynamic wide receivers this season.
"He just hit this huge physical growth spurt, grew 5 1/2 inches," Collinsville coach Kevin Jones said. "Everyone (before the season) was like, `Who's that kid?, where was he last year'?
"He was a real good free safety last year for the junior varsity, so we knew we had a good player coming. He's now 6-3, and is just bigger, faster and stronger."
Hammond is averaging 32.8 yards per catch — he has 18 receptions for 591 yards and nine touchdowns for the Cardinals (8-0), who are No. 3 in the Tulsa World's Class 5A rankings. Hammond also starts at safety and had a defensive TD against Skiatook.
"He's a playmaker," Jones said. "He has really come on. He's rangy and super athletic."
Hammond has exceeded his own expectations entering the season.
"I was real excited to be on the varsity, but didn't know what was going to happen," Hammond said. "I'm still always trying to get better."
About the only one who has been able to stop Hammond — is himself — due to overaggressiveness during a practice that led him to missing the Week 6 game against Claremore.
"He gave himself a concussion," Jones said. "He got mad, flew in there with his head down."
Hammond, who moved to Collinsville from Owasso in eighth grade, scored three TDs in a 70-6 win over Memorial on Friday. He scored on both his receptions and also on a 28-yard punt return that he scooped up.
"I saw a wide-open lane," Hammond said, before adding about his knack for big plays, "You think it and see it."
Ropers end streak with late TD
Will Rogers rallied to nip Durant 38-34 with little time to spare, ending its 44-game losing streak.
Macuric Demry's 4-yard touchdown run with 15 seconds left capped a 95-yard drive over the final 90 seconds.
The winning score was set up by Demry's 25-yard pass to 6-foot-8 Marquel Sutton, who got out of bounds at the 8 to stop the clock. An offside penalty moved the ball to the 4 and Demry scored on a keeper.
Demry accounted for all six TDs as the Ropers won for the first time since beating McLain 26-0 on Sept. 16, 2016 — a span of 1,498 days.
"Words can hardly describe our seniors' emotions," coach Parker Childers said. "They were overjoyed. It was a great feeling for all those guys who have played their whole careers without winning a game."
Demry, described by Childers as an "insane athlete," completed 17-of-23 passes for 253 yards and four TDs and rushed for 45 yards and two TDs.
Senior running back Ratterius King rushed for 94 yards on 16 carries and shared the team lead in tackles with sophomore linebacker Emmon Simpkins. Both had eight.
The running game received a boost by moving right tackle Keenan Bruce to left guard, creating more heft on that side of the line with left tackle Deivon Elliott-Willis.
The Ropers totaled 441 yards, easily their best offensive production of the season.
Childers said he didn't tell his players about the OSSAA's decision to let every team into the playoffs in this coronavirus-plagued season.
"That was a coach's strategy," he said. "I told them we needed at least one win (to qualify)."
As it stands, the Ropers have a realistic chance of finishing fifth in District 5A-3 if they win their final two games. They play Edison at LaFortune Stadium on Friday and end the season at home to McAlester on Nov. 6.
Notable
Barnsdall moves back into the Class B rankings at No. 10 after a 26-20 victory over Pioneer, which was ranked No. 7. Barnsdall's Carson Auschwitz had 28 tackles with four for losses and an end-zone fumble recovery in the fourth quarter to protect the lead. He also caught a 50-yard TD pass from Keegan Marin, who accounted for 260 yards and three TDs plus had nine tackles with two sacks and an onside kick recovery. Hunter Auschwitz had 24 rushes for 140 yards and Josh Weber had seven catches for 140 yards and two TDs plus six tackles. ...
Bristow (4-3), after having games against Skiatook last Friday and Catoosa on Oct. 30 canceled due to its opponents' COVID issues, will instead play this coming Friday at Cache (4-2).
Roller racking up sacks
Class 3A No. 2 Verdigris' Reese Roller keeps piling up sacks for the Cardinals. The sophomore linebacker collected three sacks in a 56-0 victory over Mannford on Friday.
Roller also had five tackles and a quarterback hurry, and on offense he added two catches for 80 yards and a touchdown.
"Reese is a great kid who has worked extremely hard to get to this point," Verdigris coach Travis East said of Roller, who now has 21 sacks and four consecutive games of at least three sacks. "Reese has a motor that doesn't stop, and it has paid off for him all season."
The No. 2 Cardinals (7-0, 4-0) will visit No. 3 Holland Hall (6-0, 3-0) in a 3A-4 showdown Friday.
Mounds finally stops Stroud
Stroud had won all eight meetings with Mounds since 2008 — with the closest margin being 28 points. But Mounds ended Stroud's dominance Friday night.
Taylor Wortman had 174 yards and three touchdowns on 16 carries, and Mason Coddington produced TDs as a passer, rusher and on a defensive fumble recovery in a 44-0 rout.
Coddington also had two interceptions and five tackles for Mounds (2-5, 2-2 A-7).
"We've faced a lot of adversity this year between the higher than usual number of injuries and the two starters who missed games early in the season due to COVID-19 exposure," Mounds coach Scott Robb said. "But I'm extremely proud of the resiliency this team has demonstrated. This was a great win for our program, and now we look forward to our next opportunity as we travel to Okemah."
Mike Brown, Tulsa World, and Ben Johnson, for the Tulsa World, contributed to this column.