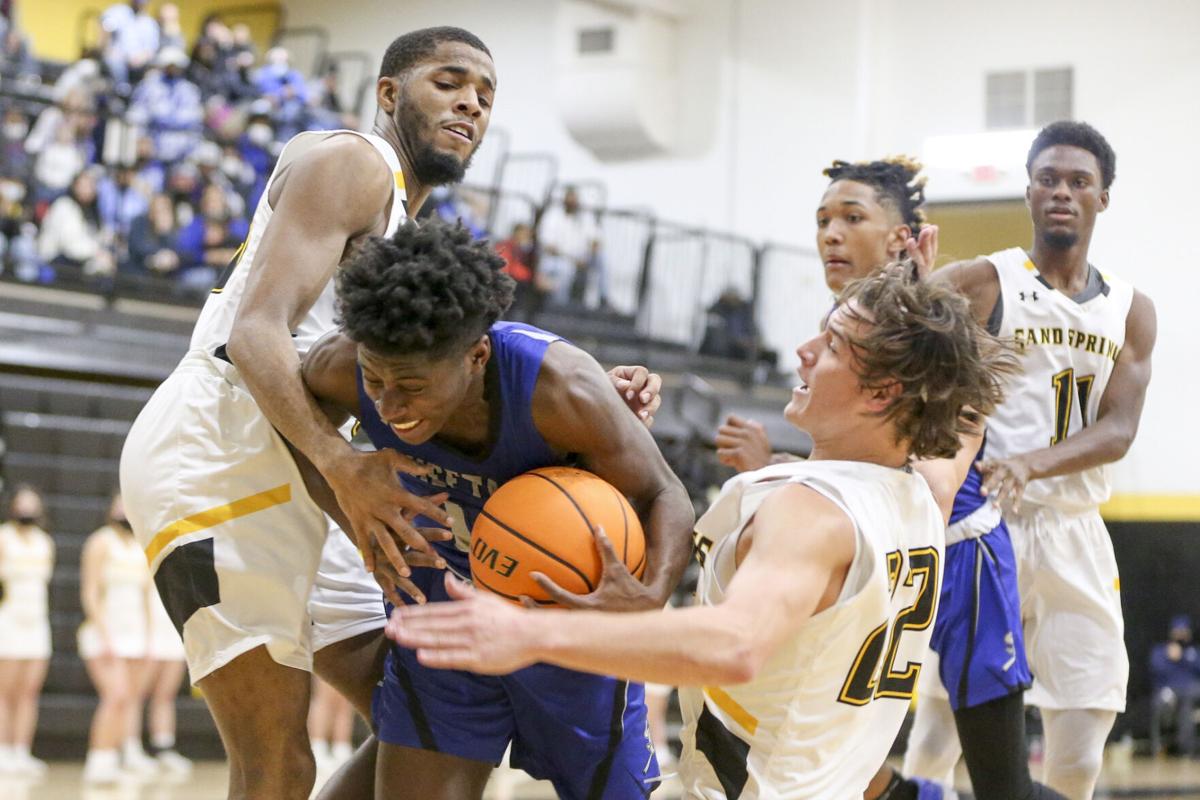 SAND SPRINGS -- Marlo Fox's spectacular performance and Sand Springs' quick start were the difference in the Highway 97 rivalry boys game Tuesday night.
Fox scored a career-high 34 points to lead the Class 6A No. 17 Sandites past 5A No. 6 Sapulpa 85-65 in a Frontier Valley Conference matchup Tuesday at Ed Dubie Field House.
"He's got that type of firepower," Sandites coach Eric Savage said. "We were talking as a staff before the game that this would be a good time for him to bust out. We actually were joking in the locker room, and said it would be a good night for him to get a 30-piece and he came through. He didn't know we were talking about that's what he's capable of doing."
Fox, a senior guard, had a pair of treys that keyed an opening 12-0 run for the Sandites (4-2, 1-2) and the Chieftains (7-4, 2-2) never fully could recover. He finished the first quarter with 11 points as the Sandites held a 24-8 lead.
Fox ended the first half with a trey that gave the Sandites a 46-23 lead going into intermission.
"We played really well in the first half and our defense set the tone," Savage said.
Sand Springs took an 18-point lead going into the final period, but Jackson Skipper opened the fourth with three quick baskets and Te'Zohn Taft added two free throws that cut Sapulpa's deficit to 60-50 with 6:20 left.
But the Sandites responded with Jason Clark's two baskets sandwiched around Cason Savage's basket, sparking a clinching 12-2 run.
"We knew they were going to make a run and we made enough plays in the second half to keep our distance," Eric Savage said.
Skipper led the Chieftains with 18 points and Taft scored all 16 of his in the second half after picking up three fouls before halftime. Jason Clark added 15 points and Corbin Fisher 12 for Sand Springs.
"I couldn't be more excited and happy for our guys," Eric Savage said. "I thought we were really close last week and Sapulpa came in hot after winning a (Lincoln Christian) tournament. We're just finally getting some consistency and getting better. We've just got to keep playing and believing."
Eric Savage said it was "by far" the best game of the season for his team and Fox, who entered with a 19.4 scoring average.
"We were set back so much in December with quarantine and COVID," Savage said, "It's tough, it's running through all of us (in the Frontier Valley), we were happy to play and hope we get to keep playing."
There were two Frontier Valley matchups postponed Tuesday due to COVID protocols – Jenks at Broken Arrow and Owasso at Bixby.
Sapulpa 74, Sand Springs 42 (girls)
Stailee Heard scored half of her game-high 24 points in the third quarter to help the 5A No. 1 Sandites (9-1, 4-0) break the game open. Temira Poindexter added eight of her 18 points in the third.
Journey Armstead paced the Sandites (4-4, 2-2) with 17 points.
Armstead scored 10 in the first half to help the Sandites stay close for a while. She had a free throw, a trey and a 2-point basket midway through the first half to cut Sapulpa's lead to 18-13. The Sandites still only trailed 23-18 before Sapulpa went on a 12-0 run late in the second quarter.
In the third, Sapulpa's lead was 36-24 before Heard sank consecutive 3s and the Chieftains steadily pilled away, leading 58-32 at the end of the quarter.
Alexis Lewis scored 17 and Tyla Heard 13, with three treys, for Sapulpa.
SAND SPRINGS 85, SAPULPA 65
Sand Springs;24;22;14;25;--;85
Sapulpa (7-4): Skipper 18, Taft 16, V.Durant 13, J.Durant 9, Courtney 4, Dement 3, Altom 1, Edwards 1.
Sand Springs (4-2): Fox 34, Clark 15, Fisher 12, Savage 9, Hawkins 8, Keim 4, Oakley 3.
SAPULPA 74, SAND SPRINGS 42 (girls)
Sapulpa;18;17;23;16;--;74
Sand Springs;11;9;12;10;--;42
Sapulpa (9-1): S.Heard 24, Poindexter 18, Lewis 17, T.Heard 13, Thomas 2.
Sand Springs (4-4): Armstead 17, Jackson 8, Kirkendoll 7, Cheney 6, Wilson 4.
Gallery: Action from the Highway 97 rivalry games between Sand Springs and Sapulpa