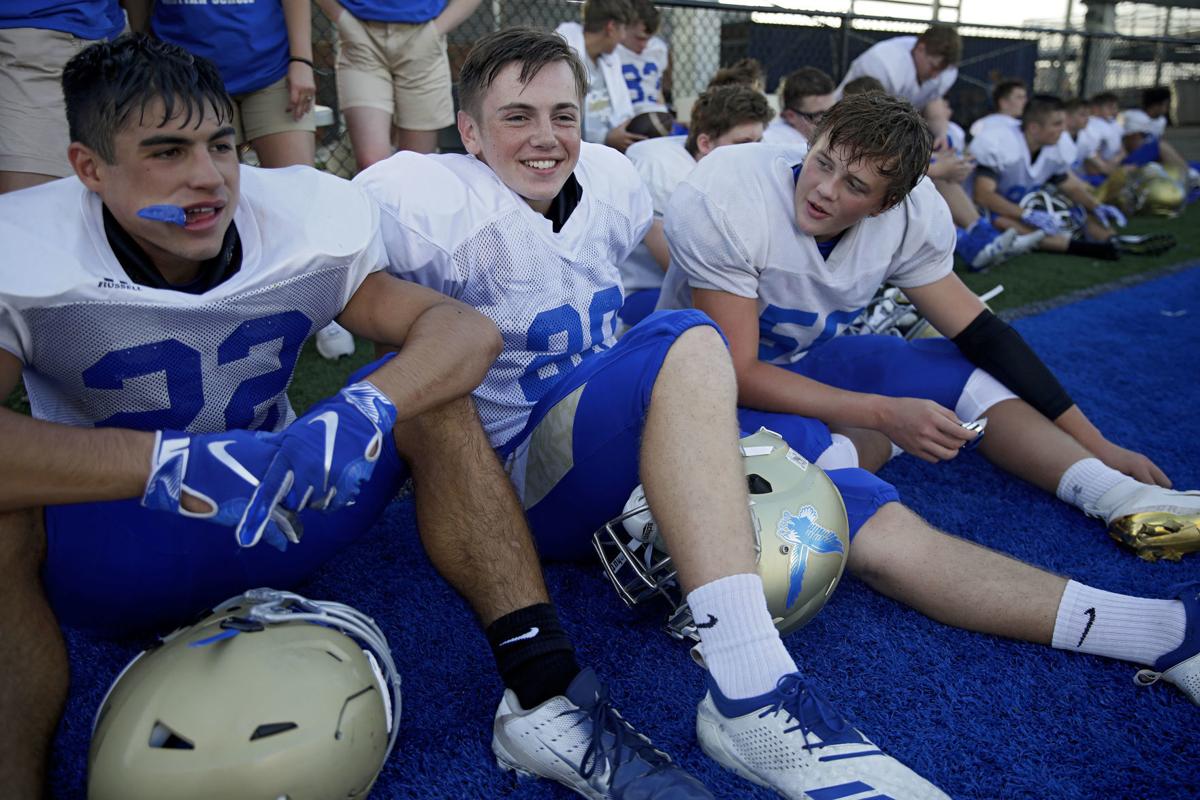 Some things haven't changed since I met Will Lambley two years ago.
Last March when Lambley visited his doctor in Bethesda, Maryland?
"Talk about the worst timing," he said. "Arkansas was playing in the first round of the NCAA Tournament, and I was going back and forth from listening to the doctor and to the game."
Lambley was listening to the top-ranked Razorbacks baseball team when I called to catch up. He told me he was still attending the University of Arkansas this fall, making good on the destiny he shared with me that August 2019 day we met in the Rejoice bleachers.
When I asked what he wanted to get out of his first semester in college, he fired back: "Hopefully we beat Texas week two. What I really want is for Arkansas to beat Texas in Fayetteville."
Lambley still wants to help Razorbacks football however he can, something else high on his checklist the day we met. He had an ace in the hole at the time in Chad Morris, the Hogs' head coach who had befriended Lambley and invited him to practice to meet the team.
I am happy to report that Sam Pittman, who replaced Morris after the 2019 season, appears to be following suit.
"I just met with the director of football operations," Lambley said via text message after our last conversation, "and got my spot helping out with the team confirmed."
I suggest the Razorbacks have Mr. Lambley start at his earliest convenience, because what I know of this young fella assures me that this world, sour and angry way too often in its current state, is better off having him around. That has certainly been the case for Rejoice and Owasso.
It should be for the U of A and Fayetteville.
"I'm trying to be as prepared for college as I can," Lambley said. "I'll go over all the routes to my classes with a mobility specialist. I've been working with a cane that I would use while I'm crossing streets and going to places out by myself.
"I'm looking for any speaking opportunities I can get around Fayetteville. I love to share my story, not because it's anything great I've done, but everyone has gone through some sort of adversity in their lives."
Lambley was just getting used to his adversity — his condition, Leber hereditary optic neuropathy, leaves those afflicted legally blind — when I met him. It was three months after his diagnosis.
He was managing extraordinarily well for a 17-year-old used to sports, cars and a typical teen life. He also admitted to pangs of frustration and anguish.
"There were moments after I got my diagnosis where I wished everything hadn't changed," Lambley said. "But I had great people around me and they showed me, 'You were meant to have what you have. And just because you have something that some people might consider a disadvantage, it does not have to be a setback in life. Sometimes with the biggest setbacks, with a positive attitude and with great effort it's really just a setup for how God can use you.'"
Lambley was just discovering that in August of '19. He embodies it now.
He has spoken to local organizations and teams since we met. He has met and prayed with opponents after games.
He says his condition has "pretty much stayed the same. We're still doing clinical trials." He has adjusted with the help of computer technology, which makes course work easier, and activities like mobility training.
His attitude, bolstered by some amazing life experiences, is even more courageous than it was two years ago.
Lambley met Bobby Portis in New York when Portis, an ex-Razorback, was still with the Knicks. He has met Hunter Woodhall, a track All-American at Arkansas despite having both legs amputated below the knee, and Casey O'Brien, a cancer survivor who snapped for the Minnesota Golden Gophers, through social media.
"A quote I try to live by that Hunter says is, 'I can still do everything I've wanted to do. I've just gotta find different ways to do it,'" Lambley says.
Lambley has scored a touchdown in a Rejoice football game and thrown the first pitch of a Rejoice baseball game since we met. He has graduated.
"We only had 50 or so kids in our graduating class at Rejoice, so they were able to talk about the kids a little more," Lambley said. "Right before they announced the names, my football coach (Brent Marley) and principal (Lisa Zingerman) announced a new award for Rejoice that will continue from this year on, the Will Lambley Courage Award. Right now it's an award for a student at Rejoice that's overcome an obstacle.
"I haven't told anybody this yet, but I really want to turn it into a scholarship. I want to make it a global thing."
Anything to spread a message as far and wide as possible, to shine a light through an overcast world.
"What I've learned is just because something gets harder doesn't mean your story has to suffer," Lambley said. "If it's harder, your story might be even better because of an obstacle you overcame, or how you helped someone through their obstacle."
Lambley has had a lot of help from his family, his friends and the Rejoice community the past couple years. It is inspiring to see where that assistance, combined with his resilience, has led.
It should be inspiring to see where Lambley, about to turn 19 and poised to brighten his new school and community in Arkansas, goes from here.
"A quote I love in hard times by Minnesota football coach P.J. Fleck is, 'The dream is a journey,'" Lambley said right before getting back to Razorback baseball. "The best parts of your life when you look back are the times you were at your lowest of lows, but you got through it. You knew you could get through those times if you kept going. I know when I get through them on the other side, there's freedom of knowing I can do it.
"I'm so excited to go to the school of my dreams."
Gallery: Rejoice Christian lineman Will Lambley doesn't need sight to be a visionary
Will Lambley is 17 years old and he can no longer drive. He can no longer play baseball, his first sports love. He dreams of doing both, the clean version of "Mo Bamba" thumping from his Jeep, his Rejoice Christian School ballclub battling in the playoffs.