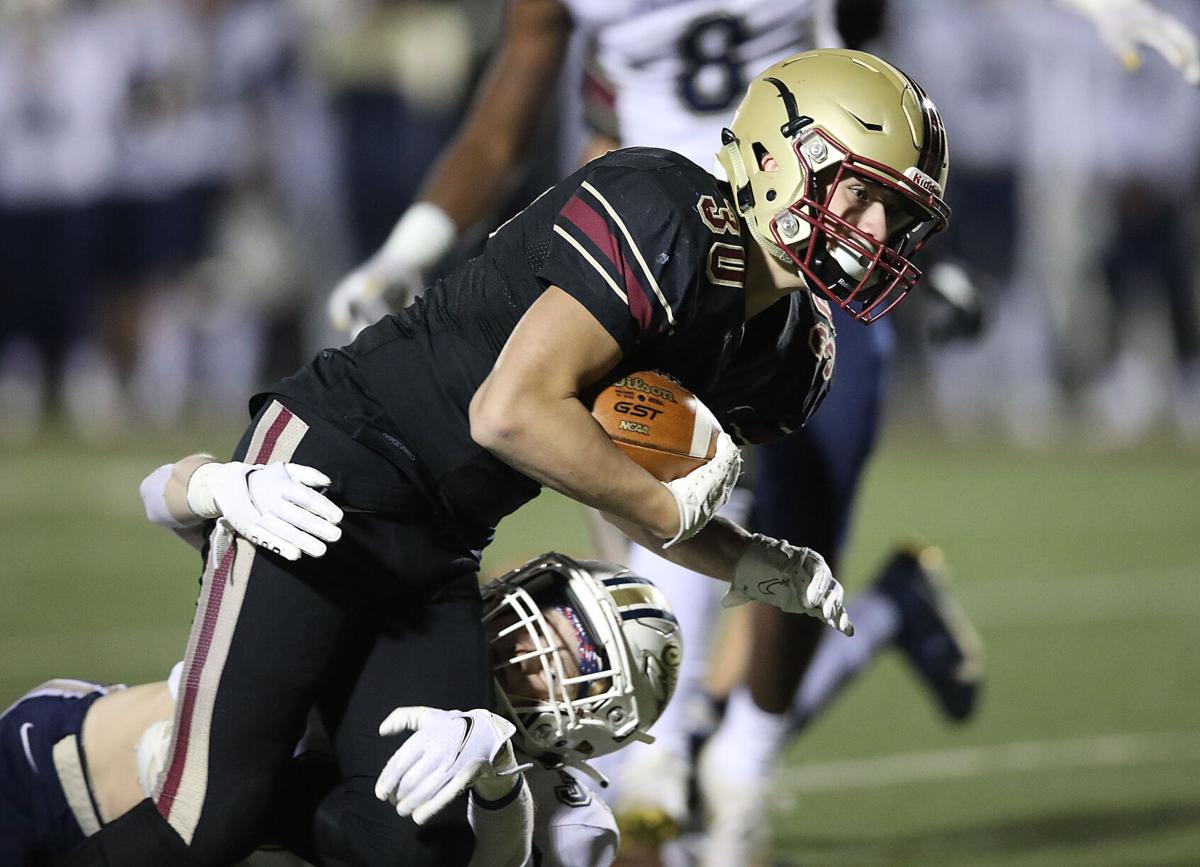 All playoff games 7 p.m. Friday
1. 5A semifinal: No. 1 Collinsville vs. No. 3 MWC Carl Albert
The outlook: Collinsville tries to reach the state final for the first time since 2015 and end Carl Albert's reign of five consecutive gold balls. The Cardinals lost to Carl Albert twice in the past three years in the semifinals.
Records: Collinsville 12-0; MWC Carl Albert 10-2
Where: Western Heights' Charles W. Sheid Stadium, Oklahoma City
Key players: Collinsville quarterback Andrew Carney and running back Brayden Gilkey combined for 62 carries, 593 yards and eight touchdowns in last week's 56-35 win over McGuinness. However, defenses have to respect the Cardinals' passing game as Oscar Hammond has 42 receptions for 1,033 yards and 16 TDs. Hammond had seven catches for 90 yards against Carl Albert in last year's 45-28 loss as Carney accounted for 330 yards and three TDs. Carl Albert RB Kentrell "Buddy" Bizzell is a big-game player. He scored both TDs in last week's 14-7 win over Coweta. Last year, he rushed for 106 yards and three TDs in the state final after scoring three TDs, including a 97-yard run, in the semifinals against Collinsville.
Quotable: Collinsville coach Kevin Jones on Carl Albert — "They only have a few returning starters but here they are. That speaks volumes about their program and coaching staff. They are a machine and Bizzell is an amazing player. Playing them last year should help us, we'll know what to expect. Last year's game was closer than the final score. Our kids were resilient and ever since that game they have been talking about `unfinished business.'"
2. 3A semifinal: No. 2 OKC Heritage Hall vs. No. 1 Lincoln Christian
Outlook: These teams meet in the semifinals for the fourth consecutive year — Lincoln has won the past two meetings.
Records: Heritage Hall 12-0; Lincoln Christian 12-0
Where: Crain Family Stadium, Shawnee
QB matchup: Heritage Hall's William Paque has completed 139-of-193 passes for 2,637 yards and 33 TDs. Lincoln's Max Brown is 156-of-209 passing for 2,573 yards and 40 TDs. Brown also had rushed for 1,094 yards and 17 touchdowns.
Series history: Lincoln won 35-27 in last year's semifinal and 33-6 in 2019 after Heritage Hall won 69-34 in 2018. Heritage Hall defeated Lincoln 38-14 in the 2015 state final.
3. 3A semifinal: No. 3 Verdigris vs. No. 4 Holland Hall
The outlook: Defending champion Holland Hall looks to avenge a 12-7 loss in Week 9 at Verdigris.
Records: Verdigris 11-1; Holland Hall 11-1
Key players: Holland Hall — Zane Woodham has rushed for 1,639 yards and 23 TDs. Verdigris held him to 54 yards in 17 carries. At linebacker he has 144 tackles with 20.5 for losses. Ethan Roush is 20-of-34 passing for 342 yards and five TDs since moving from receiver to QB following Kordell Gouldsby's injury in the Verdigris loss. In the secondary, he has 47 tackles and four interceptions. Verdigris — Dylan White has completed 144-of-218 passes for 2,270 yards and 18 TDs. Linebacker Reese Roller has 100 tackles with 15 sacks. He has scored on 14 of his 37 carries. Roller had a TD run and Caden Parnell scored on a pick-6 in the win over Holland Hall.
Notable: Holland Hall's average victory margin during a six-game playoff winning streak is 38 points.
4. 2A quarterfinal: No. 1 Washington at No. 8 Rejoice Christian
The outlook: Rejoice looks for its second win against a top-ranked team this season. The Eagles defeated then-Class A No. 1 Cashion 34-27 in the opener.
Records: Washington 12-0; Rejoice Christian 11-1
Key players: Washington's Cole Scott had 40 carries for 259 yards and three TDs last week in a 52-21 win over Jones. Rejoice QB Chance Wilson has accounted for 3,826 yards and 58 TDs this season. In two playoff games, he has produced 711 yards and 12 touchdowns.
5. 2A quarterfinal: No. 2 Marlow at No. 10 Cascia Hall
The outlook: The Outlaws return to Tulsa for the first time since a heartbreaking 35-31 loss in last year's quarterfinals at Metro Christian.
Records: Marlow 12-0; Cascia Hall 9-3
QB matchup: Marlow's Jace Gilbert passed for three TDs, rushed for two TDs, kicked five extra points and a 30-yard field goal in last week's 38-7 win over Chandler. Cascia's Cooper Lai rushed for two TDs, picked off a pass and had a 16-yard punt return in last week's 33-21 win at No. 4 Victory Christian. Lai has passed for 1,652 yards and 20 TDs this season, plus has a team-high four interceptions on defense.
5A semifinal: No. 2 McAlester (12-0) vs. No. 6 Lawton MacArthur (11-1) at Noble — Their last playoff meeting was Lawton Mac's 50-49 win in the 2014 semifinals.
4A semifinal: No. 1 Tuttle (12-0) vs. No. 3 Poteau (11-1) at Jenks — These teams also met in the 2018 semifinals at Allan Trimble Stadium — Tuttle won 21-11 en route to a state title. Poteau won the 2019 gold ball.
2A quarterfinal: No. 9 Crossings Christian (10-2) at No. 5 Beggs (10-2) — Crossings Christian beat Beggs on a last-second shot in last March's 3A state basketball final.
Class A quarterfinal: No. 1 Ringling (12-0) at Pawnee (6-5) — Pawnee is the postseason's biggest surprise as it looks for a third consecutive upset.
Class A quarterfinal: No. 2 Cashion (10-1) at Woodland (10-2) — A rematch of defending champion Cashion's 41-22 win in last year's quarterfinals. These programs combined for six appearances in state title games during the past 11 years.
Class B quarterfinal: No. 10 Summit Christian (10-1) at No. 1 Laverne (10-0) — This would be Summit's biggest win ever. Laverne has been to six state title games in the past nine years.