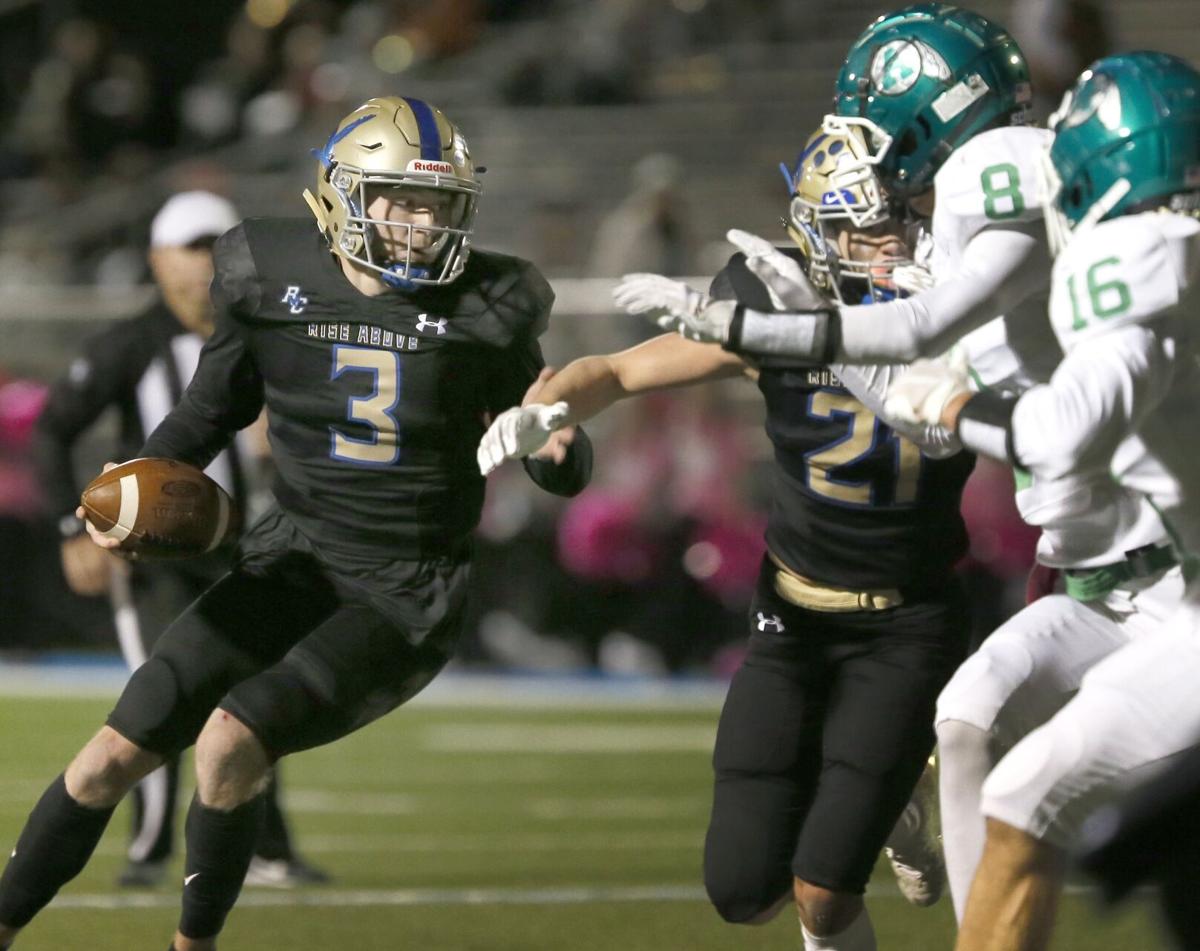 Each week, the World will update its ranking of the top-10 metro high school football players. Rankings are based on performance this season, previous years' accomplishments and potential. Below are the updated rankings with the players' previous week's position in parentheses:
Opened the playoffs with an 88-yard kickoff return for a touchdown that ignited the Class 6AII No. 1 Spartans' 78-7 win over Putnam North. The World's 2020 state player of the year and Oklahoma State commit had six carries for 92 yards and a TD plus a 27-yard TD reception. For the season, has 82 carries for 847 yards, 48 catches for 631 yards and 21 TDs overall. Career totals: 4,720 rushing yards, 137 catches for 1,650 yards, 98 TDs.
Sand Springs, QB, Sr. (2)
Led the 6A2 No. 3 Sandites' 21-17 quarterfinal win at Del City as he completed 13-of-20 passes for 222 yards and two TDs. Also had the winning 2-yard TD run with 2:49 left. Set the single-season passing yards record. In 2021, is 170-for-265 for 2,533 yards and 27 TDs; 467 rushing yards, 10 TDs. Also has the Sandites' career passing records with 6,157 yards and 54 TDs. Last year, accounted for 3,005 yards and 28 TDs.
OSU commit had 13 carries for 210 yards and two TDs in the 2A No. 5 Golden Demons' 50-20 win over Claremore Sequoyah. This season, has 147 rushes for 1,778 yards and 24 TDs. Career totals of 5,433 rushing yards, 57 catches for 725 yards, 86 TDs.
Collinsville, WR/DB, Sr. (4)
Caught three passes for 89 yards and two TDs in the 5A No. 1 Cardinals' 60-14 win over Shawnee. Also scored on a 29-yard punt return and had an interception that set up a touchdown. Has 39 receptions for 1,004 yards and 16 TDs this season plus 14 carries for 167 yards and three TDs. Also is 4-of-4 passing for 128 yards with a TD and has 20 tackles. Last year, led 5A receivers with 828 yards (on 34 catches) and was second with 12 TDs. As a safety, had 51 tackles and six takeaways with two TDs.
Holland Hall, RB/LB, Sr. (5)
Rushed for 183 yards on 12 carries with four TDs in the 3A No. 4 Dutch's 62-0 victory over Checotah. Also had five tackles with 1½ for losses. For the season, has 143 rushes for 1,445 yards and 22 TDs; 133 tackles with 19 for losses and five sacks. Also has completed a 33-yard pass and scored on an 87-yard punt return. Last year, had 120 tackles with 20 for losses and six takeways. Also had 132 rushes for 980 yards and 14 TDs.
Lincoln Christian, QB, Sr. (6)
Central Michigan commit completed 17-of-20 passes for 215 yards and five TDs, and also had eight carries for 43 yards and a TD in the 3A No. 1 Bulldogs' 56-6 win over Vinita. In 2021, has completed 133-of-179 passes for 2,276 yards and 36 TDs, and has 115 rushes for 1,067 yards and 16 TDs. Last year, accounted for 2,658 yards and 40 TDs to help lead the Bulldogs to the 3A state final.
Broken Arrow, RB/DB, Sr. (7)
Texas Tech commit had 33 rushes for 207 yards and two TDs in the 6AI No. 3 Tigers' 41-40 quarterfinal win over Owasso. Also had three catches for 31 yards. On defense, had two tackles and two pass breakups. Has more than 200 total yards in five consecutive games since being given a full workload at running back. For the season, has 143 carries for 1,215 yards and 13 TDs overall plus 11 tackles. Had 1,160 rushing yards and 13 TDs last season.
Broken Arrow, WR/DB, Sr. (8)
Oklahoma commit had seven tackles plus a stop on a 2-point conversion against Owasso. Also had three catches for 22 yards, two kickoff returns for 53 yards and a QB hurry. In 2021, has 35 receptions for 587 yards and seven TDs overall plus 47 tackles and two interceptions, including a pick-6.
Selected Wednesday as the A-5 Offensive MVP. The OSU commit had nine receptions for 178 yards and one TD in the No. 5 Huskies' 43-12 victory over Hominy. Also scored on a 74-yard kickoff return, had four tackles plus one interception and two pass breakups. In 10 games, has 66 receptions for 1,079 yards and 17 TDs. Career totals: 157 catches, 3,149 yards, 54 TDs, 130 tackles.
Rejoice Christian, QB, Jr. (NR)
Debuts in the rankings after accounting for 401 yards and six TDs in the 2A No. 8 Eagles' 61-30 win over Kiefer. Completed 20-of-24 passes for 290 yards and five TDs. Also had seven carries for 111 yards and a TD. In 10 games, he is 187-of-223 passing for 2,367 yards and 32 TDs plus has 118 carries for 1,149 yards and 20 TDs.
— Barry Lewis, Tulsa World