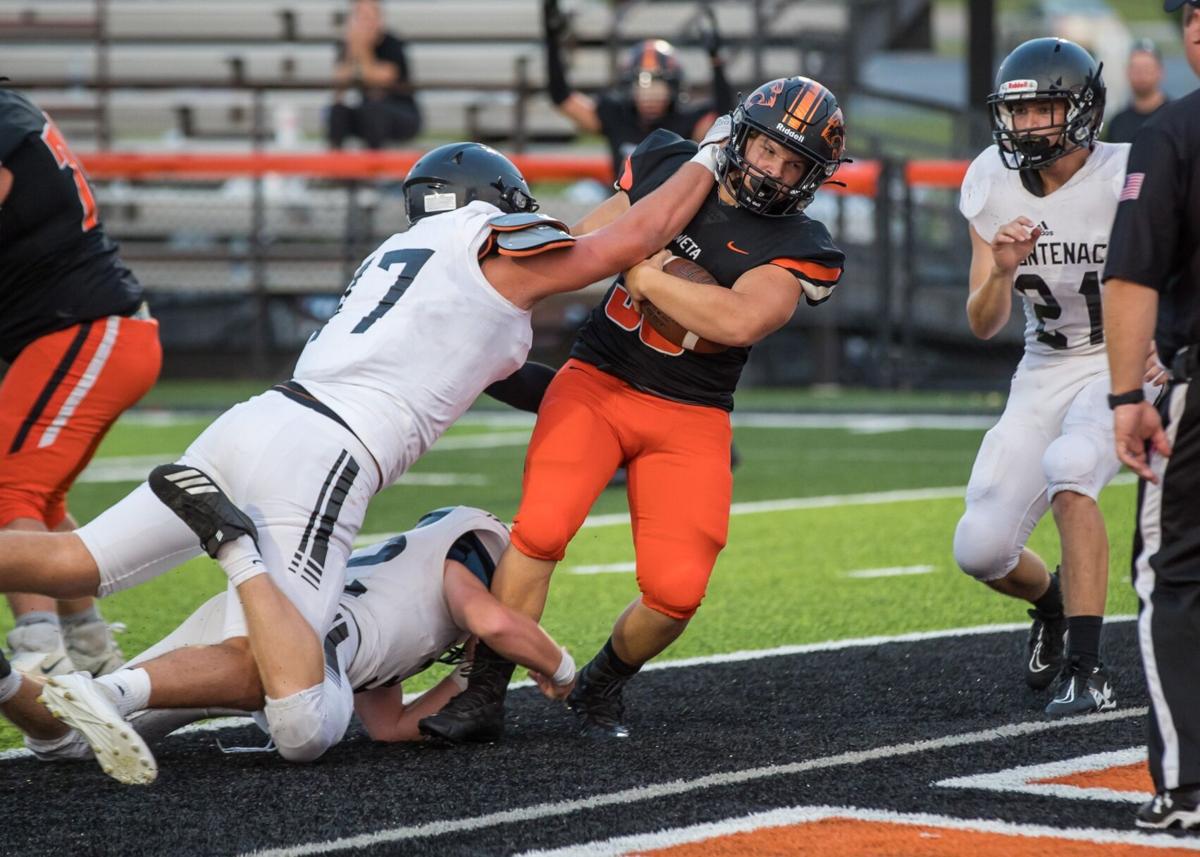 Not even an opponent from outside the state of Oklahoma could derail the Coweta Tiger express on Friday night.
Mason Ford broke free for a 93-yard touchdown run and joined Will Mason in surpassing the century mark in rushing while another solid defensive effort led Class 5A No. 4 Coweta to a 42-6 shellacking of Frontenac (Kan.) at Tiger Field.
Ford finished with 107 yards rushing on just two carries while Mason had a game-high 117 yards and one touchdown on the ground for the Tigers (3-0) after Coweta opened the season with convincing victories against in-state foes Bishop McGuinness and Wagoner.
Meanwhile, quarterback Gage Hamm passed for 162 yards and two touchdowns as Coweta compiled 415 yards in total offense.
The game turned late in the first half. With Coweta leading 14-0 after driving for TDs on its opening two possessions of the game, Frontenac was threatening to cut into the Tigers' lead going into halftime.
Starting at its own 44-yard line, the Raiders (1-1) moved to the Tigers' 7-yard. But Coweta's defense rose to the occasion, and on a fourth-and-4 play, pressure on Frontenac quarterback Collin McCartney by Coweta 's Nate Long forced a hurried pass and an incompletion.
On the first play of the ensuing Coweta series, Ford took a handoff from Hamm, and on a counter, broke through the line of scrimmage, cut to the left sideline and then outran the Raider defense for the momentum-changing play.
"Coach called the play and I knew it was going to be a big one because our offensive line had been blocking really well all night," said Ford, who also had three catches for 25 yards.
"When I saw the hole, I hit it, made a little cutback and went all the way," he added.
Coweta Head Coach Tim Harper said the Tigers might have caught Frontenac, a Class 3A school located in the southeastern corner of Kansas just northeast of Pittsburg, off guard on Ford's touchdown run.
"We wanted to show them a formation we hadn't shown anyone this year until that play, and the first time, we hit it for 93 (yards)," he said.Class 5A: Oologah 30, Claremore 24
Oologah hadn't defeated Claremore since 2010, but that changed Friday night with a late Mustang rally.
Oologah trailed Claremore 24-7 with 4:54 left in the third quarter, and that's when the Mustangs started their comeback — engineered by quarterback Joseph Griswold.
Griswold completed a 9-yard touchdown pass to AJ Streator with 7:32 left in the fourth quarter to cut Claremore's lead to 24-15. Then less than two minutes later, Griswold found Streator again for a 21-yard scoring pass, leaving Claremore's lead at 24-22 with 5:42 remaining.
Then Oologah took the lead for good with 3:37 left on Griswold's 37-yard touchdown pass to Streator.
Griswold threw for 292 yards and four touchdowns while completing 15 of 22 passes. Streator had 11 receptions for 205 yards and four touchdowns.
David Lozoya led Claremore with 158 yards and two touchdowns on 28 carries.
Records: Oologah 1-1; Claremore 0-2
Class 4A: Grove 44, Jay 6
The Ridgerunners knocked off Jay for the second straight season in the DelCo Bowl — and almost by the same score as last year's game (Grove 48, Jay 7).
Grove racked up 385 yards on offense with 268 yards on the ground via 23 carries.
Emmanuel Crawford and Carson Trimble led the way again for the Ridgerunners, with Crawford getting the game's scoring started on a 36-yard TD run in the first quarter. That was followed by Hagen Hacker's 40-yard touchdown toss from Trimble, who also threw a 16-yard TD pass in the second quarter.
Trimble also ran for a 57-yard touchdown run, and Crawford added scoring plays in the third quarter on a 6-yard touchdown run and a 34-yard pass from Trimble in the third quarter.
Records: Grove 2-0; Jay 1-2
Class 3A: Berryhill 35, Cascia Hall 7
Tenth-ranked Berryhill broke a 7-7 tie in the second quarter on Jaxon Watie's 12-yard touchdown pass to Lucas Ellen only a few seconds into the second quarter.
Then the Chiefs piled on.
Ethan Stites scored on a 44-yard TD run in the third quarter, and Weston Fields added a 31-yard interception return for a touchdown in the fourth quarter. The final score was on Jaxon Watie's 55-yard touchdown to Ethan Moton — the same combo also scored on a 53-yard pass in the opening quarter.
Class B: Regent Prep 45, Southwest Covenant 0
Fifth-ranked Regent Prep needed only three quarters to take care of the Patriots, thanks to scoring efforts by Matthew Lopp, Carter Smith and John Mark Roller.
Smith hauled in a 41-yard touchdown pass from Roller for the game's first score, followed by Smith's 15-yard interception for a touchdown.
There there was Lopp, who had touchdowns on a 23-yard run in the first quarter, a 29-yard pass from Roller in the second quarter and then two more TD runs of 5 and 1 yards.
Roller also mixed in a 4-yard touchdown run.
Records: Regent Prep 1-1; Southwest Covenant 0-3.
— Ben Johnson and Duane DaPron, For the Tulsa World