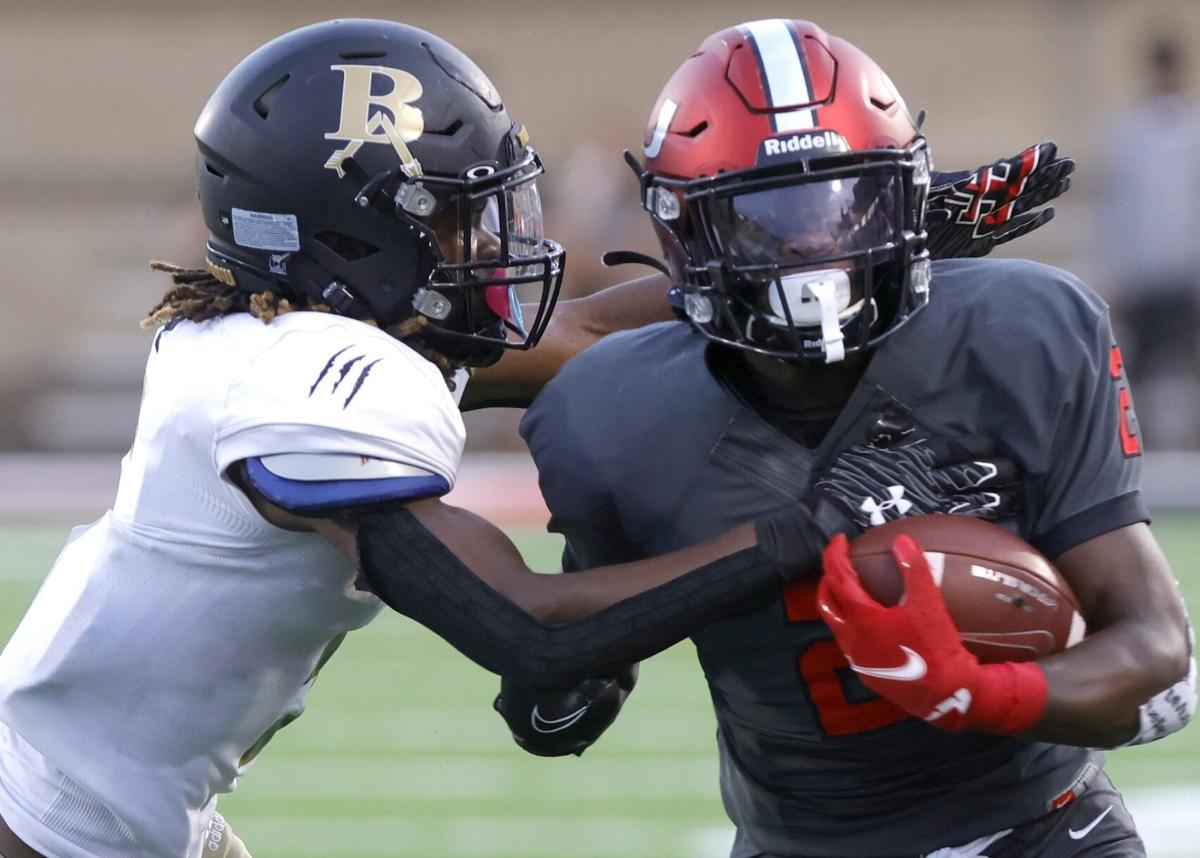 Tickets: $10 (or $8.35 on GoFan app)
No. 1 Jenks vs. No. 4 Mustang
Where: Putnam City's Pirate Stadium
Records: Jenks (10-1), Mustang (7-4)
Playoff history: In the only previous postseason meetings, Jenks won 55-28 at Mustang in the 2019 quarterfinals and 35-20 in the 2008 semifinals at Broken Arrow, a game later forfeited for rules violations.
The outlook: Jenks seeks a second consecutive state title and owns 17 gold balls, second most by any Oklahoma school. The Trojans defeated Norman North 41-14 last week and have won nine in a row. Mustang, which upset Owasso for second place in District 6AI-2, eliminated Edmond Santa Fe 37-17 in the quarterfinals.
Players to watch: Jenks QB Shaker Reisig has passed for 1,397 yards and 17 TDs. RB Jaiden Carroll has rushed for 1,113 yards and 17 TDs. WR Ty Walls has 979 receiving yards and 10 TDs. WR/DB Glenny Jones has 532 receiving yards, five TDs and 20 pass breakups. Mustang QB Tristen Russell has passed for 2,524 yards and 28 TDs. WR/DB Jacobe Johnson has 1,051 receiving yards and 12 TDs. Johnson holds multiple Division I scholarship offers in football and basketball.
Noteworthy: Jenks is in the semifinals for the 16th straight year and 34th time overall, with a 26-6-1 record in previous appearances. Mustang is in its first semifinal since 2016 and eighth overall. The Broncos were state runners-up in 2005 and 1980.
No. 2 Union vs. No. 3 Broken Arrow
Records: Union (10-1), Broken Arrow (8-3)
Playoff history: Archrivals traded quarterfinal wins the past two years. Union is 11-2 in previous postseason matchups against the Tigers, including 23-22 in dramatic 2011 state final.
The outlook: Rematch of Union's 38-28 win over the Tigers on Sept. 3. BA avenged one regular-season loss last week, nipping Owasso 41-40 in the quarterfinals, while Union eliminated Yukon 59-24. The Redhawks have won eight in a row.
Players to watch: Union QB Rovaughn Banks has run for 14 TDs and passed for 13. RB Junior Smith has rushed for 1,047 yards and 10 TDs. DB/WR Jayden Rowe, a speedy University of Oklahoma commit, averages 21 yards per offensive touch. Broken Arrow RB Maurion Horn, a Texas Tech commit, has rushed for 1,063 yards and 11 TDs in his past five games. RJ Spears-Jennings, an OU commit, has seven TD receptions.
Noteworthy: Broken Arrow is averaging 44 points in six straight wins with Sterling Ramsey as starting quarterback. Banks is 7-0 as Union's quarterback after starting the season at running back. Union makes its 23rd semifinal appearance in 24 years and 30th overall. The Redhawks are 18-11 in previous semifinals and own nine gold balls. BA is in its 13th semifinal appearance and won its only state title in 2018.
6A Division II Semifinals
Tickets: $10 (or $8.35 on GoFan app)
No. 1 Bixby vs. No. 2 Stillwater
Where: Langston University's W.E. Anderson Stadium
Records: Bixby (11-0), Stillwater (9-2)
Playoff history: Fourth postseason meeting in five years. Bixby won 40-36 in the 2019 state final, 34-13 in the 2018 final and 41-14 in the 2017 quarterfinals.
The outlook: Rematch of Bixby's 42-14 win over Stillwater on Sept. 17, second-narrowest of the Spartans' 11 wins. Riding a 47-game winning streak, Bixby needs one more victory to match Wagoner's 48-game, state-record streak in 2014-17.
Players to watch: Bixby WR/RB Braylin Presley, an OSU commit, has 847 rushing yards, 631 receiving yards and 22 TDs this season. QB Christian Burke has 33 TD passes. LB Jack Puckett has 89 tackles, including 17 behind the line. Stillwater QB Gage Gundy has passed for 1,400 yards and 18 TDs. Sophomore RB Holden Thompson has rushed for 1,082 yards and 15 TDs.
Noteworthy: Presley averages 11.8 yards every time he touches the ball on a run, pass reception or kick return. Bixby scored a school-record 605 regular-season points and is outscoring opponents by a staggering 50.8 points per game. The Spartans seek a seventh state title in eight years to go with eight runner-up finishes and are 14-3 in previous semifinals. Stillwater, which won its only gold ball in 1967, makes its fourth consecutive semifinal appearance and 14th overall.
No. 3 Sand Springs vs. No. 4 Edmond Deer Creek
Where: Yukon's Miller Stadium
Records: Sand Springs (8-3), Del City (9-2)
Playoff history: Sandites won 34-29 in last year's first round. It was the only previous meeting between the schools — postseason or otherwise.
The outlook: Which dark-horse advances to the state final? Fourth-seeded Sand Springs upset District 6AII-1 champion Del City, 21-17, in the quarterfinals, and third-seeded Deer Creek knocked off 2020 state runner-up Choctaw, 36-29.
Players to watch: Sand Springs QB Ty Pennington has passed for 2,533 yards and 27 TDs. WR Keaton Campbell has nine TD receptions and Jacob Blevins has eight. LB Drake Fain had 14 tackles vs. Del City and has a team-leading 105. Deer Creek QB Brett Pense has passed for 2,061 yards and 27 TDs. RB Deyontaye Wilson has rushed for 930 yards and 11 TDs.
Noteworthy: Pennington is the leading passer in Sandites' history with 6,168 yards over three seasons. Sand Springs makes its ninth semifinal appearance. The Sandites were runner-up to Bixby in 2015 and won the 2A state title in 1966. Deer Creek makes its first semifinal appearance in 20 years and fourth overall. The Antlers were 3A state champs in 2000.
— Mike Brown, Tulsa World