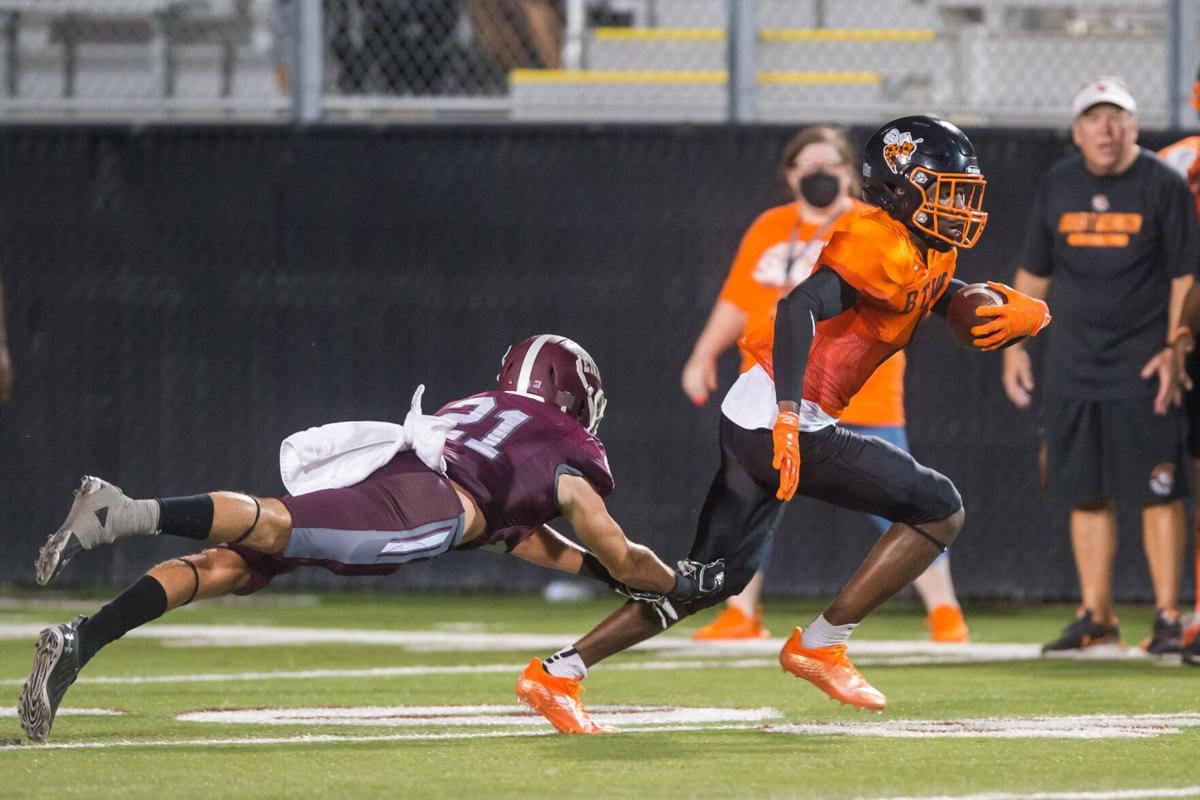 Each week, the World will update its ranking of the top-10 metro high school football players. Rankings are based on performance this season, previous years' accomplishments and potential. Booker T. Washington junior Micah Tease is in the overall top 10 for the first time. Below are the updated rankings with the players' previous week's position in parentheses:
1. Braylin Presley
The World's 2020 state player of the year and Oklahoma State commit had six rushes for 113 yards and two touchowns, six catches for 109 yards, and three punt returns for 15 yards in the 6AII No. 1 Spartans' 71-0 win at Bartlesville. For the season, has 43 carries for 520 yards, 23 receptions for 255 yards and eight TDs overall. Career totals: 4,393 rushing yards, 112 catches for 1,274 yards, 85 TDs.
2. CJ Brown
OSU commit had seven rushes for 213 yards and three TDs plus a 35-yard touchdown catch in the 2A No. 3 Golden Demons' 82-25 win over Henryetta. This season, has 55 rushes for 829 yards and 12 TDs. Last year, he rushed 167 times for 1,529 yards. Career totals of 4,484 rushing yards, 57 catches for 725 yards, 74 TDs.
3. Ty Pennington
Sand Springs, QB, Sr. (3)
Completed 17-of-27 passes for 238 yards and a TD in the 6AII No. 5 Sandites' 30-13 win over Ponca City. Also had 18 carries for 92 yards and two TDs. In 2021, is 65-for-100 for 973 yards and 11 TDs. Last year, accounted for 3,005 yards and 28 TDs.
4. Chris McClellan
Was involved in nine tackles with four solos and a sack in the 6AI No. 3 Rams' 10-7 overtime loss at 6AI No. 2 Union. Had two tackles for losses in Union's last series of downs that led to an unsuccessful fake field goal. In four games, has 22 tackles, three sacks and eight QB pressures. Has 36 offers from Power-5 colleges. Had 106 tackles and 11 sacks over the previous two seasons with Edison.
5. Oscar Hammond
Collinsville, WR/S, Sr. (5)
Caught three TD passes for 61 yards in a 71-0 win over Hale. Has 14 receptions for 424 yards and seven TDs this season. Also has eight carries for 97 yards and a TD plus nine tackles. Last year, led 5A receivers with 828 yards (on 34 catches) and was second with 12 TDs. As a safety, had 51 tackles and six takeaways with two TDs.
6. Gage Hamm
Completed 11-of-15 passes for 143 yards and four TDs in a 56-7 win at Edison. Also had a 35-yard TD run. In 2021, is 43-of-70 passing for 620 yards and 10 TDs in the 5A No. 3 Tigers' 4-0 start. Last year, he led the Tigers to a 10-2 record as he accounted for 3,152 yards and 36 touchdowns. Career passing totals: 332-of-501, 5,029 yards, 53 TDs, nine interceptions.
7. Max Brown
Lincoln Christian, QB, Sr. (8)
Central Michigan commit completed 7-of-9 passes for 283 yards and five touchdowns plus had a 3-yard TD run in the first half of the 3A No. 2 Bulldogs' 63-0 win at Tahlequah Sequoyah. In five games, has completed 65-of-88 passes for 1,175 yards and 19 TDs, and has 53 rushes for 547 yards and seven TDs. Last year, accounted for 2,658 yards and 40 TDs to help lead the Bulldogs to the 3A state final.
8. Zane Woodham
Holland Hall, RB/LB, Sr. (9)
Had eight rushes for 91 yards plus three tackles in the 3A No. 1 Dutch's 41-0 win at Mannford. For the season, has 51 carries for 540 yards and seven TDs; 36 tackles with 6.5 for losses and two sacks. Also has completed a 33-yard pass and scored on an 87-yard punt return. Last year, had 120 tackles with 20 for losses and six takeways. Also had 132 rushes for 980 yards and 14 TDs.
9. RJ Spears-Jennings
Broken Arrow, WR/DB, Sr. (NR)
In his first start as a DB, the senior had a Pick-6 in the first half, and in the final minute had a pass breakup in the end zone and another interception to preserve a 19-12 win at Westmoore. Also had two catches for 43 yards. In 2021, has 10 receptions for 168 yards and two TDs plus six tackles.
10. Micah Tease
B.T. Washington, WR/DB, Jr. (NR)
Caught four passes for 97 yards with a TD in his fourth consecutive game in the 6AII No. 3 Hornets' 29-20 loss at 6AII No. 2 Choctaw. On defense, had two tackles and a pass deflection. For the season, has 12 catches for 299 yards and 10 tackles. Has 15 major offers.
— Barry Lewis, Tulsa World