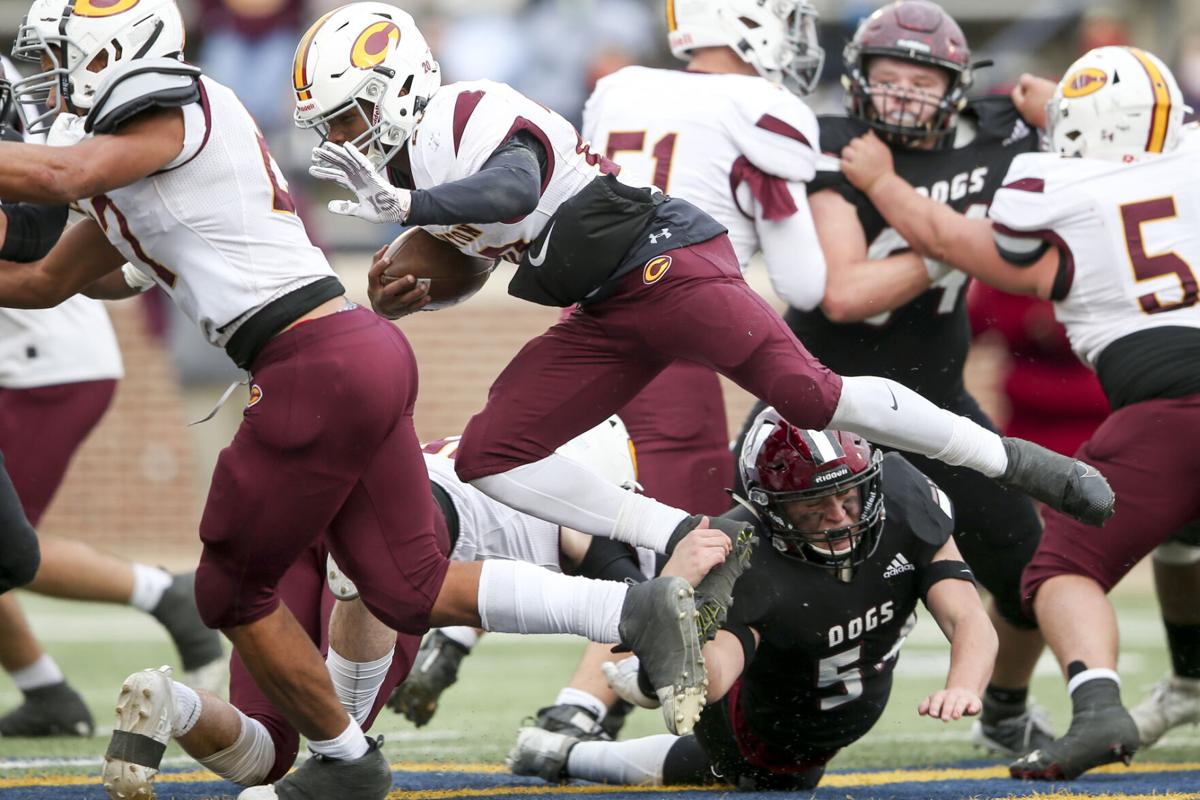 THE FAVORITE
CUSHING
It looks like a wide-open year in 4A and the Tigers are in good position to make a run at the gold ball. This is the 60th anniversary of Cushing's last state title. Cushing, 9-4 last year, lost to Wagoner in the semifinals — its third trip to the Final Four in six seasons.
Coach Rusty Morgan's team has one of the area's top quarterbacks, Blaze Berlowitz, who threw for 3,005 yards and 27 touchdowns last year. He has a talented group of receivers led by Camden Crooks, Lane Yaunt and Brody Berlowitz.
A strong defense includes linebacker Riley Matheson, who had 167 tackles last season.
---
---
THE CONTENDERS
2. CLINTON
The tradition-rich Red Tornadoes reached the state title game last year for the first time since its last gold ball in 2012. Clinton is third in state history with 16 state championships. The Red Tornadoes, who battled through several COVID-related schedule interruptions, got to the title game last year with a strong defense as they allowed only 14.5 points per game. The defense was stellar in a 10-7 win over Blanchard in the semifinals. Clinton's offense is led by Caden Powell, a four-year starter and OU baseball commit.
3. WAGONER
Although the Bulldogs graduated most of their starters, it would be a mistake to overlook them. They have been a perennial state title contender ever since Dale Condict turned around the program and became their coach in 2005. Wagoner has won five state titles in the past 10 years. Defensive end Fred Watson is a returning starter who had 85 tackles with four sacks last season. Linebacker Gabe Goodnight had 78 tackles. Gabe Rodriguez, brother of Oklahoma State standout Malcolm Rodriguez, will be the quarterback and also start at safety. Condict is excited about the potential of 6-6 sophomore receiver Witt Edwards. The offensive line includes Nikko Jones (6-3, 305 pounds), who is the brother of former Wagoner standout receiver Nikia Jones.
4. TUTTLE
The Tigers, 10-2 last year, have posted at least 10 wins in five of their past six seasons, including a state title in 2018. Coach Brad Ballard's Tigers narrowly lost to state champion Wagoner in last year's quarterfinals. Tuttle has a strong ground game with returning running backs Tyler Woodson and Cannon West. The Tigers' defense includes Nebraska wrestling commit Harley Andrews.
5. WEATHERFORD
The Eagles, after narrowly losing to Poteau in the 2019 state final, posted their first undefeated regular season since 2009, but were upset by Cushing in the second round of the playoffs. Coach Reagan Roof's team should be a contender again with a Spread Wing offense that includes four-year starter at running back, Sam Hoffman, who rushed for 1,044 yards and 12 TDs in 2020. Also returning at running back is Malachi Johnson, who had 814 rushing yards and 11 TDs. A strong offensive line is led by Cole McCurdy and Aidan Klepczyk. Weatherford's defense has a strong linebacking corps of Hoffman, Ryan Shields and Bryson Cook.
6. HILLDALE
Coach David "Pookie" Blevins' Hornets went 11-2 last year as they bounced back from going 4-6 in 2019. Hilldale's postseason run last year ended with a 34-28 loss to Cushing. During the last six years, the Hornets are 58-14. Hilldale returns seven starters on offense and six on defense. The Hornets' offense features Eric Virgil, who had 1,630 total yards and 20 TDs last year. Hilldale also has a strong kicker/punter, Jaxson Whittiker.
7. BLANCHARD
Coach Jeff Craig's Lions were 10-3 last year and came close to their first title game appearance since 2013, but lost 10-7 to Clinton in the semifinals. A player to watch is Lincoln Smith, who had 28 catches for 570 yards with six TDs last season and also picked off six passes on defense.
8. POTEAU
The Pirates, who won the 2019 state title, went 9-3 last year after consecutive 12-1 seasons. Their offense returns running back Todd Mattox, who rushed for 935 yards and 13 TDs last season.
9. ADA
The Cougars have a state-record 19 state titles, but none since 1996. Ada's new head coach is Brad O'Steen, who led Lone Grove's program the past three years.
10. GROVE
The Ridgerunners, 7-4 last year, have Carson Trimble returning at quarterback after he passed for 1,382 yards and 14 TDs last year. Trimble will operate behind a strong offensive line led by Ben Johnston and Cooper Edwards.
GAMES TO WATCH
SEPT. 24: No. 4 TUTTLE at No. 1 CUSHING
Tuttle won last year's meeting, 42-21.
SEPT. 24: No. 8 POTEAU at No. 6 HILLDALE
This district opener will set the tone for the 4A-4 race. Poteau defeated the Hornets 38-24 last year.
OCT. 29: No. 3 WAGONER at No. 10 GROVE
Could be a showdown for the 4A-3 district title.
PLAYERS TO WATCH
MARQUEZ BARNETT
Wagoner, RB/CB, 6-0, 170, Sr.
Carried 25 times for 256 yards last year, runs a 4.5 in the 40. Will be counted on in the ground game to fill the void left by Braden Drake's graduation.
EMMANUEL CRAWFORD
Rushed for 1,124 yards and 10 TDs on 145 carries last season. Has career totals of 2,035 rushing yards with 19 touchdowns and three TDs on kickoff returns.
CAMDEN CROOKS
Cushing, WR/DB, 6-0, 180, Jr.
Caught 60 passes for 975 yards and 10 TDs last season. On defense, had seven interceptions and 87 tackles.
---